THE DEVELOPMENT OF SENAPELAN CITY AS A HISTORICAL TOURISM ON SPICE ROAD
Suroyo

Universitas Riau

Bima Maulana

University Kebangsaan Malaysia

Bedriati Ibrahim

Pendidikan Sejarah FKIP Universitas Riau Kampus Bina Widya KM 12,5 Panam Pekanbaru
Keywords:
Bandar Senapelan, Historical Tourism., Regional Development, Spice Route
Abstract
The development of Bandar Senapelan as a historical spice route can promote local history-based tourism. Historical tourism has a subjective value which illustrates that history has its own historical value so that it must be protected and can be used as a cultural heritage. The problems and potentials contained in the Bandar Senapelan area in the process of regional development will be better if it is developed as historical tourism. With a qualitative research approach, this research uses a descriptive method. This study also aims to map the area of ​​historical tourism objects based on architecture and historical values. Regional development in Bandar Senapelan can be done using several points, namely district, edge, landmark, node, and path with the aim of providing a historical concept of the spice route which became the center of Sumatran trade before heading to Malacca. The concept of heritage-based spice trail history has tremendous potential and interest for tourists.
.
References
Astuti, M. T., & Noor, A. A. (2016). Daya Tarik Morotai Sebagai Destinasi Wisata Sejarah dan Bahari. Jurnal Kepariwisataan Indonesia, 11(1), 25–46.
Astuti, P. (2016). Studi Pengembangan Kawasan Perkotaan di Kecamatan Dumai Barat , Kota Dumai. Jurnal Saintis, 16(April), 34–45.
Chandra, D., Asteriani, F., & Zaim, Z. (2016). Pengembangan Kawasan Pecinan Menjadi Kawasan Wisata di Kecamatan Senapelan Kota Pekanbaru. Jurnal Saintis, 16(1), 7–12.
Chomchalow, N. (1996). Spice Production in Asia - An Overview * Spices in Asia. Unpblished, (May), 27–28.
Ismagilova, G. N., Saifullin, L. N., & Bagautdinova, N. G. (2014). Tourism Development in the Region Based on Historical Heritage. 11(6s), 363–367.
Ismagilova, G., Safiullin, L., & Gafurov, I. (2015). Using Historical Heritage as a Factor in Tourism Development. Procedia - Social and Behavioral Sciences, 188(904), 157–162. https://doi.org/10.1016/j.sbspro.2015.03.355
Kartika, T., Fajri, K., & Kharimah, R. (2017). Pengembangan Wisata Heritage Sebagai Daya Tarik Kota Cimahi. Jurnal Manajemen Resort Dan Leisure, 14(2), 35–46. https://doi.org/10.17509/jurel.v14i2.9102
Karunanithy, M. (2013). The Impact of Heritage Attributes on the Satisfaction of Tourism in Sri Lanka. 5(27), 76–82.
Kuncoro, S. D. (2014). Pengembangan Wilayah Berbasis Subsektor Pertanian Hortikultura di Kecamatan Plaosan Kabupaten Magetan. Jurnal Wilayah Dan Lingkungan, 2(1), 43. https://doi.org/10.14710/jwl.2.1.43-54
McNulty, R., & Koff, R. (2014). Cultural Heritage Tourism. In Cultural Heritage Tourism (pp. 1–62). https://doi.org/10.9774/gleaf.9781783531752_18
Ngangi, R. S., Franklin, P. J. ., & Mononimbar, W. (2018). Analisis Pertumbuhan Kawasan Mapanget Sebagai Kota Baru. Spasial, 5(1), 82–91.
Pekanbaru, B. P. S. K. (2019). Pekanbaru Dalam Angka. In Kecamatan Senapelan Dalam Anka. https://doi.org/10.21831/jptk.v22i4.10445
Primawardani, Y. (2018). Peremajaan dan Pengembangan Wilayah Perkotaan Melalui Penggusuran Ditinjau dalam Perspektif Hak Asasi Manusia di Kota Surabaya. Jurnal HAM, 9(1), 51. https://doi.org/10.30641/ham.2018.9.51-58
Rahman, F. (2019). "Negeri Rempah-Rempah" Dari Masa Bersemi Hingga Gugurnya Kejayaan Rempah-Rempah. Patanjala, 11(September 2019), 347–362. https://doi.org/10.30959/patanjala.v11i3.527
Raus, H., & Hsb, B. R. (2011). Arahan Pola Penggunaan Lahan Kawasan Kelurahan Kampung Bandar dan Kampung Dalam Kecamatan Senapelan Kota Pekanbaru. Planesia, 2(November), 136–145.
Seyfi, S., Hall, C. M., & Rasoolimanesh, S. M. (2020). Exploring memorable cultural tourism experiences. Journal of Heritage Tourism, 15(3), 341–357. https://doi.org/10.1080/1743873X.2019.1639717
Sihombing, R. G., & Pabendon, T. (2020). Strategi Pengembangan Wilayah-Wilayah Menjadi Pusat Pertumbuhan Berdasarkan Sektor Basis Di Kabupaten Mimika. Jurnal Kritis (Kebijakan, Riset, Dan Inovasi), 4(1).
Silitonga, S. S. M., & Anom, I. P. (2016). Kota Tua Barus Sebagai Daerah Tujuan Wisata Sejarah Di Kabupaten Tapanuli Tengah. Jurnal Destinasi Pariwisata, 4(2), 7. https://doi.org/10.24843/despar.2016.v04.i02.p02
Suroyo, S., Wirata, G., & Kamaruddin, K. (2017). Strategi Pengelolaan Pariwisata Budaya Ritual Bedekeh Suku Akit di Pulau Rupat Kabupaten Bengkalis Provinsi Riau. Proceeding TEAM, 2, 33. https://doi.org/10.23887/team.vol2.2017.153
Wilaela, W. (2018). Pemanfaatan Peninggalan Sejarah di Riau Menuju Daerah Ekoeduwisata. Sosial Budaya, 15(1), 43. https://doi.org/10.24014/sb.v15i1.5738
Zuhdi, S. (2018). Shipping Routes and Spice Trade in Southeast Sulawesi in the 17th and 18th Century. Journal of Maritime Studies and National Integration, 2(1), 31. https://doi.org/10.14710/jmsni.v2i1.3100

Jurnal dan Prosiding
Abdoullaev, A. 2011. A Smart World: A Development Model for Intelligent Cities. The 11th IEEE International Conference on Computer and Information Technology (CIT-2011).
Agus, F. & Husen, E. Tinjauan umum multifungsi pertanian. Seminar Nasional Multifungsi Pertanian dan Ketahanan Pangan. Bogor, 2005.
Desiyana, I. (2018). Urban Sprawl Dan Dampaknya Pada Kualitas Lingkungan. Ultimart: Jurnal Komunikasi Visual, 9(2),16-24.
Barthel, S. & Isendahl, C. 2013. Urban gardens, agriculture, and water management: Sources of resilience for long-term food security in cities. Ecological Economics, 86, 224-234. http://dx.doi.org/10.1016/j.ecolecon.2012.06.018

Buku
Gornall, J., Betts, R., Burke, E., Clark, R., Camp, J., Willett, K. & Wiltshire, A. 2010. Implications of climate change for agricultural productivity in the early twenty-first century.
Muta'ali Lutfi. 2012. Daya Dukung Lingkungan Untuk Perencanaan Pengembangan Wilayah. Yogyakarta : Badan Penerbit Fakultas Geografi (BPFG) Universitas Gadjah Mada.
Muta'ali, L. (2011). Kapita Selekta Pengembangan Wilayah. Yogyakarta: Badan Penerbit Fakultas Geografi (BPFG) Universitas Gadjah Mada
Soetomo, Soegiono. (2013). Urbanisasi dan Morfologi. Proses Perkembangan Peradaban dan Wadah Ruang, Menuju Ruang yang Manusiawi. Edisi 2. Yogyakarta: Graha Ilmu Sutanto. 1986. Penginderaan Jauh Jilid 1. Yogyakarta: UGM Press

Dokumen Pemerintah
Bappenas 2014. Rancangan Teknokratik Rencana Pembangunan Jangka Menengah Nasional (RPJMN) 2020-2024.In: NASIONAL, K. P. P. N. B. P. P. (ed.). Jakarta: Bappenas.
Dinas Pendidikan Provinsi Jawa Tengah 2008. Renstra Dinas Pendidikan Provinsi Jawa Tengah Tahun 2008 - 2013. Semarang: Dinas Pendidikan dan Kebudayan Provinsi Jawa Tengah.
Kementerian Pertanian 2012. Perencanaan Tenaga Kerja Sektor Pertanian 2012-2014. Jakarta: Kementerian Pertanian.

Modul Pelatihan
Purwanto, T. H. 2011. Digital terrain model. Yogyakarta: Universitas Gadjah Mada.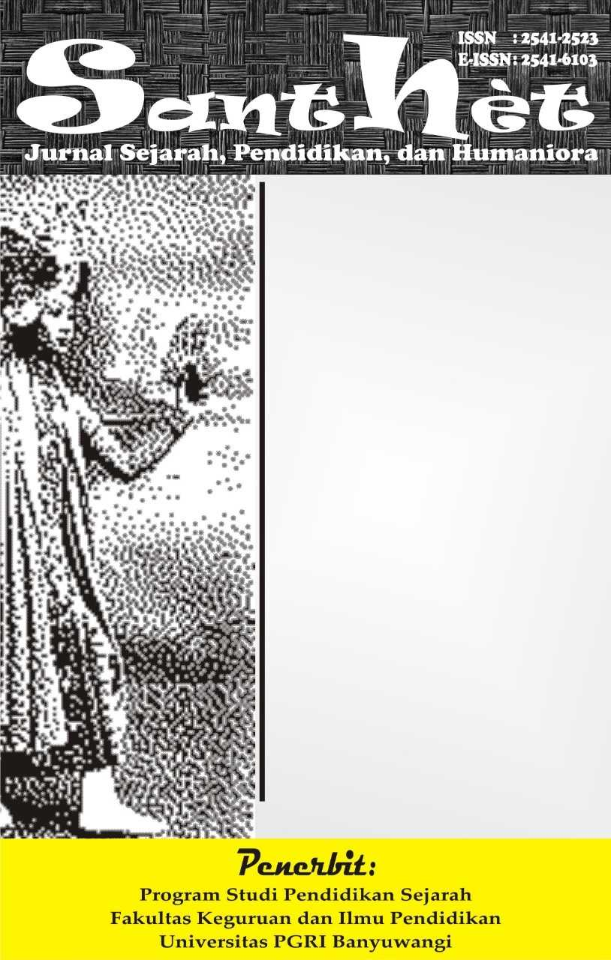 How to Cite
Suroyo, Bima Maulana, & Bedriati Ibrahim. (2021). THE DEVELOPMENT OF SENAPELAN CITY AS A HISTORICAL TOURISM ON SPICE ROAD. Santhet: (Jurnal Sejarah, Pendidikan, Dan Humaniora), 5(2), 147-155. https://doi.org/10.36526/santhet.v5i2.1472