Optimalization of the Nagari Owned Enterprise Program (BUMNag) Mitra Mandiri in Developing the Potential of Nagari Sungai Pua Agam Regency
Nadya

Departemen Ilmu Administrasi Negara, Universitas Negeri Padang, Jl. Prof. Dr. Hamka, Air Tawar Bar., Kec. Padang Utara, Kota Padang, Sumatera Barat 25171

Rizki Syafril

Departemen ilmu Administrasi Negara Fakultas Ilmu Sosial, Universitas Negeri Padang
Keywords:
Optimalization, Nagari Owned Entity, Nagari Potential
Abstract
Badan Usaha Milik Nagari Mitra Mandiri Sungai Pua is a business entity established in order to utilize the wealth of Nagari Sungai Pua which has the potential to be developed. Through its program, BUMNag is expected to be maximized in operating it and will be able to benefit the people of Nagari Sungai Pua. This study aims to determine the optimization of the Sungai Pua Nagari "Mitra Mandiri" Owned Enterprise program in developing the potential of Nagari Sungai Pua.. The method in this study uses descriptive qualitative research methods. The research was conducted at the Nagari Owned Business Entity Sungai Pua Agam Regency with the selection of informants using purposive sampling technique. Data validity testing techniques using source and method triangulation techniques. This research was conducted using Siringoringo's optimization theory with indicators of goals, alternative decisions and limited resources. The results showed that the optimization of the Nagari Mitra Mandiri Sungai Pua Owned Business entity program was not optimal. This can be seen from Siringoringo's optimization indicators that alternative decisions have not run optimally and several indicators on limited resources are still an obstacle in the implementation of BUMNag programs. This article also describes the causes, ways that can be done, and future plans that can be done as an alternative in optimizing the program of the Nagari Owned Entity "Mitra Mandiri" Sungai Pua, Agam Regency.
References
Laporan Penyelenggaraan Pemerintahan Nagari (LPPN) Akhir Masa Jabatan Walinagari Sungai Pua Tahun 2017-2023. (n.d.). Nagari Sungai Pua.
Murdiyanto, E. (2020). Metode Penelitian Kualitatif (Sistematika Penelitian Kualitatif). In Bandung: Rosda Karya (1st ed.). Yogyakarta Press. http://www.academia.edu/download/35360663/METODE_PENELITIAN_KUALITAIF.docx
Nurrohman, B. (2017). Optimalisasi Pelayanan E-KTP Guna Meningkatkan Validitas Data Kependudukan di Kecamatan Majasari Kabupaten Pandeglang. Jurnal Kajian Administrasi Dan Pemerintahan Daerah, 10(6), 98–107.
Rattu, P. N., Pioh, N. R., & Sampe, S. (2022). Optimalisasi Kinerja Bidang Sosial Budaya Dan Pemerintahan Dalam Perencanaan Pembangunan (Studi Di Kantor Badan Perencanaan Pembangunan, Penelitian Dan Pengembangan Daerah Kabupaten Minahasa). Jurnal Governance, 2(1), 1–9.
Ridlwan, Z. (2015). Payung Hukum Pembentukan BUMDes. FIAT JUSTISIA:Jurnal Ilmu Hukum, 7(3), 355–371. https://doi.org/10.25041/fiatjustisia.v7no3.396
Safitri, A., & Jumiati, J. (2020). Efektivitas Badan Usaha Milik Nagari Dalam Meningkatkan Pendapatan Asli Nagari Di Nagari Kataping Kabupaten Padang Pariaman. Jurnal Manajemen Dan Ilmu Administrasi Publik (JMIAP), 2(2), 90–97. https://doi.org/10.24036/jmiap.v2i2.138
Soleh, A. (2017). Strategi Pengembangan Potensi Desa. Jurnal Sungkai, 5(1), 35–52.
Widiastuti, S., Bachri, B. S., & Maureen, I. Y. (2023). The New World Kirkpatrick Model ( NWKM) pada Pelatihan Mandiri Implementasi Kurikulum Merdeka (IKM) Melalui Platform Merdeka Mengajar (PMM) Sussi Widiastuti 1 , Bachtiar S. Bachri 2 , Irena Y. Maureen 3 Doktoral Teknologi Pendidikan, Universitas Negeri Su. Jurnal Ilmiah Mandala Education (JIME), 9(2). https://doi.org/10.58258/jime.v9i1.5083/http
Wulandani, S. A., Amallia, T., & Yusra, Z. N. (2022). Optimalisasi target dan realisasi pajak pada e-filling di Kota Bandung. Jurnal Perpajakan Dan Keuangan Publik, 1(1).
Yul, F., Marta, D., Pemerintahan, I., & Negeri, D. (2022). The Existence of Nagari-Owned Enterprises ( BUMNAG ) in Increasing Nagari Income in Nagari Tabek Patah , Salimpaung District , Tanah Datar Regency Eksistensi Badan Usaha Milik Nagari ( BUMNAG ) Dalam Meningkatkan Pendapatan Nagari di Nagari Tabek Patah Ke. Jurnal Multidisiplin Madani (MUDIMA), 2(7), 3129–3150.
Undang-Undang Nomor 6 Tahun 2014 Tentang Desa
Peraturan Daerah Provinsi Sumatera Barat Nomor 7 Tahun 2018 Tentang Nagari
Peraturan Menteri Desa, Pembangunan Daerah Tertinggal dan Transmigrasi Republik Indonesia Nomor 4 Tahun 2015
Peraturan Nagari Sungai Pua No. 2 Tahun 2018 Tentang Pendirian Badan Usaha Milik Nagari Sungai Pua.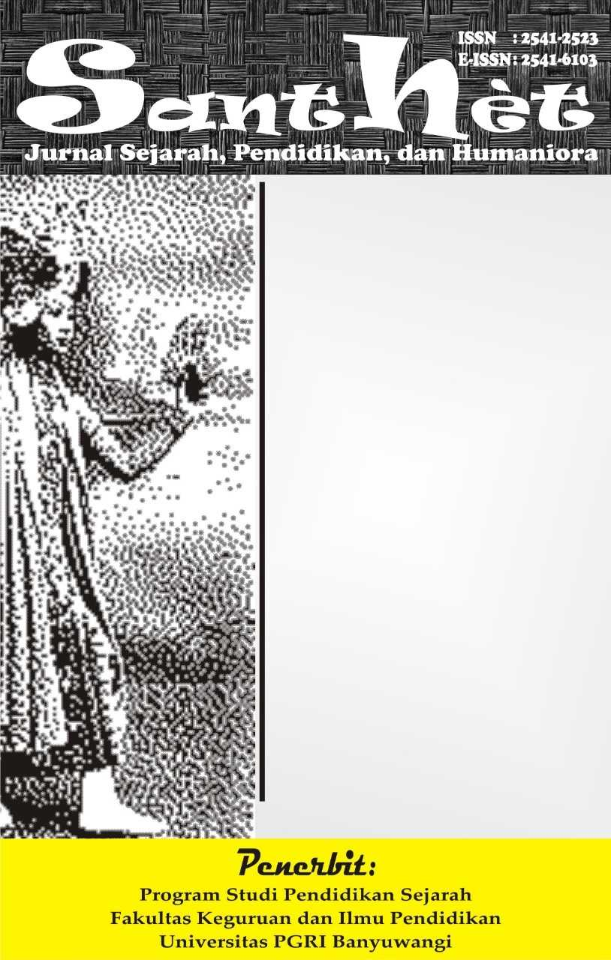 How to Cite
Nadya, & Rizki Syafril. (2023). Optimalization of the Nagari Owned Enterprise Program (BUMNag) Mitra Mandiri in Developing the Potential of Nagari Sungai Pua Agam Regency. Santhet : Jurnal Sejarah, Pendidikan, Dan Humaniora, 7(2), 624-632. https://doi.org/10.36526/santhet.v7i2.3039