OBJEK WISATA SEJARAH: SEJARAH DAN PERKEMBANGAN MERCUSUAR ANYER-BANTEN
lihah solihah

Universitas Muhammadiyah Prof. Dr. Hamka

Jumardi

Pendidikan Sejarah, Universitas Muhammadiyah Prof. Dr. Hamka, Jakarta
Keywords:
Lighthouse, Development, history
Abstract
Anyer lighthouse is one of the evidences of the legacy of the Dutch East Indies government in Indonesia, more precisely in the province of Banten. In the construction process, this lighthouse has a long history. This lighthouse is believed to be the zero point of the Deandels Project, namely the construction of the Anyer-Panarukan road. The lighthouse building until now stands firmly that exudes arrogance on the beach, after being investigated, it turns out that the building that stands is not the first lighthouse building made. Thus, the author is interested in examining the history and development of the Anyer Lighthouse, Banten. The method used in this research is literature study and interviews for the results written empirically and theoretically
References
Iwan, Sugiwa. 2014. "Profil Obyek Dan Tujuan Wisata (ODTW) di Provinsi Banten dan Daya Tariknya Terhadap Wisatawan". Epigram 10: 102–9.
Kementrian Pariwisata Tahun Anggaran 2019. 2019. "Pedoman Pengembangan Wisata Sejarah dan Warisan Budaya". Í kemenparekraf, , 1–76. https://www.bulungan.go.id/v5/index.php/potensi-wilayah/pariwisata/wisata-sejarah.
Septiana, Ali Imron, og Suparman Arif. 2018. "Sejarah Mercusuar di Kampung Bojong Desa Cikoneng Kecamatan Anyer Kabupaten Serang Provinsi Banten". Jurnal Pendidikan dan Penelitian Sejarah 6(5): 1–12. http://jurnal.fkip.unila.ac.id/index.php/PES/article/view/17415.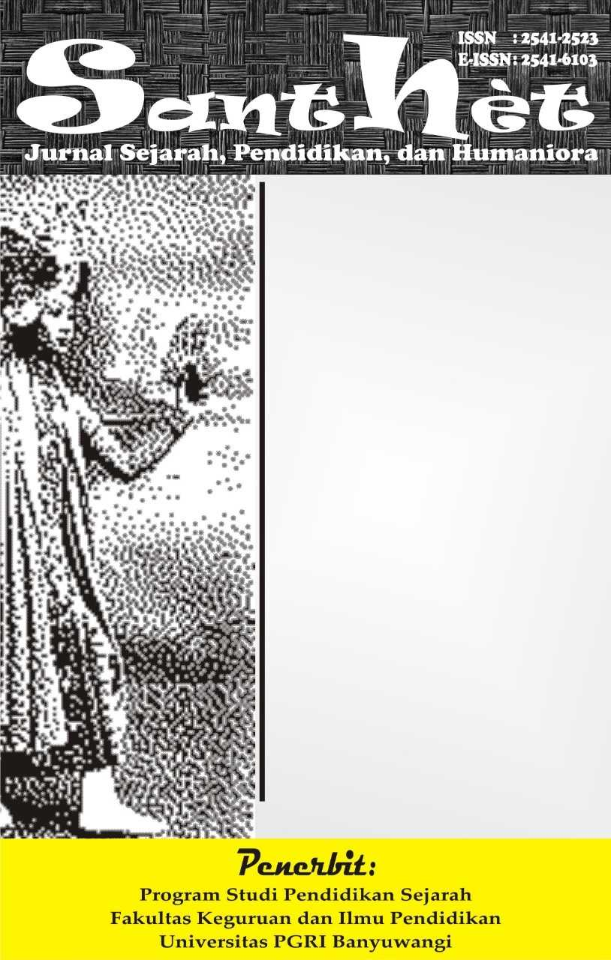 How to Cite
lihah solihah, & Jumardi. (2021). OBJEK WISATA SEJARAH: SEJARAH DAN PERKEMBANGAN MERCUSUAR ANYER-BANTEN . Santhet: (Jurnal Sejarah, Pendidikan, Dan Humaniora), 5(2), 181-184. https://doi.org/10.36526/santhet.v5i2.1369