THE MEANING OF METAPHOR IN SONG LYRICS PAK NGAH SUHARDI S
MAKNA METAFORA DALAM LIRIK LAGU KARYA PAK NGAH SUHARDI S
Norizan

Universitas Maritim Raja Ali Haji

Ahada Wahyusari

Tety Kurmalasari
Keywords:
Meaning of Metaphors, Types of Metaphors, Pak Ngah Suhardi S
Abstract
This study aims to describe the style of metaphor found in ten songs by Pak Ngah Suhardi S on YouTube entitled Mother, Rinduku, Rindu Ayah Bunda, Syafa'at, Kampung Halaman, Senja Dikuala Daik, Bunda Tanah Melayu, Uphold Culture, Let Love Bersemi and Pak Ngah Balek. the method used by the researcher is descriptive because the researcher wants to describe the types of metaphorical language styles found in the songs by Pak Ngah Suhardi S, the research technique that the researcher uses is a qualitative technique because the data produced is in the form of written words in the form of song lyrics by Pak Ngah Suhardi S, classifies and analyzes song lyrics. The results of this study describe the style of metaphorical language that exists in ten songs by Pak Ngah Suhardi S. The results obtained are based on the data that has been obtained, the researcher obtains seventy-nine data obtained in ten song lyrics by Pak Ngah Suhardi S. The data is divided into anthropomorphic metaphors. as many as twenty four data, then on the synesthetic metaphor there are two data and on the abstracting metaphor there are fifty three data obtained.
References
Ashandi. 2019. Konsep Metafora dalam Arsitektur. Jakarta. Arsitektur UMJ Press
Arifin. 1996. Pelatihan Musik Instrumental Daerah Sulawesi Selatan. Ujung Padang: Taman Budaya.
Chaer.2018. Ragam Bahasa Ilmiah. Jakarta: PT Rineka Cipta.
Djajasudarma.2018. Semantik 1. Bandung : PT Refika Aditama.
Djajasudarma.2018. Semantik 2. Bandung : PT Refika Aditama.
Jesicca. 2022. Analisis Nilai-Nilai Pendidikan Dalam Kumpulan Lagu Batak. Skripsi. Fakultas Keguruan dan Ilmu Pendidikan Universitas Maritim Raja Ali Haji.
Keraf, Gorys. 20014. Diksi dan Gaya Bahasa. Jakarta: Gramedia.
Khamim. (2019). Asyik Belajar Musik. Ngemplak Cilik RT001 RW003. CV Graha Printama Selaras.
Latifa. 2017. Metafora dalam Album Lagu Uniter Dem Eis Karya Eisblume. Skripsi. Fakultas Bahasa dan Seni Universitas Negeri Yogyakarta.
Malik, Abdul. 2016. Penelitin Deskriptif untuk Bidang Pendidikan: Bahasa, Sastra, dan Sosial-budaya. Tanjungpinang: FKIP Universitas Maritim Raja Ali Haji, 3.
Muhriani. 2017. "Penggunaan Metafora Dalam Kumpulan Cerpen Bidadari Yang Mengembara Karya, Laksana: Kajian Stilistika". Skripsi. Fakultas Bahasa dan Sastra. Universitas Negeri Makasar.
Mahsun.2015.Metode Penelitian Bahasa: Tahapan Strategi, metode, dan tekniknya. Jakarta. PT RajaGrafindo Persada.
Moleong.2018. Metode Penelitian Kualitatif. Bandung: PT Remaja Rosdakarya.
Oktavia, Ami Susanti. 2017. Mengenal Gaya Bahasa dan Peribahasa. Bandung: Resi Terbit
Parera. 2011. Teori Semantik. Jakarta. Penerbit Erlangga
Pateda. 2010. Semantik Leksikal . Jakarta. Rineka Cipta.
Setiyaningsih. 2018. Ragam Gaya Bahasa. Yogyakarta. PT Penerbit Intan Pariwara
Sri Agus. 2019. Analisis Metafora Antologi Puisi Goenawan Mohamad (Kajian Stilistika)". Skripsi. Fakultas Keguruan dan Ilmu Pendidikan. Universitas Muhammadiyah Makasar.
Suhardi. 2015. Dasar-Dasar Ilmu Semantik. Yogyakarta. Ar-Ruzz Media.
Susanti, Nurmayanti. 2020. "Keritik Sosial dan Kemanusiaan dalam Lirik Lagu KaryaIwanFals".https://ejournal.hamzanwadi.ac.id/index.php/sbs/article/view/2172. Diakses pada 24 Januari 2023. Pukul 01.06 WIB.
Sugiyono. 2018. Metode Penelitian Kuantitaif, Kualitatif, dan R&D. Bandung. ALFABETA,CV.
Tarigan, Henry Guntur. 2013. Pengajaran Gaya Bahasa. Bandung. Angkasa.
Zulkarnaen, Dicky. 2021. Sebuah Pernikahan: Dimensi Tasawuf dalam Syair Lagu Rita Sugiarto. Jakarta: Semesta Raya
Prahmana, R.C.I. (2012). Pendesainan Pembelajaran Operasi Bilangan Menggunakan Permainan Tradisional Tepuk Bergambar untuk Siswa Kelas III Sekolah Dasar (SD). Unpublished Thesis. Palembang: Sriwijaya University.
Zulkardi. (2002). Developing A Learning Environment on Realistic Mathematics Education for Indonesian Student Teachers. Published Dissertation. Enschede: University of Twente.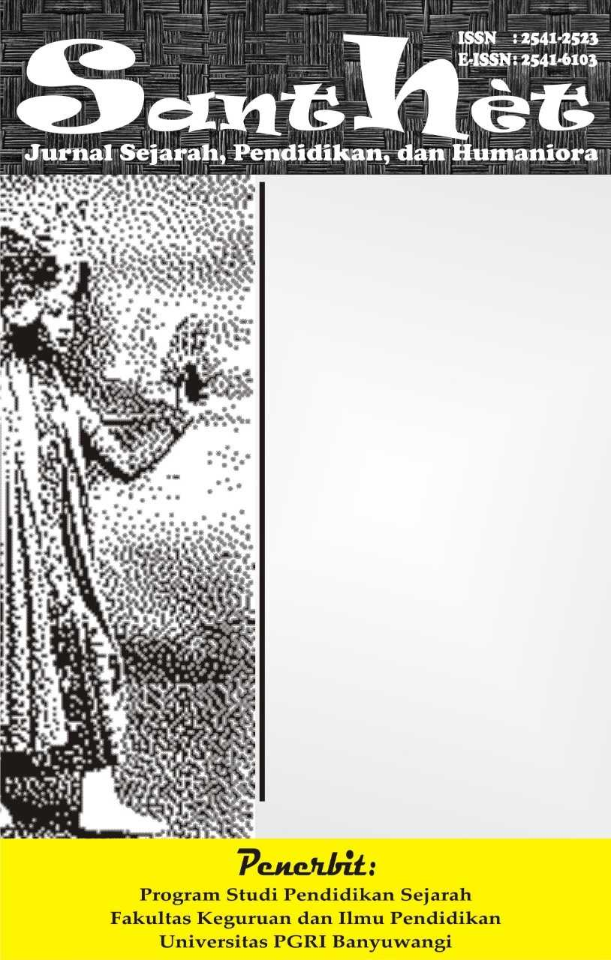 How to Cite
Norizan, WahyusariA., & KurmalasariT. (2023). THE MEANING OF METAPHOR IN SONG LYRICS PAK NGAH SUHARDI S : MAKNA METAFORA DALAM LIRIK LAGU KARYA PAK NGAH SUHARDI S. Santhet : Jurnal Sejarah, Pendidikan, Dan Humaniora, 8(1), 105-111. https://doi.org/10.36526/santhet.v7i2.3011