THE FUNCTIONS OF POLITICIANS' SPEECH ACTS IN THE ELECTION CAMPAIGN FOR MAYOR AND DEPUTY MAYOR OF TOMOHON CITY
FUNGSI TINDAK UCAPAN POLITIKUS DALAM KAMPANYE PEMILU UNTUK MAYOR DAN WAKIL WALIKOTA TOMOHON CITY
Yoppie A. T. Pangemanan

Universitas Kristen Indonesia Tomohon

James Edward Lalira

Universitas Kristen Indonesia Tomohon

Jane Elvira Scipio

Universitas Kristen Indonesia Tomohon

Vivi Nancy Tumuju

Universitas Samratulangi Manado
Keywords:
speech acts, assertive and commissive functions, utterance
Abstract
This research aims to describe the assertive and commissive functions of politician speech acts in the election campaign for mayor and deputy mayor of Tomohon city. This research is a qualitative descriptive with content analysis study. Primary data was taken by recording politicians' speeches during the campaign. The recording was then transcribed and analyzed. This study is based on speech act theory by Searle. The research findings show that the assertive and commissive functions have several subfunctions. Those were claiming, stating, suggesting, acknowledging, convincing, ensuring, supporting and supposing for assertive function and promising, giving hope, threatening and praying for commissive function. It can be recommended that the result of this study can be used by political parties in the context of their participation in the political contestation, including regional head election
References
Agung DH. 2016. Sejarah sandi negara dan kode-kode rahasia dr. Roebiono. (online) , (https://tirto.id/sejarah-sandi- negara-dan-kode-kode-rahasia- dokter-rubiono-bCQi).
Bantu Hardjijo. 2012. Legiunku Dharma bakti legium veteran republik Indonesia Periode 2007-2012. Jakarta: Markas Besar Legium Veteran Republik Indonesia.
Creswell, J. W. 2008. Research Design: Qualitative, Quantitative, and Mixed Methods Approaches. California: Sage Publications, Inc.
Creswell, J. W. 2012. Qualitative Inquiry & Research Design: Choosing Among Five Approches. California: Sage Publications, Inc.
Denzin, N. K., & Lincoln, Y. S. 2005. The Sage Handbook of Qualitative Research. Third Edition. London: Sage Publications.
Darsono, S. 2021. Peran Rumah Sandi Pada Masa Agresi Militer Belanda II Di Kalurahan Purwoharjo, Samigaluh, Kulon Progo, Yogyakarta Tahun 1948-1949. Karmawibangga: Historical Studies Journal, Vol: 03, No: 02, 2021: 89-100. htpps://journal.upy.ac.id/index.php/karmawibangga.
Fx Lopez da Cruz. 1999. Kesaksian: Aku dan Timor Timur. Jakarta: Yayasan Tunas Harapan Timor Lorosae.
Ganoe, William A. (2008). The English of Military Communications. BiblioBazaar, FaSi.
Heryadi, Toni. 2017. "Bentuk, Fungsi, dan Makna Register Bahasa Tentara di POMDAM III Siliwangi: Tinjauan Sosiolinguistik". Makalah Seminar Tahunan Linguistik Indonesia Universitas Pendididkan Indonesia. Bandung.
Helen Merry Hill. 2000. Gerakan Pembebasan Nasional Timor Lorosae. Dili: Yayasan HAK dan Sahe Institute for Liberation.
Miskawi. 2021. Sang Veteran menggali ingatan mengungkap kisah. Jember: inti.
Persadha, Pratama D. 2015. Kode Untuk Republik : Peranan Sandi Negara di Perang Kemerdekaan. Jakarta : PT Marawa Tiga Warna.
P. Gregor Neonbasu. 1997. Peta Politik dan Dinamika Pembangunan Timor Timur. Jakarta: Yanense Mitra Sejati.
Syamsul, M & Lailia, Nurul. 2022. Analisis Sosiolinguistik Bilingualisme Dalam Film Layla Majnun Karya Monty Tiwa. PENEROKA : Jurnal Kajian Ilmu Pendidikan Bahasa dan Sastra Indonesia. Vol. 2, No. 2, Juli 2022. Hal 215. https://ejournal.iaida.ac.id/index.php/Peneroka/article/view/1567/980
Sterling, Christopher H. 2007. Military communications: from ancient times to the 21st century. ABC-CLIO.
Soekanto. 1976. Integrasi: Kebulatan Tekad Rakyat Timor Timur. Jakarta: Bumi Restu.
Suandi, Nengah. 2014. Sosiolinguistik. Yogyakarta: Graha Ilmu
Wahyu Atmadji. 2021. Sejarah Legiun Veteran Republik Indonesia. DPP LVRI, Ar-Ruzz Media.
Noermanzah. 2019. Bahasa sebagai Alat Komunikasi, Citra Pikiran, dan Kepribadian. Prosiding Seminar Nasional Bulan Bahasa (Semiba) 2019. Hal 306-319. https://ejournal.unib.ac.id/index.php/semiba
Wahyu Atmadji. 2021. Sejarah Legiun Veteran Republik Indonesia. DPP LVRI, Ar-Ruzz Media.
Widjdan Hamam dkk. 2005. Sejarah TNI AD 1974-1975. Jakarta: Dinas Pembinaan Mental Angkatan Darat.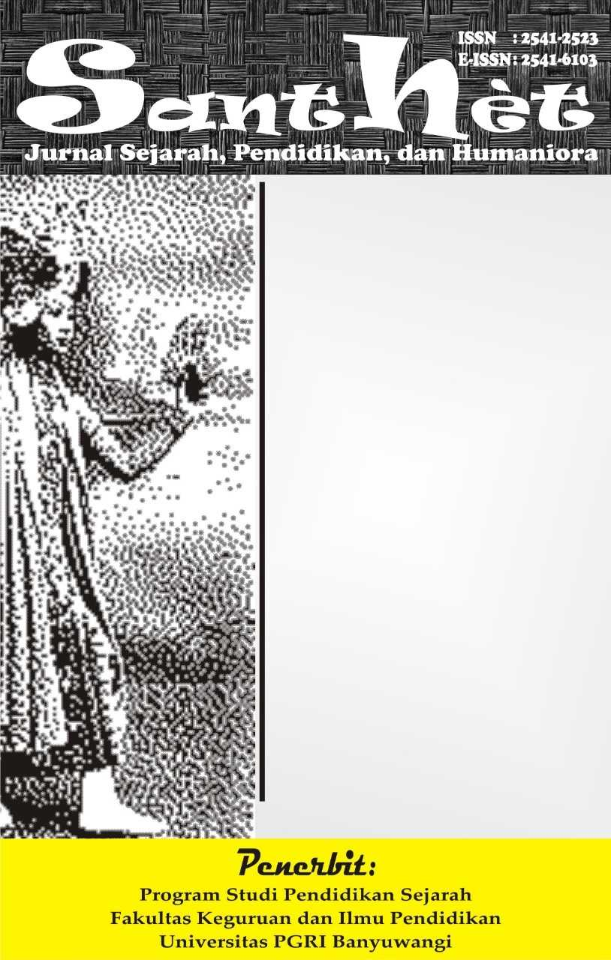 How to Cite
Yoppie A. T. Pangemanan, James Edward Lalira, Jane Elvira Scipio, & Vivi Nancy Tumuju. (2023). THE FUNCTIONS OF POLITICIANS' SPEECH ACTS IN THE ELECTION CAMPAIGN FOR MAYOR AND DEPUTY MAYOR OF TOMOHON CITY: FUNGSI TINDAK UCAPAN POLITIKUS DALAM KAMPANYE PEMILU UNTUK MAYOR DAN WAKIL WALIKOTA TOMOHON CITY. Santhet : Jurnal Sejarah, Pendidikan, Dan Humaniora, 7(2), 298-305. https://doi.org/10.36526/santhet.v7i2.2011