IDENTIFIKASI KANDUNGAN BORAKS DAN FORMALIN PADA CILOK DI KELURAHAN KERTOSARI KABUPATEN BANYUWANGI
Identificatin of Borax and Formalin in Cilok from Kertosari Village Banyuwangi Regency
Eko Agung Purnomo

Rosiana Ulfa

Arfiati Ulfa Utami
Keywords:
borax, cilok, formaldehid,
Abstract
In Indonesia today, especially in Banyuwangi, food with a high level of safety has begun to be difficult to find, especially in market snacks, one of which is cilok. Many cilok traders are naughty by using non-food preservative additives in their processed products with the aim of increasing shelf life and getting a chewy texture without adding a lot of meat. The preservatives are borax and formalin. This study was conducted to determine the presence or absence of borax and formalin content in cilok in Kertosari Village, Banyuwangi Regency with the turmeric extract method and KMnO4. The results showed that there was not one sample that was positive for containing borax or formalin, but there was one sample whose color was slightly whitened, but there was little possibility of formalin content in it.
References
Aeni, N., Karim, A., Dali, S. 2017. Analisis Bhaan Pengawet pada Ikan Teri Asin (Stolephorus sp.) dari Pasar Tradisional Kota Makasar. OJP. Hl.10. Fakultas Matematika dan Ilmu Pengetahuan Alam. Universitas Hasanuddin. Makasar.
Ayun, Q., & Susanti, R. E. E. 2019. Pengembangan Met de Spektrofotometer UV-Vis Untuk Menentukan Kadar Boraks Dengan memanfaatkan Senyawa antosianin dari Ekstrak Buah Naga Sebagai Indikator. Jurnal Crystal: Publikasi Penelitian Kimia Dan Terapannya, 1(2), 23–33.
Berliana, A., Abidin, J., Salsabila, N., Maulidia, N. S., Adiyaksa, R., & Siahaan, V. F. (2021). Penggunaan Bahan Tambahan Makanan Berbahaya Boraks dan Formalin Dalam Makanan Jajanan. SALINK (Jurnal Sanitasi Lingkungan), 1(2), 64–71.
Faoziyah, A. R. 2019. Analisis Kandungan Boraks dan Formalin pada Bakso dan Cilok di Wilayah Cilacap Kota. Pharmaqueous: Jurnal Ilmiah Kefarmasian, 1(1), 65–70.
Khaira, K. 2017. Pemeriksaaan Formalin Pada Tahu Yang Beredar Dipasar Batusangkar Menggunakan Kalium Permanganat (KMnO4) dan Kulit Buah Naga. Batusangkar. STAIN.
Nirmala, dkk. 2017. Ujikandungan Formalin Pada Ikan Asin Di Pasar Tradisional Kota Banda Aceh. Prosiding Seminar Nasional2017.UIN AR RANIRY. Banda aceh.
Saputrayadi, A., dkk. 2018. Analisis Kandungan Boraks Dan Formalin Pada Beberapa Pedagang Bakso di Kota Mataram. Mataram. Universitas Muhammadiah.
Utami, N. & Disa Andriani. 2021. Analisis Kualitatif Boraks pada Bakso dengan Menggunkan Ekstraks Kunyit. J. Pengabdian Masyarakat MIPA dan Pendidikan MIPA. Sekolah Tinggi Ilmu Kesehatan Nasional.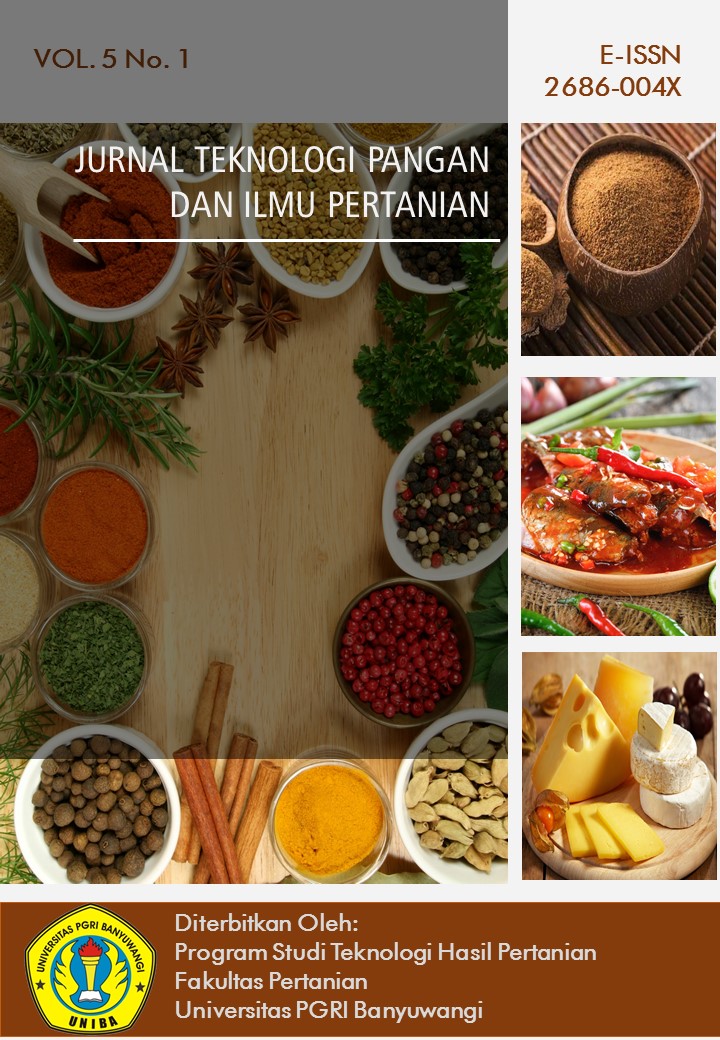 How to Cite
Eko Agung Purnomo, Rosiana Ulfa, & Arfiati Ulfa Utami. (2023). IDENTIFIKASI KANDUNGAN BORAKS DAN FORMALIN PADA CILOK DI KELURAHAN KERTOSARI KABUPATEN BANYUWANGI: Identificatin of Borax and Formalin in Cilok from Kertosari Village Banyuwangi Regency . JURNAL TEKNOLOGI PANGAN DAN ILMU PERTANIAN (JIPANG), 5(1), 15-23. Retrieved from https://ejournal.unibabwi.ac.id/index.php/jipang/article/view/2758