Identification of Special Talents in Swimming Pool Blitar District Towards PORPROV 2021 East Java
Wing Prasetya Kurniawan

Universitas Nusantara PGRI Kediri

Reo Prasetiyo Herpandika

Universitas Nusantara PGRI Kediri

Rendhitya Prima Putra

Universitas Nusantara PGRI Kediri

Mokhammad Firdaus

Universitas Nusantara PGRI Kediri

Septyaning Lusianti

Universitas Nusantara PGRI Kediri
Keywords:
Identification, Special Talent, Swimming
Abstract
This special talent identification activity was aimed at Blitar Regency swimming athletes who were registered in the Blitar PRSI Pengcab District with the intention that netted talented athletes to represent Blitar Regency in the PORPROV 2021 event. The method of identifying special swimming sport talent was using the Anthropometry test and the Biomotor swimming component as many as 32 athletes. From the test results, seven male and seven female athletes were selected to be included in the Blitar Regency swimming team. This kind of activity should be carried out routinely, monitoring physical abilities should be carried out every six months and identifying special swimming sports talent is also aimed at junior athletes in the hope that the regeneration of swimming athletes in the Blitar Regency continues.
References
Baker, J., Steve C., S. Jorg. Talent identification and development in sport: international perspectives. New York: Routledge, 2012

Irianto, J.P. Dasar kepelatihan. Surat Perjanjian Pelaksanaan Penulisan Diklat, Nomor: 688. a/J. 35. 16/KU/2002, 2002.

Lumintuarso, Ria. Materi kuliah multilateral. Yogyakarta: FIK UNY, 2006.

Nurrudin. Pengembangan instrumen pemanduan bakat cabang olahraga anggar menuju atlet 2022. Jurnal ilmiah SPIRIT, ISSN; 1411-8319 Volume 12 Nomer. Semarang: Universitas Negeri Semarang, 2012.

Supriyanto, Agus. Pedoman identifikasi pemanduan bakat istimewa cabang olahraga renang. Yogyakarta: Asosiasi Pelatih Olahraga Indonesia, 2013.

Undang-undang Republik Indonesia Nomor 3 Tahun 2005 tentang sistem Keolahragaan Nasional, diakses 15 Juni 2020. http://www.dpr.go.id/dokjdih/document/uu/45.pdf.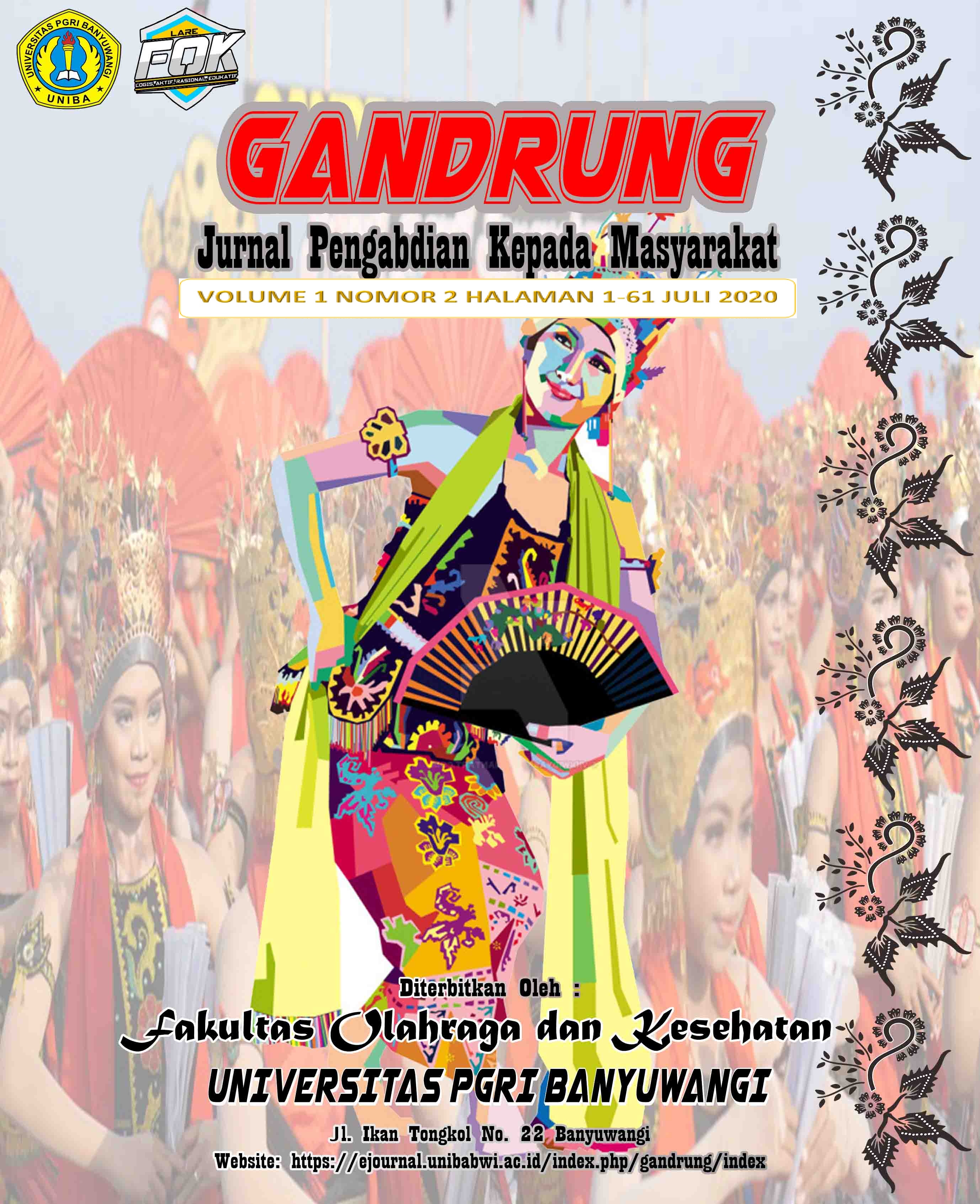 How to Cite
Wing Prasetya Kurniawan, Reo Prasetiyo Herpandika, Rendhitya Prima Putra, Mokhammad Firdaus, & Septyaning Lusianti. (2020). Identification of Special Talents in Swimming Pool Blitar District Towards PORPROV 2021 East Java. GANDRUNG: Jurnal Pengabdian Kepada Masyarakat, 1(2), 1-6. https://doi.org/10.36526/gandrung.v1i2.918
Copyright (c) 2020 GANDRUNG: Jurnal Pengabdian Kepada Masyarakat
This work is licensed under a Creative Commons Attribution-ShareAlike 4.0 International License.
Authors retain copyright and grant the journal right of first publication with the work simultaneously licensed under a Creative Commons Attribution 4.0 International License that allows others to share the work with an acknowledgement of the work's authorship and initial publication in this journal.