IMPLEMENTATION OF ARCHIPELAGO INSIGHTS IN NATIONAL INTEGRATION
Andika Ronggo Gumuruh

Citizenship and Pancasila Education Study Program at PGRI University of Banyuwangi

Tofan Priananda Adinata

history education study program at PGRI University's of Banyuwangi
Keywords:
implementation, national integration, archipelago insight
Abstract
The existence and prestorika glosnot that struck Eastern Europe result in Unisoviet countries and Yogoslovakia disintegrating. Events over a significant impact on the Unitary Republic of Indonesia (NKRI), the regions fery-fery (penggiran) began to flare, the suburbs have aspirations for independence such as East Timor is now independent, the Free Aceh Movement (GAM), Papua Organization Merdeka (OPM), the South Maluku Republic (RMS). The seeds of disintegration of the more fertile when Suharto's authoritarian government with a military approach to evaluate policy without political borders to prosper his people. The existence of globalization, trade liberalization, and strengthening of new ethnicities (awareness of the rights of tribal nationalities) increasingly stronger demands of the suburbs of his rights to ask whether social, political and economic welfare to accelerate. The factors and conditions above lead-freksi freksi and regional upheaval that gave birth to the potential for violence and bloody conflict. This is due to the absence of a shared perception among citizens. Archipelago is the answer to the same perception to live together in the corridor (the Republic of Indonesia) NKRI and realizing national integration
References
Adi Sumardiman, dkk. 1982. Wawasan Nusantara, Jakarta: Yayasan Harapan Nusantara.
Chaidir Basrie, 2002. Pemantapan Wawasan Nusantara Menuju Ketahanan Nasional. Jakarta: Dirjen Dikti Depdiknas.
Dimyati, M. 1972. Hukum Laut Internasional. Jakarta: Penerbit Bharat Karya Aksara.
Ermaya Suradinata, dkk. 2001. Geopolitik dan Konsepsi Ketahanan Nasional. Jakarta:Paradigma Cipta Tatrigama.
Filip Litay. 1997. Integrasi Nasional. Jakarta.
Hasyim Djalal. 2000. Masa Depan Indonesia Sebagai Negara Kesatuan Ditinjau Dari Segi Hukum Latu dan Kelautan. Tanpa Kota Penerbit dan Penerbit.
.2002. Konsepsi Wawasan Nusantara Rumusan Setjen Wanhankamnas, Jakarta: Dirjendikti Depdiknas.
Lemhanas. 1995. Wawasan Nusantara. Jakarta: Penerbit Ismujati.
John Piaris. 1988. Strategi Kelautan Dalam Perspektif Pembangunan Nasional. Jakarta: Penerbit Pustaka Sinar Harapan.
Munanjat Danusaputro, S.t. 1983.Wawasan Dalam Hukum Laut PBB. Bandung: Penerbit Alumni.
-------- .1982. Indrajaya Seroja Dharma Mahasi Indonesia Raya Dalam Jelang Silang Dunia, Jakarta: Penerbit Binacipta.
Sartono Kartodirdjo. 1993. Integrasi Nasional,: Yogyakarta, UGM.
Sobana, An. 2002. Wawasan Nusantara. Jakarta: Dikti Depdiknas.
Sumarsono, dkk. 2001. Pendidikan Kewarganegaraan,PT Gramedia Pustaka Utama, Jakarta.
Suwarsono, 1981. Wawasan Nusantara dan Ketahanan Nasional, Penerbit Hakcipta.
----------. tanpa kota Penerbit. UU No. 6/1996 tentang Perairan Indonesia UU No. 5 Tahun 1983. Tentang Zone Ekonomi.

Berita Koran

Kompas, 20 April 2005.
Kompas, 18 Mei 2009.
Revrisond Baswir, KR, 17 Mei 2009.
Rusman Ghazali, Kompas, 28 April 2005
Siswono 2005: 4
Suharto, KR, 25 Mei 2009
Sutjipto Raharjo, Kompas, 18 Mei 2009

Berita TV dan Vedio
Metro TV Mei 2009.
Metro TV 20 Mei 2009. Prabowo berkampanye untuk menjadi Calon Presiden Amin Rais, Juni 2008. "Slamatkan Indonesia"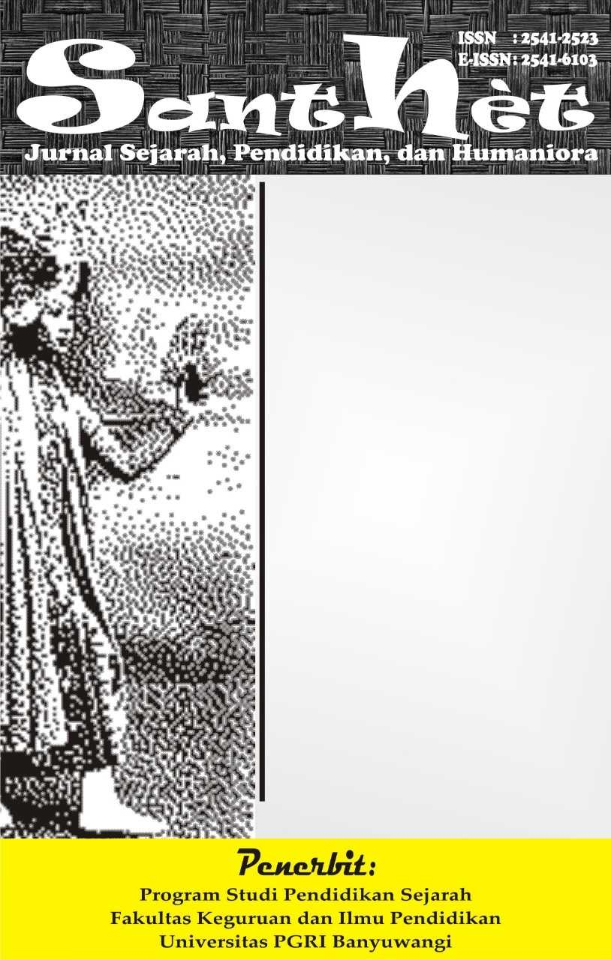 How to Cite
Andika Ronggo Gumuruh, & Tofan Priananda Adinata. (2020). IMPLEMENTATION OF ARCHIPELAGO INSIGHTS IN NATIONAL INTEGRATION. Santhet: (Jurnal Sejarah, Pendidikan, Dan Humaniora), 4(1), 30-40. Retrieved from https://ejournal.unibabwi.ac.id/index.php/santhet/article/view/866