Auction Of The Executed Collateral Object Under Fiduciary Guarantee
Dewi Kurniawati

Universitas Narotama

Moh Saleh
Keywords:
Fiduciary Guarantee, Constitutional court decision
Abstract
This research endeavors to analyze two crucial aspects within the legal framework of Indonesia, primarily in response to Constitutional Court Decision Number 18/PUU-XVII/2019. First, it delves into the coercive power of debtors regarding the surrender of fiduciary guarantee objects and examines the implications of the Constitutional Court's ruling, which allows debtors the choice not to voluntarily relinquish collateral objects, thus introducing ambiguity regarding the obligations outlined in Article 30 of the Fiduciary Guarantee Law. Consequently, this decision extends the execution process, increases costs, dampens the business climate, and diminishes potential Non-Tax State Revenue. Furthermore, creditors are challenged in executing defaults, now necessitating court orders and rendering the once-efficient process laborious. Second, the research navigates the intricacies of conducting auctions for executed fiduciary guarantee objects, elucidating the legal framework governing auctions in Indonesia, where transparency, competition, certainty, accountability, and efficiency are paramount. The study unveils the procedure for initiating auctions, the criteria for prospective participants, and the guiding principles of these auctions. In conclusion, this research calls for comprehensive studies by policymakers prior to any revisions in the Fiduciary Security Law, given the growing diversity of collateral objects and the complexities stemming from Constitutional Court Decision Number 18/PUU-XVII/2019. It underscores the need to modernize movable property security laws to adapt to evolving societal dynamics, consolidate fiduciary security regulations, and streamline the procedures for auctioning executed fiduciary collateral objects
References
Harahap M. Yahya, Ruang Lingkup Permasalahan Eksekusi Bidang Perdata, Edisi Kedua, Sinar Grafika, Jakarta, 2009.
Hay Marhainis Abdul, Hukum Perdata, Badan Penerbit Yayasan Pembinaan Keluarga UPN Veteran, Jakarta.
Kamello Tan, Hukum Jaminan Fidusia Suatu Kebutuhan Yang Didambakan, Alumni, Bandung, 2014.
Marzuk, Peter Mahmud , Penelitian Hukum, Cet. 12, Kencana Prenadamedia Group, Jakarta, 2016.
Mertokusumo Sudikno dan A. Pitlo, Bab-Bab Tentang Penemuan Hukum, Citra Aditya Bakti, Bandung, 1993.
Sianturi Purnama Tioria, Perlindungan Hukum Terhadap Pembeli Barang Jaminan Tidak Bergerak Melalui Lelang Edisi Revisi, Mandar Maju, Bandung, 2008.
Sutardjo F.X, Penjualan Secara Lelang : Perjalanannya Saat ini, Tantangan dan Prospeknya ke Depan, Jakarta, 2007.
Subekti, Hukum Acara Perdata, Bina Cipta, Bandung, 1989.
Sofwan, Sri Soedewi Masjchoen, Hukum Jaminan di Indonesia, Yogyakarta, Liberty Offset, 2003.
Subekti dan R. Tjitrosoedibio, Kamus Hukum, Pradnya Paramita, Jakarta, 1979.
Usman Rachmadi, Hukum Jaminan Keperdataan. Sinar Grafika, Jakarta, 2008.
Usanti, Trisadini Prasastinah dan Leonora Bakarbessy, Hukum Jaminan, Cetakan ke-4, Revka Petra Media, Surabaya, 2016.
Journal
Anggoro, Teddy, Parate Eksekusi: Hak Kreditor, yang Menderogasi Hukum Formil (Suatu Pemahaman Dasar dan Mendalam), Jurnal Hukum dan Pembangunan, No. 4, 2007.
Heriawanto, Benny Krestian, Pelaksanaan Objek Jaminan Fidusia Berdasarkan Title Eksekutorial, Jurnal Legality, Vol. 27, No. 1, 2019.
Kaligis, Sonip, Efektivitas Pasa 30 Undang-Undang Nomor 42 Tahun 1999 Tentang Jaminan Fidusia (Suatu penelitian Pasal 30 Undang-Undang Nomor 42 Tahun 1999 Tentang Jaminan Fidusia di Kabupaten Kediri), Universitas Brawijaya, h. 13, diakses melalui https://media.neliti.com/media/publications/118191-ID-efektivitas-pasal-30-undang-undang-nomor.pdf.
Patamangi, Moh. Novri, Tinjauan Hukum tentang Parate Eksekusi Hak Tanggungan Kredit Bank, Jurnal Ilmu Hukum Legal Opinion, Edisi 2 Volume 3, 2015.
Salamiah, Iwan Riswandie, Muhammad Aini, Efektivitas Eksekusi Obyek Jaminan Fidusia Bagi Nasabah Yang Tidak Mau Menyerahkan Obyek Fidusia Secara Sukarela (Studi Pada Pt. Bank Panin, Tbk Kcu Banjarmasin), Jurnal, Al'Adl, Volume IX Nomor 3, Desember 2017.
Latukau, Nurlia Bambang Winarno, dan Bambang Sudjito, Perlindungan Hukum Bagi Kreditor Atas Objek Jaminan Fidusia Yang Dibebani Fidusia Ulang Oleh Debitor Yang Sama, Universitas Brawijaya, diakses melalui https://media.neliti.com/media/publications/35692-ID-perlindungan-hukum-bagi-kreditor-atas-objek-jaminan-fidusia-yang-dibebani-fidusi.pdf, pada tanggal 10 November 2020.

Seminary
A. Yudha Hernoko, "Quo Vadis Perlindungan Hukum Bagi Kreditor Pemegang Jaminan Fidusia Pasca Putusan Mahkamah Konstitusi No. 18/PUU-XVII/2019: Problematikan Aturan atau Penerapan?", dalam Jaminan Fidusia Pasca Putusan Mahkamah Konstitusi, Bahan Presentasi Seminar, Fakultas Hukum Universitas Airlangga, Surabaya, 18 Februari 2020.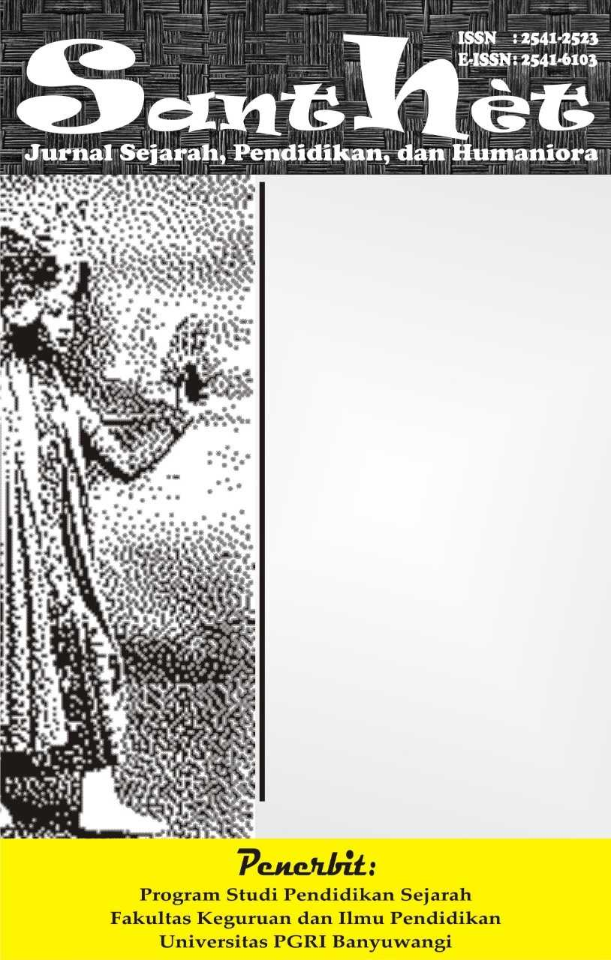 How to Cite
KurniawatiD., & SalehM. (2023). Auction Of The Executed Collateral Object Under Fiduciary Guarantee. Santhet : Jurnal Sejarah, Pendidikan, Dan Humaniora, 8(1), 112-123. https://doi.org/10.36526/santhet.v8i1.3189