COMMUNITY CRIMINAL RESPONSIBILITY FOR DISSEMINATION OF NEWS CONTAINING SARA THROUGH SOCIAL MEDIA
PERTANGGUNGJAWABAN PIDANA KOMUNITAS PENYEBARAN BERITA BERMUATAN SARA MELALUI MEDIA SOSIAL
Aurellya Desita Ananda Putri

Magister Kenotariatan, Fakultas Hukum, Universitas Airlangga

Vena Safira Adelita

Magister Kenotariatan, Fakultas Hukum, Universitas Airlangga

Maria Gabrielle Janice Angelie Siregar

Magister Kenotariatan, Fakultas Hukum, Universitas Airlangga
Keywords:
Criminal Liability, Hate Speech, Community, SARA, Social media
Abstract
In this millennial era, sharing and accessing information and news is very easy. This is because technology has increasingly developed among the people. People easily access information and news through social media. The government made a regulation related to the problem, namely the ITE Law. Along with the times, the provocative issue of spreading news containing SARA (Tribe, Religion, Race and Intergroup) also emerged in the use of social media because of the use of free and easy media. If the subject in question is a community as an example of a case for the spread of hate speech containing SARA Saracen. In this thesis will discuss the criminal liability of the SARA news disseminating community, using normative juridical legal research methods and accompanied by a statute approach and conceptual approach. The results of the research conducted by the author show that criminal liability in the community for distributing SARA-charged news is imposed by individuals rather than a community by adhering to the vicarious liability doctrine and that criminal sanctions are subject to article 28 paragraph (2) of the ITE Law.
References
Ali, C. (2011). Badan Hukum Alumni. Bandung.
Arief, B. N. (1984). Pelengkap Bahan Kuliah Hukum Pidana I. Semarang: FH UNDIP.
Atmasasmita, R. (1989). Asa-asas perbandingan hukum pidana.
Endro, P. D. (2019). Hukum Pidana Untaian Pemikiran. Surabaya: Airlangga university Press.
Hakim, L. (2020). Asas-Asas Hukum Pidana Buku Ajar Bagi Mahasiswa. Deepublish.
Hutabarat, D. T. H., Zebua, R., Sitorus, R. A., Subakti, F. A., Ramadhani, H., Mangunsong, J., Nduru, F., Alfah, G. S., Pasaribu, J. C. D., & Malau, R. M. (2022). The Urgency Of Legal Protection Against The Implementation Of Electronic Information Technology-Based Medical Records In Regulation Of The Minister Of Health Of The Republic Of Indonesia Number 269 Of 2008. Journal of Humanities, Social Sciences and Business (JHSSB), 1(4), 59–68.
Kaplan, A. M., & Haenlein, M. (2010). Users of the world, unite! The challenges and opportunities of Social Media. Business horizons, 53(1), 59–68. https://doi.org/10.1016/j.bushor.2009.09.003
Kristanti, N. (2009). Tindak Pidana Dibidang Informasi dan Transaksi Elektronik yang Bermuatan Penghinaan dan Pencemaran Nama Baik. Universitas Airlangga, Surabaya.
Lasabuda, R. (2013). Pembangunan wilayah pesisir dan lautan dalam perspektif Negara Kepulauan Republik Indonesia. Jurnal ilmiah platax, 1(2), 92–101.
Manthovani, R. (2020). Meluruskan Istilah Kritik, Fitnah dan Ujaran Kebencian. Diakses dari https://www. hukumonline. com/berita/baca/lt5cf0a71edb75c/meluruskan-istilah-kritik--fitnah-dan-ujaran-kebencian-oleh--reda-manthovani/pada tanggal, 19.
Marzuki, P. M. (2013). Penelitian hukum.
Maziyah, D. S. (2019). Batasan Pengaturan Forum Eksternum dalam Pembentukan Peraturan Perundang-undangan di Indonesia: Analisis Undang-Undang Nomor 33 Tahun 2014 tentang Jaminan Produk Halal. Universitas Airlangga.
Muladi, D. R., & Priyatno, D. R. D. (2015). Pertanggungjawaban Pidana Korporasi: edisi ketiga. Kencana.
Prodjodikoro, W. (1985). Hukum perkumpulan, perseroan dan koperasi di Indonesia. (No Title).
Prodjodikoro, W. (2015). Asas-asas hukum pidana di Indonesia.
Putri, N. S., Bandung, T. L. B. H., & laporan Kontras, B. (2017). Analisis Pasal 156a KUHP dan UU No 1 Tahun 1965 Terkait Tindak Pidana Penodaan Agama yang Terjadi Di Jawa Barat. Opini Hukum LBH Bandung, 11.
Rochmadi, I. (2011). Analisis Dampak Perdagangan Bebas dan Global pada Bergesernya Nilai Budaya, Prinsip dan Tujuan Koperasi. Jurnal Ekonomika, 4(2), 45–51.
Sjahdeini, S. R. (2017). Ajaran Pemidanaan: Tindak Pidana Korporasi dan Seluk-Beluknya. Kencana.
Wirjono, P. (2003). Tindak-Tindak Pidana Tertentu di Indonesia. Bandung: Refika Aditama, Hal, 103.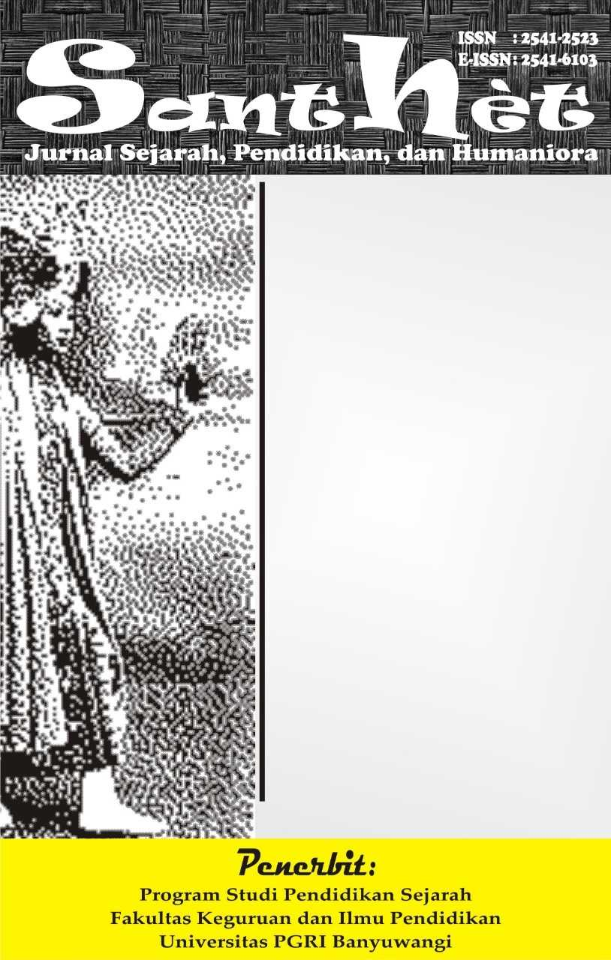 How to Cite
Aurellya Desita Ananda Putri, Vena Safira Adelita, & Maria Gabrielle Janice Angelie Siregar. (2023). COMMUNITY CRIMINAL RESPONSIBILITY FOR DISSEMINATION OF NEWS CONTAINING SARA THROUGH SOCIAL MEDIA: PERTANGGUNGJAWABAN PIDANA KOMUNITAS PENYEBARAN BERITA BERMUATAN SARA MELALUI MEDIA SOSIAL. Santhet : Jurnal Sejarah, Pendidikan, Dan Humaniora, 7(2), 633-650. https://doi.org/10.36526/santhet.v7i2.3078