MUHAMMADIYAH TV SUSTAINABILITY VISION DESIGN PERSPECTIVE OF AL MAUN THEOLOGY
Eksanti

Fakultas Ekonomi dan Bisnis, Universitas Muhammadiyah Jakarta

Luqman Hakim

Fakultas Ekonomi dan Bisnis, Universitas Muhammadiyah Jakarta

M Irfan Tarmizi*

Fakultas Ekonomi dan Bisnis, Universitas Muhammadiyah Jakarta
Keywords:
Vision, Sustainability, TVMuhammadiyah, Al-Maun theology
Abstract
Vision becomes a form or picture of what the company will be like. Vision can also be said to be the purpose of a company, so that the selection of vision can affect the form of business and the results that will be obtained from the business. "Vision" is likened to the image of a company to convey enduring values and enduring goals and in an effective manner. Vision is also a picture for a company to survive in its business competition. The purpose of this study is to critically analyze the vision and mission used by TVMu in surviving and carrying out its business activities using the perspective of Al-Maun theology. This research uses a qualitative approach. Data collection was conducted using documentation studies and in-depth interviews. Interviews were conducted with 4 informants on TVMu. Data analysis using the perspective of Miles and Huberman using the perspective of Al-Maun theology. The results showed that in maintaining the vision as a da'wah TV based on amar maruf nahi munkar, the foremost, intelligent, enlightening and part of AUM does not mean that it never makes mistakes as a result of pragmatic orientation towards sponsors. The pressure of operating costs and profits is one of the reasons TVMu receives advertisements and programs that override the vision and mission of TVMu's initial establishment.
References
Abidin, M. Z. (2016). Pembangunan Ilmu. 257.
Afandi. (2022). Surat Al Maun DNAnya orang Muhamadiyah. Muhamadiyah.
Anisa, C., & Rahmatullah, R. (2020). Visi Dan Misi Menurut Fred R. David Perspektif Pendidikan Islam. journal EVALUASI, 4(1), 70. https://doi.org/10.32478/evaluasi.v4i1.356
Bariyah, O. N., Candra, S., Rohmah, S., & Fadil, A. (2022). Spirit Al Ma'un Dalam Kurikulum Al Islam Dan Kemuhammadiyahan. Prosiding Seminar Nasional Penelitian LPPM UMJ. E-ISSN:2745-6080, 1(1), 1–11.
Burhani, N. A. (2013). Makna Teologi Al Maun Di Dua Generasi Muhamadiyah. Suara Muhamadiyah.
Chusnan, M. (2021). Teologi surat al – maun dan praksis sosial dalam kehidupan warga muhammadiyah.
Gunawan, A. (2018). Teologi Surat al-Maun dan Praksis Sosial Dalam Kehidupan Warga Muhammadiyah. SALAM: Jurnal Sosial dan Budaya Syar-i, 5(2), 161–178. https://doi.org/10.15408/sjsbs.v5i2.9414
Hermanto, B. (2017). Sejarah TV Komunitas. 1–23.
Huda, S. (2011). Teologi Mustad'afin di Indonesia: Kajian atas Teologi Muhammadiyah. Tsaqafah, 7(2), 345. https://doi.org/10.21111/tsaqafah.v7i2.8
Husein, U. (2011). Metode Penelitian Untuk Skripsi dan Tesis Bisnis Edisi 11. Jakarta: PT Raja Grafindo Persada, 14.
J.R. Raco. (2013). Metode Penelitian Kualitatif Jenis Karakteristik dan Keunggulannya. Grasindo.
Kantabutra, S. (2020). Toward an organizational theory of sustainability vision. Sustainability (Switzerland), 12(3), 0–26. https://doi.org/10.3390/su12031125
Maghfira, A., Putri, A. G., Listianto, A. N., Putri, G., & Astuti, A. P. (2022). Presentation of The Financial Statements of Non-Profit Entities Based on Isak 35 at The Hati Gembira Indonesia Foundation. Marginal : Journal of Management, Accounting, General Finance and International Economic Issues, 1(4), 1–16.
Miles and Huberman. (1994). Qualitative data analysis.
Rayyani, W. O., & Abbas, A. (2020). Akuntabilitas Kinerja dalam Bingkai Tauhid Sosial: Suatu Refleksi Teologi Al Ma'Un. Kamaya: Jurnal Ilmu Agama, 3(2), 174–190. https://doi.org/10.37329/kamaya.v3i2.439
Said, T. (2019). Implementasi Spirit Al Maun. Suara Muhamadiyah.
Suryono, B. (2016). Organisasi Nirlaba: Karakterisitik Dan Pelaporan Keuangan Organisasi. EKUITAS (Jurnal Ekonomi dan Keuangan), 3(2), 59. https://doi.org/10.24034/j25485024.y1999.v3.i2.1883
Susilawati, N. (2015). STRATIFIKASI AL-MAQASID AL-KHAMSAH DAN PENERAPANNYA DALAM AL-DHARURIYAT, AL-HAJJIYAT, AL-TAHSINIYYAT Nilda Susilawati. Mizani, 2(1).
Talitha, S., Rosdiana, R., & Susilawati, R. (2019). Perkembangan Industri Televisi. Pedagonal : Jurnal Ilmiah Pendidikan, 3(1), 60–69. https://doi.org/10.33751/pedagog.v3i1.985
Wiratnadi, I. P., Meitriana, M. A., & Indrayani, L. (2019). Faktor-Faktor Yang Mempengaruhi Keberlanjutan Organisasi Nirlaba ( Studi Pada Organisasi Kakak Asuh Bali ). Pendidikan Ekonomi, 11(2), 605–616.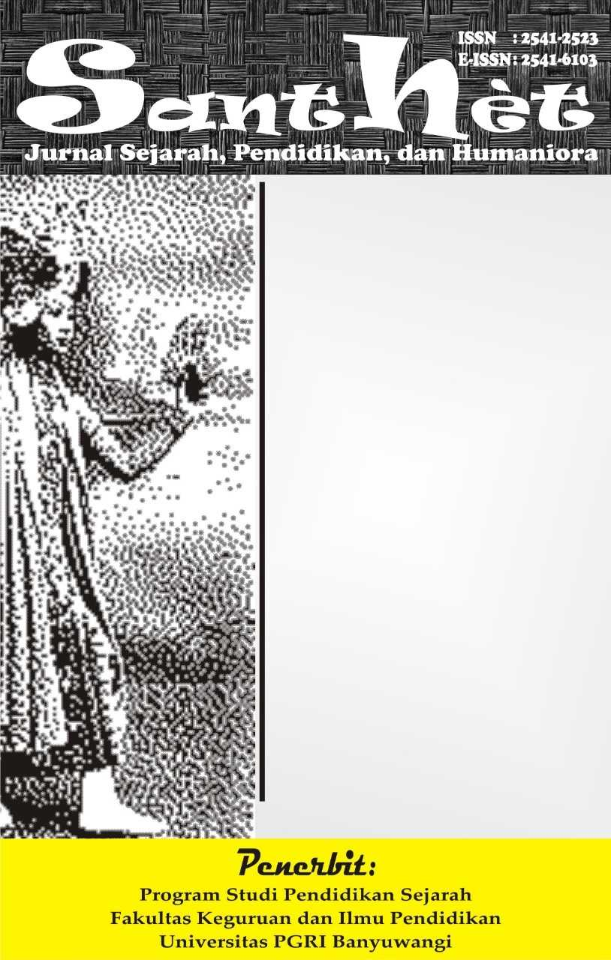 How to Cite
Eksanti, Hakim L., & TarmiziM. I. (2023). MUHAMMADIYAH TV SUSTAINABILITY VISION DESIGN PERSPECTIVE OF AL MAUN THEOLOGY. Santhet : Jurnal Sejarah, Pendidikan, Dan Humaniora, 7(2), 593-601. https://doi.org/10.36526/santhet.v7i2.3012