ACCOUNT JUAH'S CONTRIBUTION FOR THE COMMUNITY OF WEST KALIMANTAN
Kontribusi Tampun Juah Untuk Masyarakat Kalimantan Barat
Nunik Esti Utami

Dosen Pendidikan Sejarah IKIP PGRI Pontianak
Keywords:
Tampun Juah, Community, West Kalimantan
Abstract
This study aims to This research aims to: (1) Dayak tribe in West Kalimantan and the origin of Tampun Juah; (2) Tampun Juah for the people of West Kalimantan. The research method used in this study is a historical method written in a descriptive-analytic manner with cultural and social integration. The series of research is described in several stages, namely heuristics. Second, verification. Third, interpretation. Fourth, historiography. The results of this study note that: (1) The diversity of the Dayak tribe. (2) Tampun Juah is a place of origin for the identity of the Dayak tribe, language, culture, and the creation of Malian customary law, namely customary law, customs for the benefit of the people of West Kalimantan..
References
Abdurrahman, D. 2007. Metode Penelitian Sejarah. Jakarta: Logos Wacana
Alloy, dkk. (2008)Mozaik Dayak: Keberagaman Subsuku dan Bahasa Dayak di Kalimantan Barat. Pontianak: Institut Dayakologi.
Edwin h. gomes 2004, Seventeen years among the sea dyaks of borneo, natural history publications ( borneo ) Sdn. BHd, Sabah Malaysia
Gottschalk Louis 1975, Mengerti Sejarah, Jakarta: UI Press
Helius Sjamsuddin. 2007. Metodologi Sejarah, Yogyakarta : Penerbit Ombak
Hermanto , 2012. Orang Dayak Koman memperkuat identitas, mempertegas batas wilayah adat. Penerbit Artha Grafistama Pontianak.
Juniar Purba dkk. 2006 . Orang kantuk di Bika Kec. Manday kab. Kapuas Hulu. Penerbit Kajian sejarah dan nilai tradisional Pontianak.
Krissusandi Gunui dan ansilla twiseda mecer, 2019, Tampuh Juah titik balik peradaban dayak penerbit institusi dayakologi Pontianak.
Simon takdir 2002, Keberagaman Sub suku dan Bahasa Dayak penerbit institusi dayakologi Pontianak.
Tim peneliti 2003 Tradisi lisan dayak yang tergusur dan terlupakan penerbit institusi dayakologi Pontianak.
Sumber Internet
Kalimantan barat Humanitarian.2009 www. Humanitarianresponse.info (Diakses Febuari 23 02, 2021)
Ewaldus Sugiarto 2019, Musik Dalam upacara adat burokmak suku dayak bisomu di desa sanggau Kalimantan Barat, UPT Perpustakaan ISI Yogyakarta 4256/7/ 1 - 25
Aseanty Pahlevi. 2019. Tembawang Tampun Juan https://www.mongabay.co.id ( diakses 02-03 2021).
Muammar Ardli Hafiid dkk.2015. Perubahan Ruang pada ruangan rumah Panjae suku dayak Iban Kalimantan Barat. Jurnal Ruas vol 13 No 2.
Sunardi Tri Widiarto 2015 Pengaruh penginjilan gereja kemah injil Indonesia terhadap social dan budaya masyarakat dayak mualang provisi Kalimantan Barat 17 / 1 /1: 28-36 http // : ris.uksw.edu (diakses 02.03.2021 )
Hamid darmadi 2016 Dayak Asal-Usul Seni Budaya dan Penyebarannya di bumi Borneo. 3/2 1-19 Journal ikippgriptk.ac.id ( diakses 02.03 2021).
Teguh dkk 2016 Etnobotani di kebun tembawang Suku Dayak Iban, etnobotani, tembawang, jurnal Media Konservasi Vol. 21 No. 2, Agustus.
Bpcbkaltim. 2020. Hutan Keramat Tampun Juan. http// kebudayaan.kemdikbud.go.id.( diakses 02.03 2021).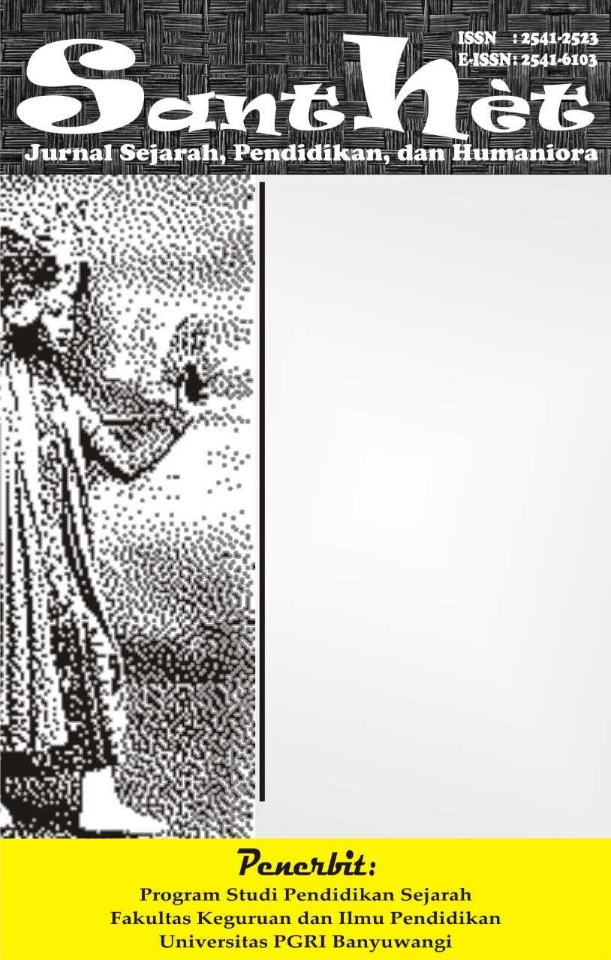 How to Cite
Nunik Esti Utami. (2022). ACCOUNT JUAH'S CONTRIBUTION FOR THE COMMUNITY OF WEST KALIMANTAN: Kontribusi Tampun Juah Untuk Masyarakat Kalimantan Barat. Santhet : Jurnal Sejarah, Pendidikan, Dan Humaniora, 6(1), 107-112. https://doi.org/10.36526/santhet.v6i1.2015