IDEOLOGI CULTUR DESAIN PAPAN IKLAN PADA RUANG PUBLIK TERBUKA DI KOTA KUPANG
Karus Margaretha

Pendidikan Bahasa Dan Sastra Indonesia, Universitas Nusa Cendana

Semuel Hajai Nitbani

Pendidikan Bahasa Dan Sastra Indonesia, Universitas Nusa Cendana

Karolus Budiman Jama

Pendidikan Bahasa Dan Sastra Indonesia, Universitas Nusa Cendana

I Ketut Sutarwiyasa

Teknik Informatika, STMIK STIKOM Indonesia
Keywords:
ideologie, culture, advertising design, open public space
Abstract
East Nusa Tenggara is rich in local wisdom spread across several islands and regencies/cities in government administration. The city of Kupang is administratively-geographically located near the center of the provincial government. The logical consequence of the position of this administrative area is the proliferation of technological developments which have implications in various aspects of life. One that is clearly visible is the visual design of the advertisements displayed in every open public space. Visible ad designs tend to use visual displays that contain popular culture. This leads to the sinking of the existence of the local image owned by the people of East Nusa Tenggara. Through a descriptive-qualitative method with a phenomenological approach, this study seeks to reveal elements of ideology and culture in the design of billboards in open public spaces in Kupang City. Within the framework of the Semiotics theory, the local image becomes the object to be analyzed. The product produced in this research is documentation of local image visualization.
References
Barthes, R. (2010). Membedah Mitos-mitos Budaya Massa: Semiotika dan Sosiologi Tanda, Simbol, dan Representasi. Jalasutra.
Giddens, A. (2019). Modernity and Self Identity. Polity Press.
Hatta, H. (2021). HEGEMONI DALAM NOVEL TIBA SEBELUM BERANGKAT KARYA FAISAL ODDANG. Cakrawala Listra, 4(2), 22–36.
Kolly, A. S. (2013). Analisis Semiotika Representasi Kebudayaan Indonesia Dalam Iklan Kuku Bima Energi Versi Flores, Nusa Tenggara Timur Di Media Televisi. Journal Ilmu Komunikasi, 1(4), 25.
Onggo, T. A. (2016). Kajian Semiotika Pada Desain Kemasan Produk Perawatan Kulit Wanita. SEMIOTIKA: Jurnal Komunikasi, 10(2).
Poti, J. (2019). EKONOMI POLITIK, MEDIA DAN RUANG PUBLIK. SEMIOTIKA: Jurnal Komunikasi, 13(2), 12–14.
Robot, M. (2021). Social Distance Of Ex East Timor Communities With The Tuapukan Community, In Kupang District East Nusa Tenggara Province, Indonesia. International Journal of Educational Research & Social Sciences, 2(6), 1426–1438.
Sebayang, C. M. (2017). Analisis Semiotika Representasi Kecantikan Pada Iklan Pantene Total Damage Care 10 Versi Raline Shah Di Media Televisi. EJournal Ilmu Komunikasi, 5(2), 66–80. ejournal.ilkom.fisip-unmul.ac.id
Sembiring, E. L., & Purnama, H. (2020). Representasi Citra Diri B.J. Habibie Pada Iklan Surat Kabar (Analisis Semiotika Roland Barthes Dalam Iklan Dukacita B.J. Habibie Pada Surat Kabar Republika). E-Proceeding of Management, 7(2), 60–62.
Supardi, & Hadi, S. (2017). TIPE-TIPE KESALAHAN KONKORDANSI GRAMATIKAL SINTAKSIS PADA FRASA BAHASA ARAB. Bahasa Dan Seni: Jurnal Bahasa, Sastra, Seni, Dan Pengajarannya, 45(1), 25–26. https://doi.org/10.17977
Ulinnuha. (2018). Kajian Semiotika: Identitas Budaya Lokal Dalam Film Golok Lanang Wanten Karya Darwin Mahesa. Ikraith Ekonomika, 1(2), 34.
Walker, J. A. (2010). Desain, Sejarah dan Budaya: Sebuah Pengantar Komprehensif. Jalasutra.
Yendra. (2019). Coretan Lingual di Ruang Publik Kota Padang: Kajian Lanskap Linguistik. Universitas Udayana.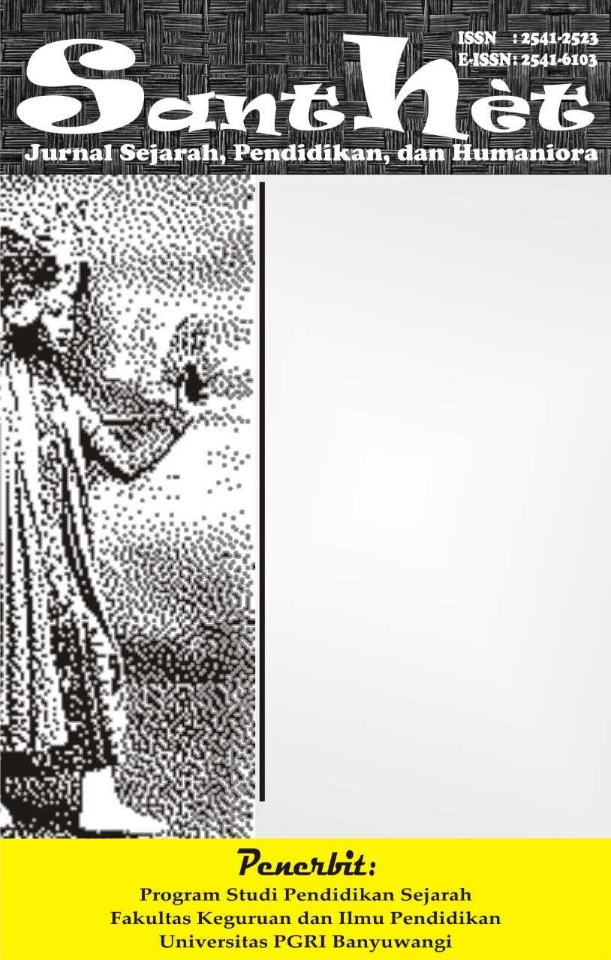 How to Cite
Karus Margaretha, Semuel Hajai Nitbani, Karolus Budiman Jama, & I Ketut Sutarwiyasa. (2022). IDEOLOGI CULTUR DESAIN PAPAN IKLAN PADA RUANG PUBLIK TERBUKA DI KOTA KUPANG. Santhet: (Jurnal Sejarah, Pendidikan, Dan Humaniora), 6(1), 87-99. https://doi.org/10.36526/santhet.v6i1.1907