INTEGRATING LOCAL CUISINE INTO TOURISM TO CREATE ECONOMIC AND SOCIAL BENEFITS IN THE DIGITAL 4.0 ERA
MENGINTEGRASIKAN KULINER LOKAL KE DALAM PARIWISATA DALAM MENCIPTAKAN MANFAAT EKONOMI DAN SOSIAL DI ERA DIGITAL 4.0
Otje Herman Wibowo

Akademi Sages
Keywords:
Local Culinary, Tourism, Economic and Social, Digital Era 4.0
Abstract
This research aims to integrate local culinary into tourism in creating economic and social benefits in the digital 4.0 era. Data collection techniques are documentation from relevant journals and literature sources such as Google Scholar. Data analysis with critical literature. The results of the study show that the integration of local culinary into tourism in the digital 4.0 era creates economic and social benefits. Local cuisine attracts tourists with the uniqueness of traditional dishes. Digital infrastructure and marketing increase the visibility of local culinary delights. Positive impacts on tourism and local communities, such as new income and jobs. The interaction of tourists and local residents through culinary increases cultural understanding, local identity and tolerance. Huge potential for sustainable economic and social benefits
References
Akib, E. (2020). Pariwisata Dalam Tinjauan Pendidikan: Studi Menuju Era Revolusi Industri. Pusaka: Journal of Tourism, Hospitality, Travel and Business Event, 2(1), 1–7.
Bashori, K. (2012). Manajemen Talenta Untuk Mengoptimalkan Produktivitas PNS. Civil Service Journal, 6(2 November).
Baskara, I. (2022). Strategi Bisnis Usaha Mikro Kecil dan Menengah (UMKM) Pada Era New Normal. J. Abdimas, 8(04), 241–250.
Eddyono, F. (2021). Pengelolaan Destinasi Pariwisata. uwais inspirasi indonesia.
Hariyanto, W., & Wariyanto, A. (2020). Peran Dana Desa untuk Percepatan Transformasi Desa di Era Revolusi Industri 4.0.
Hermawanto, A., & Anggraini, M. (2020). Globalisasi, Revolusi Digital dan Lokalitas: Dinamika Internasional dan Domestik di Era Borderless World. LPPM Press UPN" Veteran" Yogyakarta.
Hidayat, N., Robiyanti, R. R., & Purwaningsih, T. (2022). Penguatan Literasi Digital Untuk Meningkatkan Umkm Dalam Mendukung Desa Wisata Di Cirumpak Kabupaten Tangerang. KREATIF: Jurnal Pengabdian Masyarakat Nusantara, 2(4), 106–115.
Isdarmanto, I. (2020). Strategi Branding Pengembangan Industri Pariwisata 4.0 melalui Kompetitif Multimedia di Era Digital. Journal of Tourism and Creativity, 4(1), 1–20.
Kurniawan, A. R. (2020). Tantangan pengembangan pariwisata berbasis masyarakat pada era digital di Indonesia (Studi Kasus Pengembangan Pariwisata Berbasis Masyarakat di Pangalengan). Tornare: Journal of Sustainable and Research, 2(2), 10.
Rozaki, A., & Rohaya, S. (2019). Memberdayakan desa melalui pariwisata berbasis bumdes. Engagement: Jurnal Pengabdian Kepada Masyarakat, 3(1), 1–20.
Satria, D., & Wibowo, J. M. (2021). Peran Klaster Pariwisata Terhadap Ekonomi Kreatif Kabupaten Banyuwangi Di Era Industri 4.0. Jurnal Kepariwisataan Indonesia: Jurnal Penelitian dan Pengembangan Kepariwisataan Indonesia, 15(2), 134–147.
Suryana, D., & Hijriani, A. (2022). Pengembangan Media Video Pembelajaran Tematik Anak Usia Dini 5-6 Tahun Berbasis Kearifan Lokal. Jurnal Obsesi: Jurnal Pendidikan Anak Usia Dini, 6(2), 1077–1094.
Ulumi, H. F. B., & Syafar, M. (2021). Pengembangan Ekowisata Pulau Tunda Berbasis Komunitas dalam Era Industri 4.0. Jurnal Antropologi: Isu-Isu Sosial Budaya, 23(1), 118–128.
Wahyuni, D., & Ikhwan, K. (2022). Literature Study Of Factors Affecting Employee Turnover Intentions In Indonesia. Journal Of Management, Accounting, General Finance And International Economic Issues (MARGINAL), 1(4), 53–64.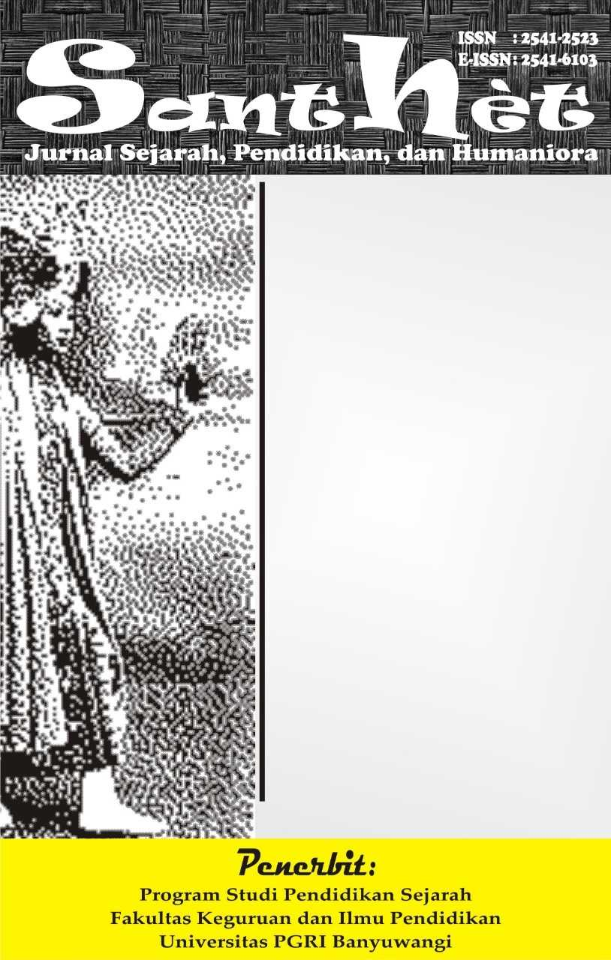 How to Cite
Otje Herman Wibowo. (2023). INTEGRATING LOCAL CUISINE INTO TOURISM TO CREATE ECONOMIC AND SOCIAL BENEFITS IN THE DIGITAL 4.0 ERA: MENGINTEGRASIKAN KULINER LOKAL KE DALAM PARIWISATA DALAM MENCIPTAKAN MANFAAT EKONOMI DAN SOSIAL DI ERA DIGITAL 4.0. Santhet : Jurnal Sejarah, Pendidikan, Dan Humaniora, 7(2), 559-566. https://doi.org/10.36526/santhet.v7i2.1846