Cultural Shifts And Social Impacts Of Coffee Shops On Millennials
Pergeseran Budaya Dan Dampak Sosial Coffee Shop Pada Generasi Milenial
Daman Sudarman

Faculty of Economics and Business, Universitas Muhammadiyah Jakarta
Keywords:
Culture Shift, Social, Millennial
Abstract
The cultural and lifestyle shifts occurring in modern society, particularly among the millennial generation, have had a significant impact on the emergence and popularity of coffee shops. This research aims to analyze the transformation in coffee culture and the social impact of coffee shops on millennials. The method used in this study is library research.The results indicate that coffee shops have become iconic symbols of the millennial lifestyle, offering a comfortable and visually appealing environment for this generation. Millennials often choose coffee shops as gathering places, workspaces, or spaces to relax. Coffee shops have also become hubs for social activities and connections among individuals, enabling more direct social interactions compared to online platforms. This phenomenon has created a unique social and cultural atmosphere surrounding coffee shops, which in turn impacts the local economy. Furthermore, changes in millennials' lifestyles have influenced their self-perception and consumption patterns. Coffee shops serve as venues where they can express themselves, seek new experiences, and cultivate their identities. Millennials utilize coffee shops as platforms to showcase their lifestyles and aspirations, as well as to gain social recognition and prestige.
References
Ainiyah, N. (2018). Millennial Teenagers And Social Media: Social Media As A Medium Of Educational Information For Millennial Teenagers. Indonesian Journal of Islamic Education, 2(2), 221–236.
Al Muala, A. (2018). Influence of Viral Marketing Dimensions on Customer Satisfaction in Fast Food Restaurants in Jordan. J. Mgmt. & Sustainability, 8, 149.
Alfirahmi, A. (2019). The Contemporary Coffee Phenomenon In The 4.0 Era In Terms Of Marketing 4.0 And Uses And Effects Theory. LUGAS Journal of Communication, 3(1), 24–32.
Apdillah, D., Panjaitan, K., Stefanny, N. T. P., & Surbakti, F. A. (2022). The Global Competition In The Digital Society 5.0 Era: The Challenges Of The Younger Generation. Journal of Humanities, Social Sciences and Business (JHSSB), 1(3), 75–80. https://doi.org/https://doi.org/10.55047/jhssb.v1i3.151
Ariani, S. (2012). The relationship between individual and environmental factors with consumption of sugar-sweetened soft drinks in students of sma negeri 1 bekasi in 2012. Thesis. University of indonesia.
Badudu, Y., & Zain, S. M. (1994). General dictionary of Indonesian language. (No Title).
Chaney, D. C. (2002). From ways of life to lifestyle: rethinking culture as ideology and sensibility. In Culture in the communication age (page. 85–98). Routledge.
Hamed, E. M. (2017). Investigating Effects of Viral Marketing on Consumer" S Purchasing Decision (Case Study: The Students of The Administrative Sciences College Najran University). British Journal of Marketing Studies, 5(4), 63–73.
Hanum, N. (2018). The effect of income, number of family dependents and education on consumption patterns of fishermen households in seuneubok rambong village, east aceh. Samudra ekonomika journal, 2(1), 75–84.
Hawkins, L. K., Farrow, C., & Thomas, J. M. (2020). Do perceived norms of social media users' eating habits and preferences predict our own food consumption and BMI? Appetite, 149, 104611.
Kadir, H. A. (n.d.). Stylish in the Mall: An Ethnographic Study of Post-Conflict Youth Styles in Ambon. Journal of Youth Studies, 1(1), 15–30.
Kotler, P., & Amstrong, G. (2014). Principles of Marketin, Volume 1 Translation of Bob Sabran. Jakarta: Erlangga.
Kurniawan, A. (2016). Consumptive Behavior of Teenage Coffee Drinkers in Coffee Shops (Qualitative Descriptive Study of Consumptive Behavior of Teenage Coffee Drinkers in Coffee Shops in Plaosan District, Magetan Regency)).
Malik, V. S., Pan, A., Willett, W. C., & Hu, F. B. (2013). Sugar-sweetened beverages and weight gain in children and adults: a systematic review and meta-analysis. The American journal of clinical nutrition, 98(4), 1084–1102.
Martono, N. (2012). Sociology of Social Change: Classical, Modern, Postmodern, And Postcolonial Perspectives (Sample Pages). RajaGrafindo Persada Jakarta.
Masri, E. (2018). Determinants of High-Calorie Drink Consumption Behavior in College Students. Journal of Pharmacy and Health, 8(2), 53–63.
McCulloch, K., Stewart, A., & Lovegreen, N. (2006). 'We just hang out together': youth cultures and social class. Journal of youth studies, 9(5), 539–556.
Plummer, R. (1983). Life Span Development Psychology: Personality and Socialization. New York: Academic Press.
Pratiwi, N., & Widhiasti, M. R. (2022). Coffee trends in Jakarta: An analysis of coffee shop recommendations on Instagram accounts. Satwika: Studies in Culture and Social Change, 6(2), 218–231.
Priansa, D. J. (2017). Consumer Behavior In Contemporary Business Competition. Alfabeta.
Putri, Z. F. (2020). Youth Consumerism in Nongkrong Culture (Case Study of Café Preferences in South Jakarta). Faculty of Social and Political Sciences, Syarif State Islamic University ….
Rosenberg, M., & Turner, R. H. (1990). Social psychology: Sociological perspectives. Transaction Publishers.
Sawaftah, D., Calıcıoglu, C., & Awadallah, R. (2020). The relationship between viral marketing and consumer purchase intention, the moderator role of brand image and age: Evidence from smartphone users in North Cyprus. Management science letters, 10(6), 1307–1320.
Schiffman, L. G., & Wisenblit, J. L. (2015). Consumer behavior 11th global edition. England: Pearson Education Limited.
Sembiring, B. K. F., & Ananda, S. (2019). The effect of viral marketing and customer trust on online shop purchase decisions based on application in faculty of economic and business Universitas Sumatera Utara. Multi-Disciplinary International Conference University of Asahan, 1.
Solomon, M. R., & Panda, T. K. (2004). Consumer behavior, buying, having, and being. Pearson Education India.
Suryono, A. (2019). Theories and Strategies of Social Change. Bumi Aksara.
Trujillo, J. L. (2007). Leisure meanings, experiences and benefits: a cross-cultural analysis of young adults. Citeseer.
Wati, S. S., Agustina, F., & Evahelda, E. (2020). Socio-Economic Impact of the Empowerment Program for Smallholder Oil Palm Farmers in Bangka Regency. Journal of Integrated Agribusiness, 2(1), 1–19.
Wulandari, M., & Erianjoni, E. (2021). Changes in the Meaning of Nongkrong for Teenagers (Case Study of Teenagers who "Hang Out" in the GOR Haji Agus Salim Area, Padang City). Journal of Perspectives: Journal of Sociology and Education Studies, 4(1).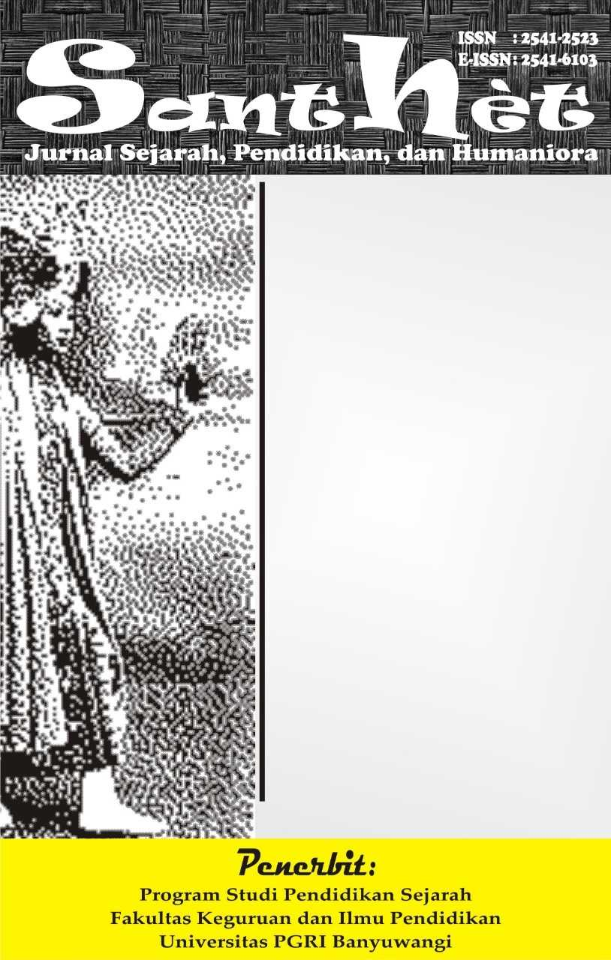 How to Cite
Daman Sudarman. (2023). Cultural Shifts And Social Impacts Of Coffee Shops On Millennials: Pergeseran Budaya Dan Dampak Sosial Coffee Shop Pada Generasi Milenial. Santhet : Jurnal Sejarah, Pendidikan, Dan Humaniora, 7(2), 318-326. https://doi.org/10.36526/santhet.v7i2.1837