EDUCATIONAL THEORY APPLICATION IN HISTORY LEARNING
Elfa Michellia Karima

Universitas Negeri Padang

Firza

Universitas Negeri Padang

Wahidul Basri

Universitas Negeri Padang

Feni Astriani

Universitas Negeri Padang
Keywords:
History, Learning, Methods, Learning Theory
Abstract
The purpose of this research is to determine how applying behavioristic learning theory, constructivist theory, humanistic theory, and cognitive theory to learning history at SMAN 1 Padang affects learning. In the learning process, learning theory is used as a reference. A theory can change or develop over time if there is a more complex or better theory for use in learning. Using this learning theory, learning objectives can be met while also improving educational quality. Improving educational quality can be accomplished by enhancing the teaching and learning process, analyzing student learning outcomes, and resolving classroom issues. In this study, survey and interview methods were used. The questionnaire asks 54 respondents six questions about the impact on the student learning process, specifically the History subject at SMAN 1 Padang. The variety of learning methods and theories used in learning allows students to maximize their ability to understand history.
References
Arbayah. (2013). Model Pembelajaran Humanistik. Dinamika Ilmu, 13(2).
Arikunto, S. (2010). Metode peneltian. Jakarta: Rineka Cipta.
Assegas, A. R. (2011). Filsafat pendidikan islam: paradigma baru pendidikan hadhari berbasis integratif interkonektif. Jakarta: Raja Grafindo Persada.
Bolles, R. C. (1975). Learning theory.
Bradburn, N. M., Sudman, S., Blair, E., Locander, W., Miles, C., Singer, E., & Stocking, C. (1979). Improving interview method and questionnaire design: Response effects to threatening questions in survey research. Jossey-Bass San Francisco.
Chu, S. K. W., Reynolds, R. B., Tavares, N. J., Notari, M., & Lee, C. W. Y. (2021). 21st century skills development through inquiry-based learning from theory to practice. Springer
Dalyono, M. (2009). Psikologi Pendidikan. Jakarta: PT Rineka Cipta.
Isti'adah Feida Noorlaila. (2020). Teori-teori Belajar dalam Pendidikan. Tasikmalaya: Edu Publisher.
Johnson, A. P. (2014). Humanistic learning theory. Education psychology: Theories of learning and human development, 1-10.
Perni, N. N. (2019). Penerapan Teori Belajar Humanistik dalam Pembelajaran. Adi Widya: Jurnal Pendidikan Dasar, 3(2), 105-113.
Prihantoro, I. (2010). Metode Pembelajaran Outdoor Study. Jakarta: PT Gramedia.
Roberts, T. (1975). Four Psychologies applied to Education. New York: Jhon Niley and Sons.
Shuell, T. J. (2021). Learning theory, instructional theory, and adaptation. In Aptitude, learning, and instruction (pp. 277-302). Routledge.
Situmorang, R. P. (2016). Analisis Learning Continuum tingkat SD sampai SMP pada tema sistem pencernaan manusia. Scholaria, 6(2).
Soemanto, W. (2006). Psikologi Pendidikan, Landasan Kerja Pemimpin Pendidikan. Jakarta: PT Rineka Cipta.
Staddon, J. (2021). Theoretical behaviorism. In Contemporary Behaviorisms in Debate (pp. 79-95). Springer.
Sulaiman, S., & Neviyarni, S. (2021). Teori Belajar Menurut Aliran Psikologi Humanistik Serta Implikasinya Dalam Proses Belajar dan Pembelajaran. Jurnal Sikola: Jurnal Kajian Pendidikan dan Pembelajaran, 2(3).
Sumantri, B.A dan Ahmad, N. (2019). Teori Belajar Humanistik dan Implikasinya terhadap Pembelajaran Pendidikan Agama Islam. Fondatia: Jurnal Pendidikan Dasar, 3(2).
Suswanto, H. (2018). Penelitian Pendidikan. Tangerang: Tirta Smart.
Syah, Muhibbin. (2017). Psikologi pendidikan dengan suatu pendekatan baru. Bandung: PT Remaja Rosdakarya.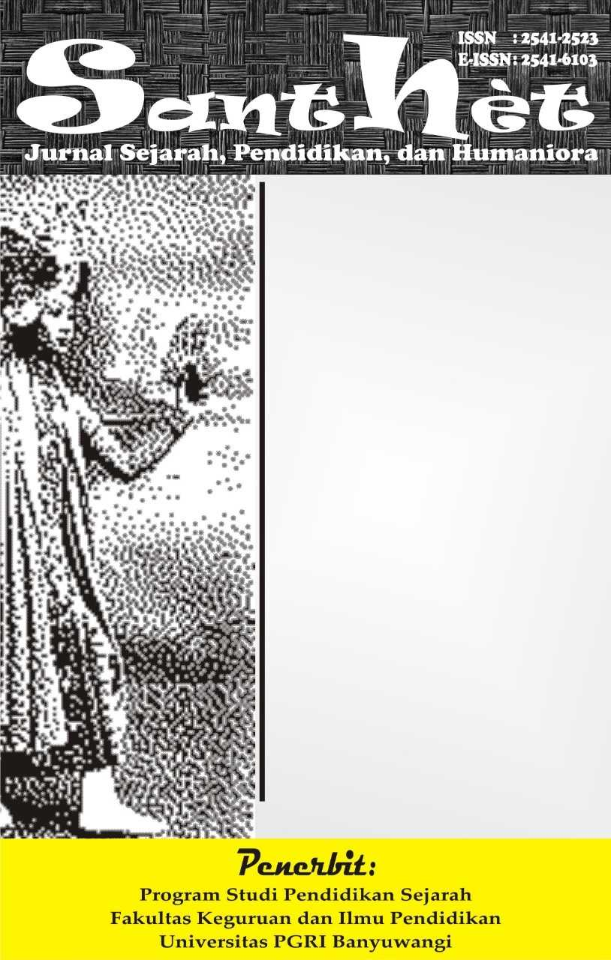 How to Cite
Karima, E. M., Firza, Basri, W., & Astriani, F. (2021). EDUCATIONAL THEORY APPLICATION IN HISTORY LEARNING. Santhet: (Jurnal Sejarah, Pendidikan, Dan Humaniora), 5(2), 115-124. https://doi.org/10.36526/santhet.v5i2.1488