REVITALIZATION OF THE ORIGINAL CULTURE OF BONDOWOSO DISTRICT AS A CULTURAL HERITAGE
REVITALISASI TERHADAP BUDAYA ASLI DAERAH KABUPATEN BONDOWOSO SEBAGAI WARISAN BUDAYA
Deni Kurniawan Efendi

Prodi Pendidikan Jasmani Kesehatan dan Rekreasi, Universitas PGRI Banyuwangi, Indonesia

Bayu Septa Martaviano Triaiditya

Prodi Pendidikan Jasmani Kesehatan dan Rekreasi, Universitas PGRI Banyuwangi, Indonesia
Keywords:
Communication, Language, Society
Abstract
Revitalization research on culture in Indonesia still uses the publication method on social media. This study aims to recall the culture that exists in several areas, especially Bondowoso Regency itself, as well as to produce products and increase the knowledge of the community, youth and students about indigenous culture in Bondowoso Regency. The research was conducted with field observations, interviews with related agencies, cultural centers, cultural experts in Bondowoso Regency, the results of which can later be disseminated to all communities, youth and students to better understand and know about the indigenous culture of Bondowoso Regency itself.
References
Davison, G. dan C Mc Conville. 1991. A Heritage Handbook. St. Leonard, NSW: Allen & Unwin
Diah Naomi B.S. 2018, Budaya Lokal Di Era Global, Jurnal Ilmu Pengetahuan dan Karya Seni, volume 220-No2, FKIP Universitas PGRI Palembang
Galla, A. 2001. Guidebook for the Participation of Young People in Heritage. Conservation. Brisbane: Hall and jones Advertising.

Hirst, Paul. 2001, Globalisasi Adalah Mitos, Yayasan Obor Indonesia, Jakarta
Loturco I, Nakamura FY, Artioli GG, Kobal R, Kitamura K, Cal Abad CC, Cruz IF, Romano F, Pereira LA, Franchini E, 2016, Strength and Power Qualities are Highly Associated with Punching Impact in Elite Amateur Boxers, Journal of Strength and Conditioning Research 30(1): 109–116
Putra Herdian A. W, 2014, Revitalisasi Kesenian Ebeg Di Desa Kamulyan Kecamatan Bantarsari Kabupaten Cilacap Provinsi Jawa Tengah,Skripsi, Fakultas Bahasa dan Seni, Universitas Negeri Yogyakarta

Sedyawati, Edi. 2007. Keindahan dalam Budaya Buku 1 Kebutuhan Membangun Bangsa Yang Kuat.Jakarta: Wedatama Widya Sastra.
Soekanto, Soerdjono. 2006, Sosiologi Suatu Pengantar, Raja Grafindo Persada, Jakarta
Soekamto, 2006: 150. Nilai-nilai kearifan lokal.
Suneki Sri. 2012. Dampak Globalisasi Terhadap Eksitensii Budaya Daerah, Jurnal Ilmiah CIVIC, Volume 11-NO 1
Wardhana, Wisnu A. 2010, Dampak Pemanasan Global, Andi Ofset, Yogyakarta
Yasraf Amir Piliang 2005, 'Menciptakan Keunggulan Lokal untuk Merebut Peluang Global, Sebuah Pendekatan Kultural" Seminar " Membedah Keunggulan Lokal dalam Konteks Global" tgl 26 Juli 2005 ISI Denpasar.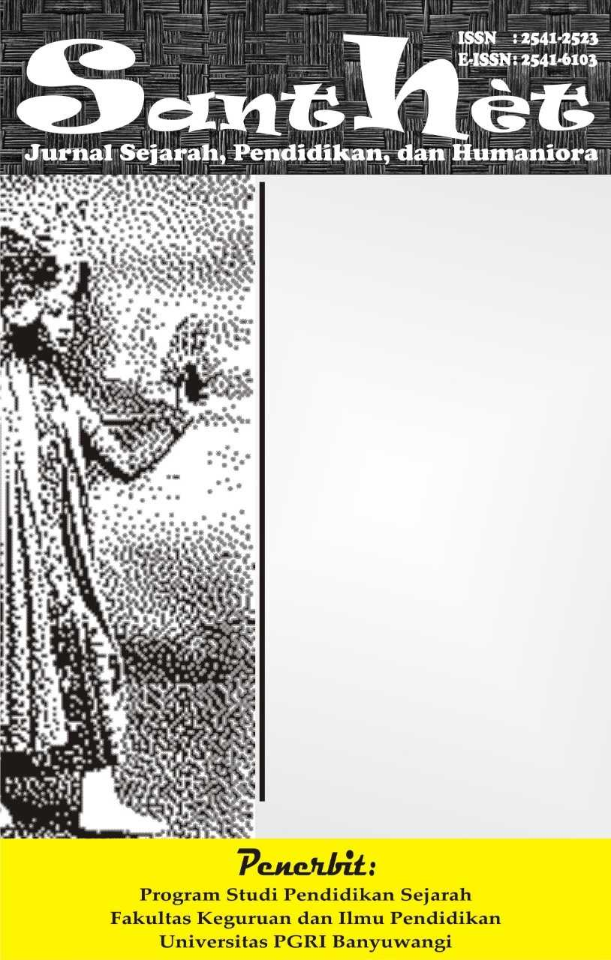 How to Cite
Deni Kurniawan Efendi, & Bayu Septa Martaviano Triaiditya. (2020). REVITALIZATION OF THE ORIGINAL CULTURE OF BONDOWOSO DISTRICT AS A CULTURAL HERITAGE: REVITALISASI TERHADAP BUDAYA ASLI DAERAH KABUPATEN BONDOWOSO SEBAGAI WARISAN BUDAYA . Santhet: (Jurnal Sejarah, Pendidikan, Dan Humaniora), 4(2), 62-67. https://doi.org/10.36526/santhet.v4i2.1050