KESIAPAN KONDISI FISIK ATLET SELAM DRAGON WIRA YUDHA DALAM PERSIAPAN SELEKSI PORPROV KOTA KEDIRI 2021
Imam Sugeng

Universitas Kahuripan Kediri

Rendhitya Prima Putra

Universitas Nusantara PGRI Kediri
Keywords:
Vo2max, Finswimming,Dragon Wira Yudha
Abstract
Kondisi fisik sangat berperan dalam performa terbaik atlet menyelam (finswimming). Jika anda dalam kondisi fisik yang baik, anda dapat membantu atlet berlatih dan berpartisipasi dalam kompetisi. Oleh karena itu, atlet perlu mengetahui  pentingnya kebugaran jasmani sebagai indikator pencapaian prestasi. Penelitian ini bertujuan untuk mengetahui tingkat kesegaran jasmani (endurance) atlet selam Dragon Wira Yudha Kota Kediri menuju seleksi Porprov 2021. Pendekatan  pada penelitian ini mengunakan pendekatan deskriptif kuantitatif. Dalam studi semacam itu, tidak perlu mempertimbangkan hubungan antar variabel. Sampel untuk penelitian ini termasuk 11 atlet. Hasil penelitian menunjukkan daya tahan aerobik atlet putra dan putri Naga Wira Yudha peserta seleksi Porprov Kota Kediri dalam kategori sedang dan kapasitas VO2max yaitu level 8 shuttle 5 putra dan level 9 shuttle 6 untuk atlet wanita.
References
Arikunto, S. (2014). Prosedur Penelitian Suatu Pendekatan Praktik. Jakarta : Rineka Cipta. Arikunto, Suharsimi 2014, 53(9).
Baly, L., Favier, D., & Durey, A. (2001). Finswimming technical description by 3D kinematic study. Archives of Physiology and Biochemistry, 109(SUPPL.).
Hue, O., Galy, O., Blonc, S., & Hertogh, C. (2006). Anthropometrical and physiological determinants of performance in French West Indian monofin swimmers: A first approach. International Journal of Sports Medicine, 27(8). https://doi.org/10.1055/s-2005-865856
Moskovchenko, O. N., Tolstopyatov, I. A., Redi, E. V., Ivanitsky, V. V., & Zakharova, L. V. (2019). World records in finswimming sport: Growth profiling analysis. Teoriya i Praktika Fizicheskoy Kultury, 2019(3).
Pujianto. (2015). PROFIL KONDISI FISIK DAN KETERAMPILAN TEKNIK DASAR ATLET TENIS MEJA USIA DINI DI KOTA SEMARANG. Journal of Physical Education Health and Sport, 2(1). https://doi.org/10.15294/jpehs.v2i1.3941
Taya, M., Amiya, E., Hatano, M., Maki, H., Hosoya, Y., Ishida, J., Bujo, C., Tsuji, M., Konishi, Y., Yokota, K., Haga, N., & Komuro, I. (2019). Inspiratory muscle training for advanced heart failure with lamin-related muscular dystrophy. Journal of Cardiology Cases, 20(6). https://doi.org/10.1016/j.jccase.2019.09.007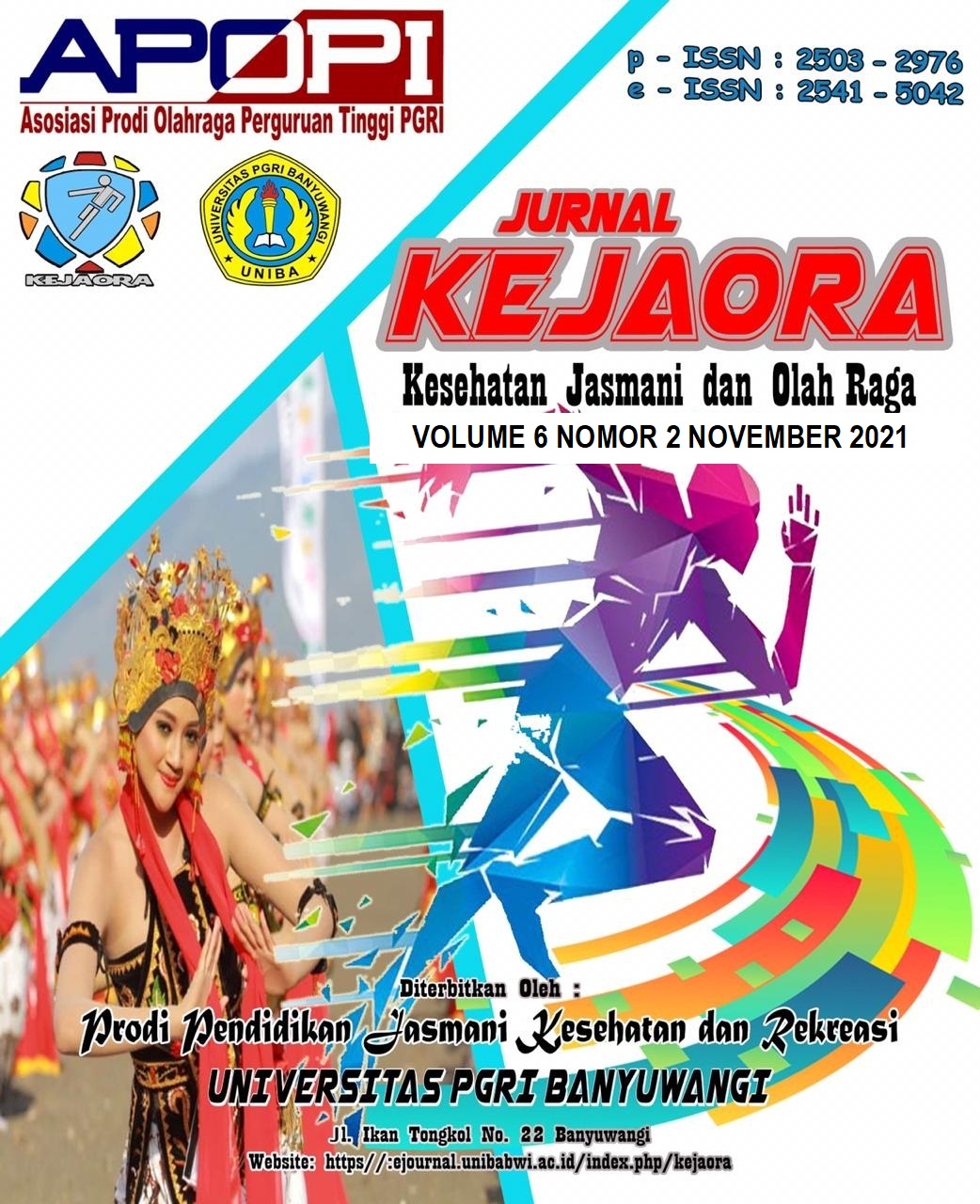 How to Cite
Imam Sugeng, & Rendhitya Prima Putra. (2021). KESIAPAN KONDISI FISIK ATLET SELAM DRAGON WIRA YUDHA DALAM PERSIAPAN SELEKSI PORPROV KOTA KEDIRI 2021 . Jurnal Kejaora (Kesehatan Jasmani Dan Olah Raga), 6(2), 296-300. https://doi.org/10.36526/kejaora.v6i2.1515
Copyright (c) 2021 Jurnal Kejaora (Kesehatan Jasmani dan Olah Raga)
This work is licensed under a Creative Commons Attribution-ShareAlike 4.0 International License.
Authors retain copyright and grant the journal right of first publication with the work simultaneously licensed under a Creative Commons Attribution 4.0 International License that allows others to share the work with an acknowledgement of the work's authorship and initial publication in this journal.