Assistance for SKKNI-Based Professional Competency Test
Galih Farhanto

Universitas PGRI Banyuwangi

Edi Irwanto

Universitas PGRI Banyuwangi

Achmad Zayul Mustain

Universitas PGRI Banyuwangi

Moh. Agung Setiabudi

Universitas PGRI Banyuwangi

Puji Setyaningsih

Universitas PGRI Banyuwangi
Keywords:
Competence, Penjaskesrek Teacher, LSP-POR
Abstract
Each job has specific requirements and set of competencies to carry out it efficiently. Competence is a combination of skills, knowledge, and attitude that can be observed and critically applied to the success of an organization and work performance and employee's personal contribution to the organization. No exception a Penjaskesrek Teacher is required to have more competence in addition to understanding the theory is also able to carry out practice in teaching. The competency test will begin on 29-30 June 2019, at 08.00-16.00 West Indonesia Time, located at SMPN 2 Kuta Utara, Badung Regency. The initial implementation of competency test participants gather while getting briefed before conducting the initial competency test. On the first day in this competency test activity there were 60 Physical Education Teacher participating and on the second day as many as 70 Physical Education Teacher who took advantage of the competency test. Thus the enthusiasm of the Physical Education Teacher in the scope of DISDIKPORA Badung Regency was very good. Based on these results it can be concluded that the participation of the Penjaskesrek Teacher who conducted a competency test in 2019 was quite good for the joint competency test activity of LSP-POR.
References
Achmad, S. Ruky. Kualitas Sumber Daya Manusia. Jakarta: PT Gramedia. 2003
Kamus Besar Bahasa Indonesia. Diperoleh 10 Juni 2019. dari https://kbbi.web.id/kompetensi.Pustaka Utama.
Sagala, Syaiful. Kemampuan Profesional Guru dan Tenaga Kependidikan. Bandung: Alfabeta. 2013
Wahyudi, Imam. Panduan Lengkap Uji Sertifikasi Guru. Jakarta: PT Prestadi Pustakarya. 2012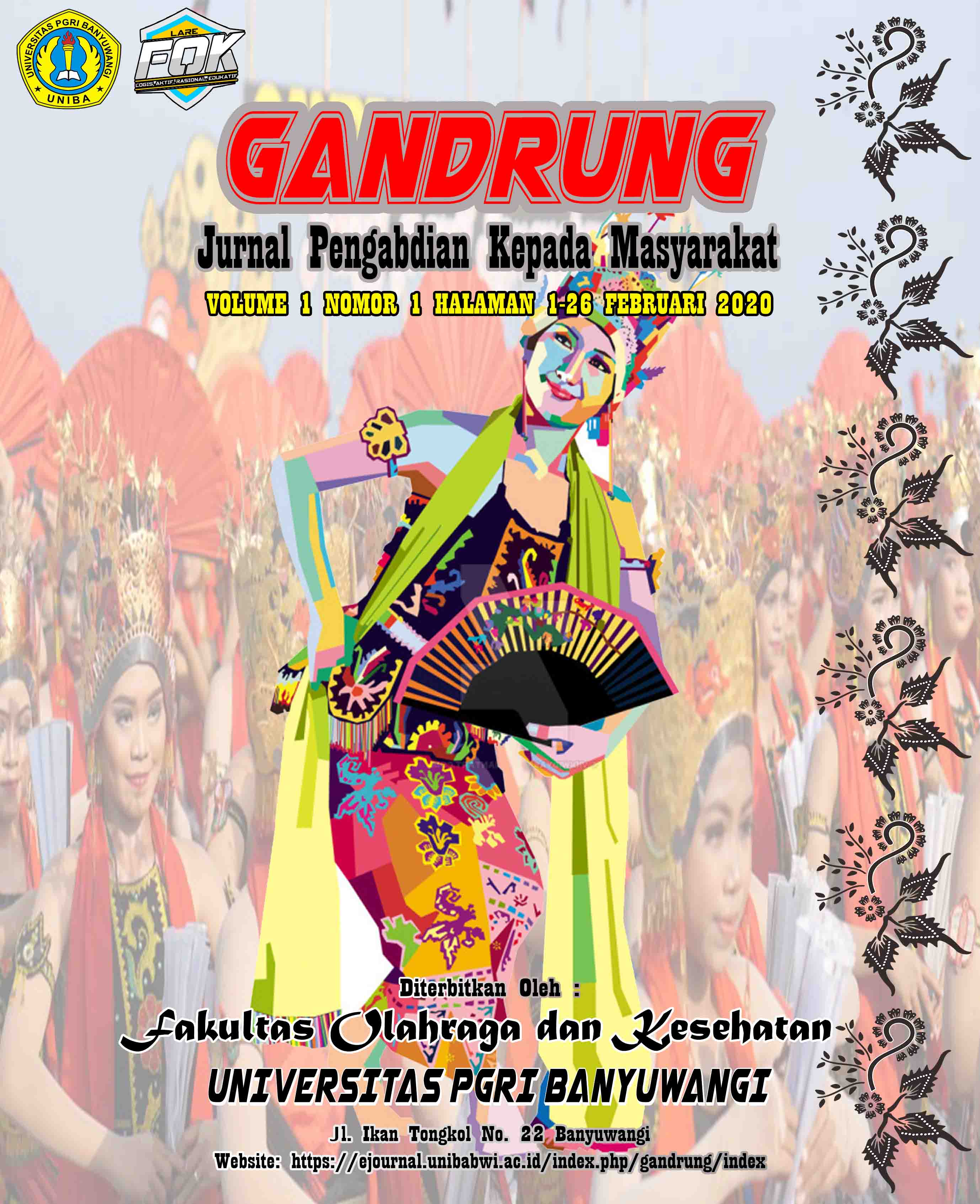 How to Cite
Galih Farhanto, Edi Irwanto, Achmad Zayul Mustain, Moh. Agung Setiabudi, & Puji Setyaningsih. (2020). Assistance for SKKNI-Based Professional Competency Test. GANDRUNG: Jurnal Pengabdian Kepada Masyarakat, 1(1), 12-17. Retrieved from https://ejournal.unibabwi.ac.id/index.php/gandrung/article/view/849
Authors retain copyright and grant the journal right of first publication with the work simultaneously licensed under a Creative Commons Attribution 4.0 International License that allows others to share the work with an acknowledgement of the work's authorship and initial publication in this journal.