Socialization and Training at Gloria Muda Volleyball Club
Edi Irwanto

Universitas PGRI Banyuwangi

Danang Ari Santoso

Universitas PGRI Banyuwangi

Bayu Septa Martaviano Triaiditya

Universitas PGRI Banyuwangi

Marki Sandi

Universitas PGRI Banyuwangi

Dadang Mubin

Universitas PGRI Banyuwangi
Keywords:
Socialization, Training, Volleyball
Abstract
The purpose of this service is to provide socialization and training at Gloria Muda Tambakrejo volleyball club, Bulurejo Village, Purwoharjo District, Banyuwangi Regency. The method used in this service is discussion and direct training (demonstration and practice) to the coaches and volleyball players of Gloria Muda Tambakrejo. The result of this activity was that the volleyball club coach Gloria Muda Tambakrejo gained new insights regarding the training program and how to train and was able to develop a training program that could be used to develop the technique and game of the Tambakrejo volleyball club. Young Gloria club players get training programmed according to the training program that suits their needs. Increased basic technical skills of passing, smash and vertical jump height of club players Gloria Muda Tambakrejo. Increased skills of passing and smash techniques and physical conditions (vertical jump) by 6.17%. For the basic technique of passing, there was an increase of 9, 53%. For the basic smash technique there is an increase of 3.20%. For the ability to vertical jump there is an increase of 3, 87%.
References
Akhbar, M. T. (2020). Pengaruh Latihan Curl Dumble Terhadap Hasil Smash Bolavoli Siswa. Jurnal Ilmu Keolahragaan. Vol 3 No 1; 20-29
Bompa, T.O.& Haff, G.G. (2009). Theory and Methodology of Training.Human Kinetics (Advantage).
Cimenli, O., et all. (2016). Effect of an Eight Week Plyometric Training on Different Surfaces on The Jumping Performance of Male Volleyball Players. Journal of Physical Education and Sport. Vol 16 No 1; 162-169
Defrizal, D. & Suharjana, S. (2019). Drill Training as Effective Methods on Increasing Under Passing Ability of Elementary School Volleyball. Pedagogia: Jurnal Pendidikan. Vol 8 No 2;157-171
Hermanzony, H. (2020). Pengaruh Kekuatan Otot Lengan dan Daya Ledak Otot Tungkai Terhadap Kemampuan Smash Bolavoli. Jurnal Patriot. Vol 2 No 2; 654-668
Irianto, D. P. (2004). Upaya Meningkatkan Derajat Kebugaran Jasmani dan Kesehatan. Yogyakarta: Lukman offset.
Irwanto, E. (2017). Pengaruh Metode Resiprokal Dan Latihan Drill Terhadap Peningkatan Keterampilan Teknik Dasar Bolavoli. Jurnal Pendidikan Olahraga. Vol 6, No 1; 10-20
Kumar, S., et all. (2016). Effect of Training Program on Volleyball Skills of Inter-University level Volleyball Players. International Journal of Movement Education and Sports Sciences (IJMESS). Vol 4 No 1; 21-25
Ma'mum, A. & Subroto, T. (2010). Pendekatan Ketrampilan Taktis Dalam Permainan Bola Voli. Jakarta: Depdiknas.
Sahabudin, S. & Hakim, H. (2020). Penerapan Latihan Model Dhin Dhon Pada Klub Bolavoli di Kabupaten Bantaeng. Celebes Abdimas. Vol 2 No 1; 33-42
Sarwita, T. (2017). Pengaruh Latihan Passing Bawah Berpasangan Terhadap Ketepatan Passing Bawah Dalam Permainan Bolavoli Pada Klub Pervodac. Jurnal Penjaskesrek, ISSN 2355-0058. Vol 4 No 1; 31-37
Wahyudi, W. & Donie, D. (2019). Motivasi Berprestasi Atlet Sepakbola Jordus FC Kota Batusangkar. Jurnal Pendidikan dan Olahraga , 2 (1), 126-130.
Winarno, et all. (2013). Teknik Dasar Bermain Bolavoli. Malang: UM Press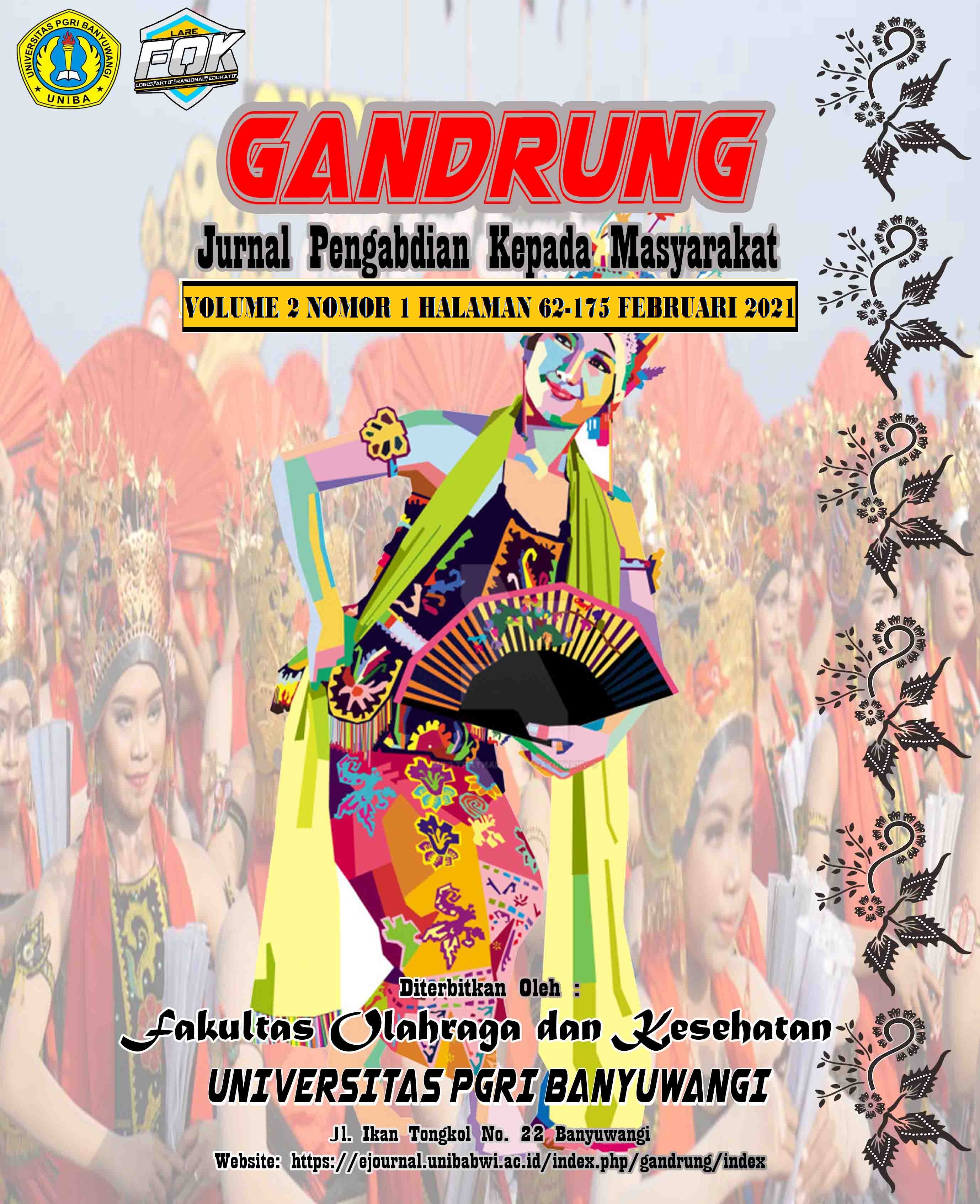 How to Cite
Edi Irwanto, Danang Ari Santoso, Bayu Septa Martaviano Triaiditya, Marki Sandi, & Dadang Mubin. (2021). Socialization and Training at Gloria Muda Volleyball Club. GANDRUNG: Jurnal Pengabdian Kepada Masyarakat, 2(1), 135-142. https://doi.org/10.36526/gandrung.v2i1.1169
Copyright (c) 2021 GANDRUNG: Jurnal Pengabdian Kepada Masyarakat
This work is licensed under a Creative Commons Attribution-ShareAlike 4.0 International License.
Authors retain copyright and grant the journal right of first publication with the work simultaneously licensed under a Creative Commons Attribution 4.0 International License that allows others to share the work with an acknowledgement of the work's authorship and initial publication in this journal.