Massage for Eid Travelers in 2019
Danang Ari Santoso

Universitas PGRI Banyuwangi

Wawan Setiawan

Universitas PGRI Banyuwangi

Bayu Septa M.T

Universitas PGRI Banyuwangi

Mislan

Universitas PGRI Banyuwangi

Arya T Candra

Universitas PGRI Banyuwangi
Keywords:
Going home, free massase
Abstract
Homecoming activities that occur each approaching Eid certainly make travelers feel exhausted on the way to their hometown. So with that it requires activities that help travelers. In this case we provide a place to rest for travelers and provide free massage for travelers. Massage comes from the French word "masser" which means rubbing or from the Arabic word "mash" which means to press it gently or from the Greek word "massien" which means to massage or wrap. With the provision of massage it is expected that travelers can relax and make the body fit again. Based on the above problems, we need a place of rest for travelers who drive motorized vehicles and volunteers who are able to reduce driver fatigue by giving free massage to the travelers. With this done, it is expected that the smoothness and safety of motorists who make homecoming in 2019 can be maintained until they are in their respective hometowns. The target of this community service activity is travelers in 2019 who pass through Banyuwangi City. The preparatory stages include location survey, after that coordinate with the campus to hold campus room loan licensing as a place of rest and massage place for the homecomers. In addition, we are socializing to the public that there will be a free massage at Campus C, Uniba Banyuwangi. Providing all the facilities of massages, such as mattresses, olive oil and towels. The implementation phase is carried out May 18-19, 2019. The homecomers are recorded by filling in attendance and biodata. Travelers come into the room to rest and are given massage treatment. Based on the results of community service activities that have been carried out, the people who have been going home in 2019 are happy and are greatly helped by the location of free rest and massage. The resting place is very helpful for travelers to see a long time in travel and the long distance traveled by the travelers. For free massage activities also make travelers feel more comfortable and more fit to continue their homecoming journey to their hometown.
References
Kamus Besar Bahasa Indonesia. Diperoleh 1 mei 2019. dari https://kbbi.web.id/mudik
Soebyakto, B. Mudik Lebaran. Konomi pembangunan Journal of Economic & Development HAL: 61 – 67. 2011
Widhiyanti. Teknik Massage Effleurage Pada Ekstremitas Inferior Sebagai Pemulihan Pasif Dalam Meningkatkan Kelincahan Jurnal Pendidikan Kesehatan Rekreasi Volume 1 : Hal. 9 – 17. 2017.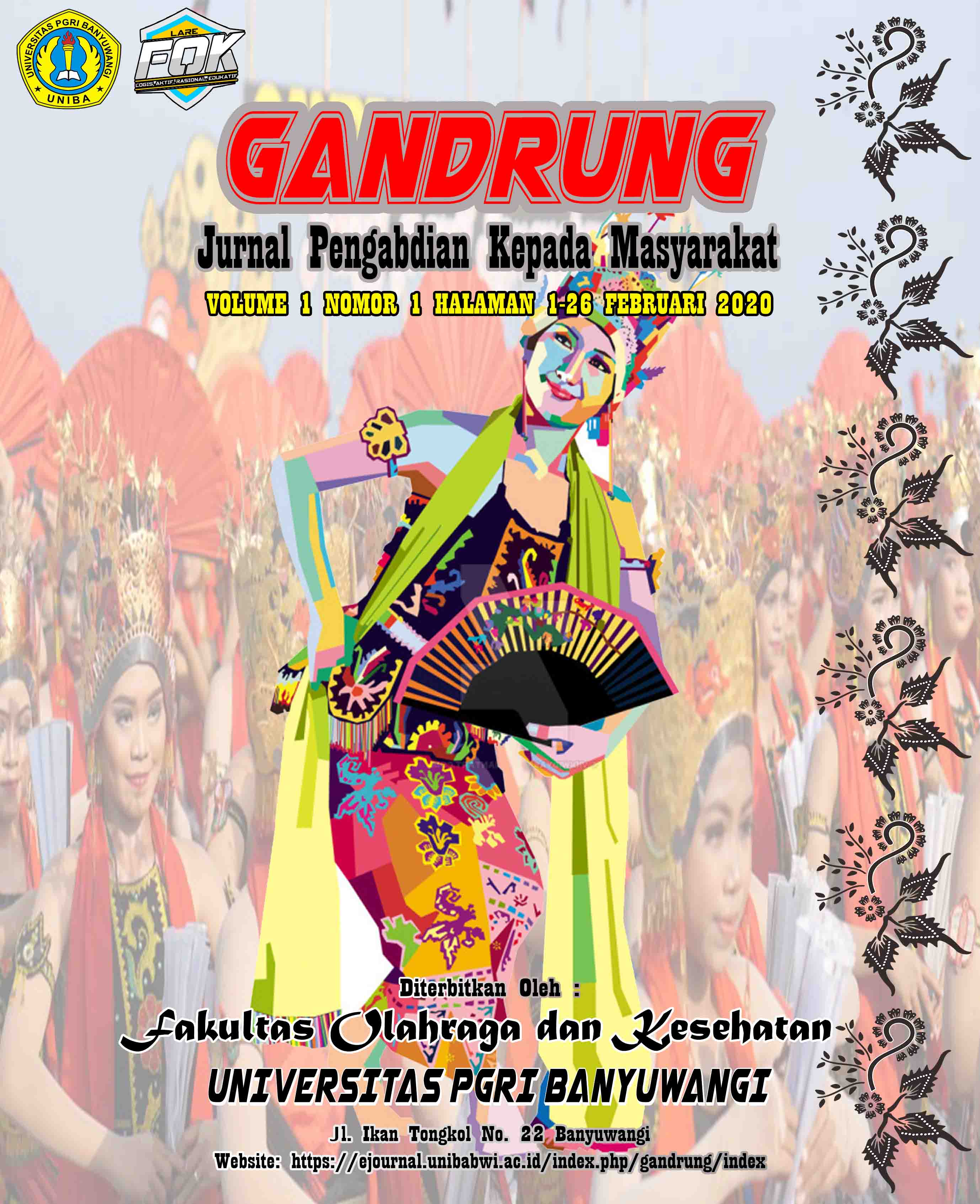 How to Cite
Danang Ari Santoso, Wawan Setiawan, Bayu Septa M.T, Mislan, & Arya T Candra. (2020). Massage for Eid Travelers in 2019. GANDRUNG: Jurnal Pengabdian Kepada Masyarakat, 1(1), 23-26. https://doi.org/10.36526/gandrung.v1i1.851
Authors retain copyright and grant the journal right of first publication with the work simultaneously licensed under a Creative Commons Attribution 4.0 International License that allows others to share the work with an acknowledgement of the work's authorship and initial publication in this journal.