Implementation of Strengthening State Science Knowledge Using Camp Study Methods on PPKn Students Of PGRI Banyuwangi University
Andika Ronggo Gumuruh

Citizenship Education, Faculty Of Teaching And Education, PGRI Banyuwangi University

Agus Mursidi

History Education, Faculty Of Teaching And Education, PGRI Banyuwangi University

Tofan Priananda Adinata

History Education, Faculty Of Teaching And Education, PGRI Banyuwangi University

Eko Listiwikono

Mathematics Education, Faculty Of MIPA, PGRI Banyuwangi University
Keywords:
State Science Knowledge, Camp Study Methods, PPKn Students
Abstract
Knowledge of state science is the basis for maintaining state institutions, so that research is carried out continuously and scientifically, as well as solving problems in students' knowledge of state science. The purpose of this service is to provide reinforcement to students about state science by presenting state science practitioners. Knowledge skills about state science and student attitudes towards the development of the country. This activity was attended by 25 PPkn students of PGRI Bnyuwangi University batch 2020. The method used was to present speakers of political practitioners and student activists in 1998 so that the level of student knowledge about state science and the role of students in the movement to build the nation could become the spirit of students in the reform era. In practice, students' knowledge of state science is increasing and it can be concluded that the role of students to maintain the institution is very important.
References
Aktamis, H. &. (2008). The effect of scientific process skills education on students scientific creativity. Paper presented at Asia-Pacific Forum on Science Learning and teaching. Asia-Pacific: science attitudes and academic achievements.
Bayu Indra Permana, A. M. (2021). Perception Fishermen Community about the Importance of 12 Years of Formal Education. International Journal for Educational and Vocational Studies, Vol. 2 Issu. 1.
Colvill, M. &. (2002). The building blocks for scientific literacy. l. Australian Primary & Junior Science Journa, 18(3), 20-30. .
Firdaus, K. M. ( 2015). Developing Critical Thinking Skills of Students in Mathematics Learning. Journal of Education and Learning, Vol. 9(3) pp. 226-236.
Hackett, E. J. (2007). eds. Handbook of science and technolog y studies, 3rd edn. Cambridge: MA: MIT Press.
Harwanti Noviandari, J. K. (2016). Teknik Cognitive Restructuring Untuk Meningkatkan Self Efficacy Belajar Siswa. Jurnal psikologi: Jurnal ilmiah fakultas psikologi universitas yudharta pasuruan, Vol.3 No.2 PP 76-86.
Jasanoff, S. (2006). Technology as a site and object of politics. In C. Tilly & R. Goodin (Eds.): Oxford.
Tinggi, D. J. (2020). Buku Panduan Merdeka Belajar-Kampus Merdeka. Jakarta: Direktorat Jenderal Pendidikan Tinggi Kementerian Pendidikan Dan Kebudayaan.
Widiyono, A. I. (2021). Implementasi Merdeka Belajar Melalui Kampus Mengajar Perintis Di Sekolah Dasar. Metodik Didaktik. Jurnal Pendidikan Ke-Sd-An, 16(2).
Yusuf, M. &. (2021). Konsep "Merdeka Belajar" dalam Pandangan Filsafat Konstruktivisme. AL-MURABBI. Jurnal Studi Kependidikan Dan Keislaman, 7(2), 120-133.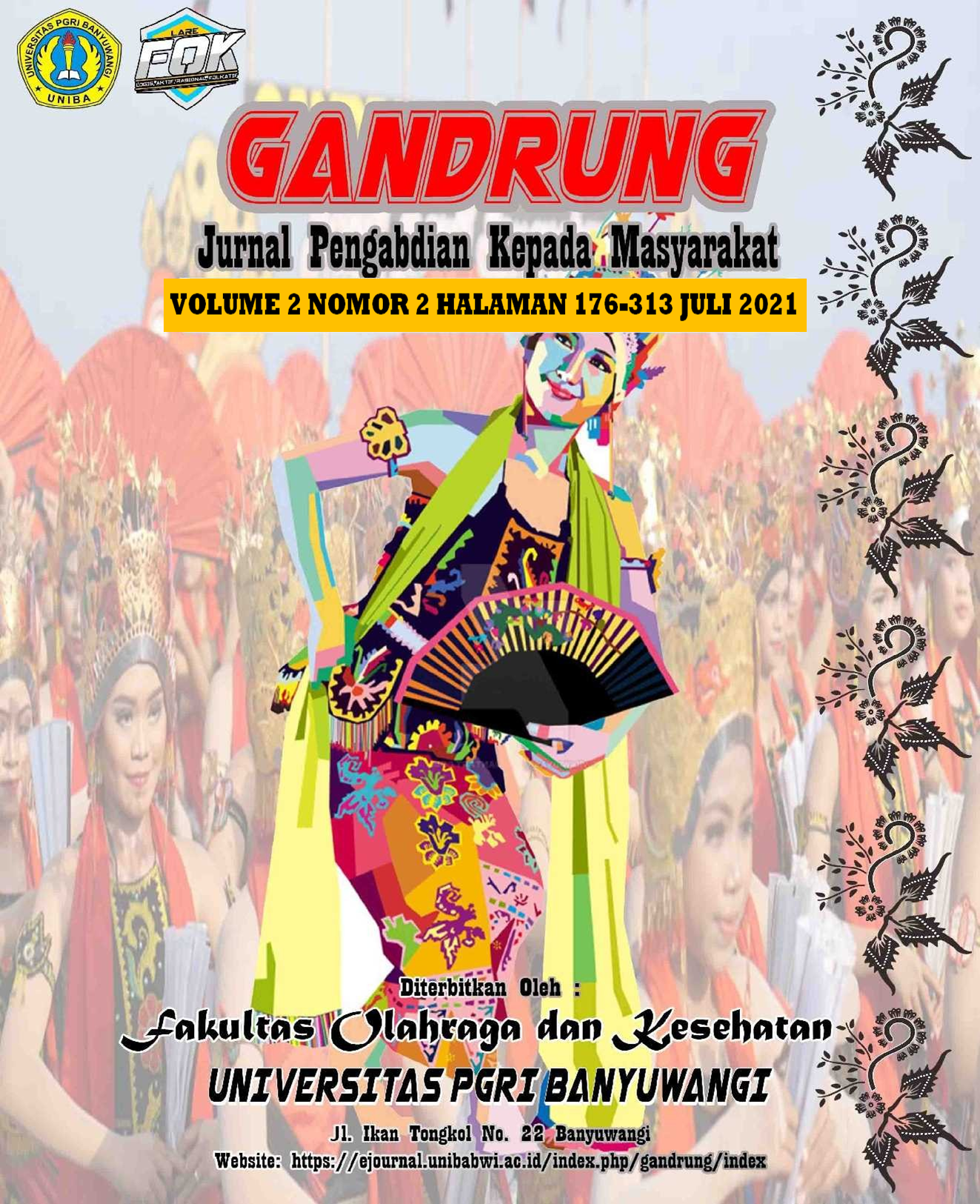 How to Cite
Andika Ronggo Gumuruh, Agus Mursidi, Tofan Priananda Adinata, & Eko Listiwikono. (2021). Implementation of Strengthening State Science Knowledge Using Camp Study Methods on PPKn Students Of PGRI Banyuwangi University. GANDRUNG: Jurnal Pengabdian Kepada Masyarakat, 2(2), 225-233. https://doi.org/10.36526/gandrung.v2i2.1364
Copyright (c) 2021 GANDRUNG: Jurnal Pengabdian Kepada Masyarakat
This work is licensed under a Creative Commons Attribution-ShareAlike 4.0 International License.
Authors retain copyright and grant the journal right of first publication with the work simultaneously licensed under a Creative Commons Attribution 4.0 International License that allows others to share the work with an acknowledgement of the work's authorship and initial publication in this journal.