Implementation of Community Service in The Introduction of History in the Sembulungan Peninsula, Banyuwangi Regency, East Java Province Indonesia
Agus Mursidi

History Education, Faculty of Teaching and Education, PGRI Banyuwangi University

Tofan Priananda Adinata

History Education, Faculty of Teaching and Education, PGRI Banyuwangi University

Abdul Shomad

History Education, Faculty of Teaching and Education, PGRI Banyuwangi University

Dhalia Soetopo

History Education, Faculty of Teaching and Education, PGRI Banyuwangi University

Miskawi

History Education, Faculty of Teaching and Education, PGRI Banyuwangi University

Atim Hariadi

History Education, Faculty of Teaching and Education, PGRI Banyuwangi University
Keywords:
implementation of community service, historical legacy, for maritime security
Abstract
One of the relics whose existence must be preserved and preserved is in Banyuwangi Regency, precisely in Alas Purwo National Park (TN Alas Purwo), a national park located in Banyuwangi covering an area of 43,420 hectares. In addition to having a diversity of flora and fauna in the Alas Purwo National Park area, there are also many objects and buildings of the past, especially on the Sembulungan peninsula, which was formerly known as an entry and exit route for colonial trade commodities. However, let alone the student community who are academics who are not very familiar with the relics on the Sembulungan peninsula, the method used in this service is qualitative analysis by coming to the location directly and conducting observations and collecting data through structured interviews with a triangulation approach. The results show that students' insight has increased by looking at the relics of the Japanese military in maintaining power in the form of bunkers, cannons, and military strategies developed on the Sembulungan peninsula for maritime security.
References
Amboro, K. (2020). Sejarah Publik dan Pendidikan Sejarah Bagi Masyarakat. Jurnal Historis: Jurnal Kajian, Penelitian & Pengembangan Pendidikan Sejarah, 5(1).
Aramdi, Z. N. (2020). Sejarah, Kedudukan, Dan Fungsi Bahasa Indonesia. Jurnal Bahasa.
Asvi Warman Adam. (2007). Seabad Kontroversi Sejarah. Ombak. https://www.goodreads.com/book/show/2868073-seabad-kontroversi-sejarah
Azizah, F. N., & Turyati. (2011). Gandrung dalam Upacara Ritual Petik Laut di Pantai Muncar Kabupaten Banyuwangi. Jurnal Ilmiah Seni Makalangan.
Hennida, C., Felayati, R. A., Wijayanti, S. H., & Perdana, A. R. (2017). Budaya dan Pembangunan Ekonomi di Jepang, Korea Selatan dan China. Jurnal Global & Strategis, 10(2). https://doi.org/10.20473/jgs.10.2.2016.248-263
Khoirotun, A., Fianto, A. Y. A., & Riqqoh, A. K. (2014). Perancangan buku pop-up museum Sangiran sebagai media pembelajaran tentang peninggalan sejarah. Jurnal Desain Komunikasi Visual, 2(1).
Kurniawan, H. (2020). Infografik Sejarah Dalam Media Sosial : Tren Pendidikan Sejarah Publik. Sejarah Dan Budaya, 14(2).
M. Dien Madjid, J. W. (2014). Ilmu Sejarah: Sebuah Pengnatar. Kencana.
Mursidi, A., & Soetopo, D. (2019). Peninggalan Sejarah Sebagai Sumber Belajar Sejarah Dalam Penanaman Nilai-Nila Kebangsaan Di Kecamatan Muncar Kabupaten Banyuwangi. Khazanah Pendidikan, XIII(1).
Noviandari, H. dan A. M. (2019). Identifikasi Dini Guna Mengoptimalkan Kemampuan Bahasa pada Anak Tuna Rungu Usia Pra Sekolah. Jurnal Psikologi, 6(1).
Salim Yulius, H. W. L. . Y. (2014). Identifikasi Selat Di Kabupaten Karimun Provinsi Kepulauan Riau Berdasarkan Kaidah Toponimi (Strait Identification in Karimun Regency Riau Islands Province Based on Toponymy Method). Jurnal Saintek Perikanan, Vol 9, No 2 (2014): Jurnal Saintek Perikanan, 1–10. http://ejournal.undip.ac.id/index.php/saintek/ article/view/8116
Saripudin, D., Yulifar, L., & Anggraini, D. N. (2021). Pelatihan Pembuatan dan Pemanfaatan Replika Sejarah dan Peta E-Pen Bagi Guru-Guru SMA/MA. Abdi: Jurnal Pengabdian Dan Pemberdayaan Masyarakat, 3(1). https://doi.org/10.24036/abdi.v3i1.76
Sudirman, A. (2014). Sejarah Lengkap Indonesia: Dari Era Klasik Hinga Terkini. Diva Press.
Uliontang, U., Setyati, E., & Chandra, F. H. (2020). Pemanfaatan Augmented Reality Pada Media Pembelajaran Sejarah Tentang Benda-Benda Bersejarah Peninggalan Kerajaan Majapahit Di Trowulan Mojokerto. Teknika: Engineering and Sains Journal, 4(1). https://doi.org/10.51804/tesj.v4i1.785.19-26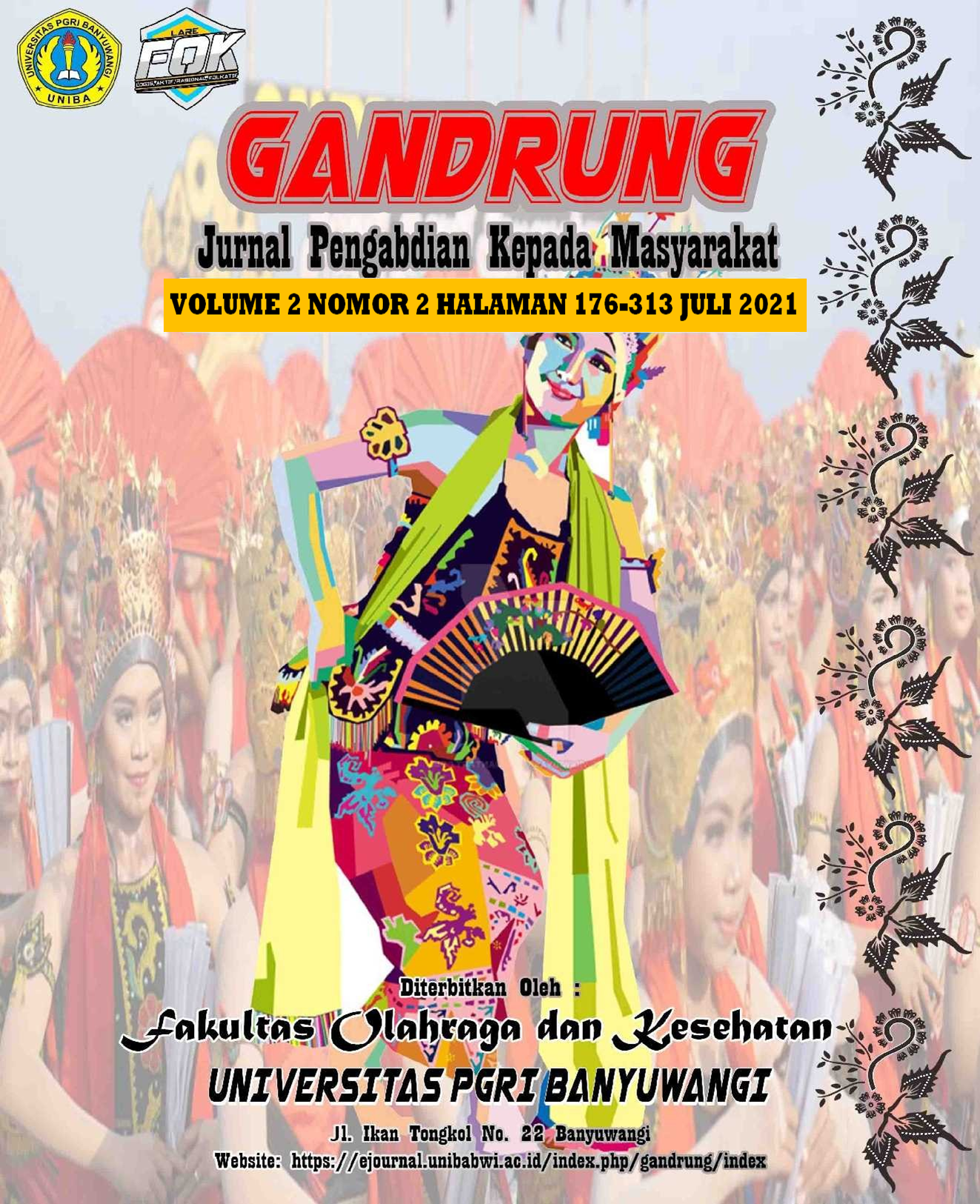 How to Cite
MursidiA., Tofan Priananda Adinata, Abdul Shomad, Dhalia Soetopo, Miskawi, & Atim Hariadi. (2021). Implementation of Community Service in The Introduction of History in the Sembulungan Peninsula, Banyuwangi Regency, East Java Province Indonesia. GANDRUNG: Jurnal Pengabdian Kepada Masyarakat, 2(2), 276-291. https://doi.org/10.36526/gandrung.v2i2.1354
Copyright (c) 2021 GANDRUNG: Jurnal Pengabdian Kepada Masyarakat
This work is licensed under a Creative Commons Attribution-ShareAlike 4.0 International License.
Authors retain copyright and grant the journal right of first publication with the work simultaneously licensed under a Creative Commons Attribution 4.0 International License that allows others to share the work with an acknowledgement of the work's authorship and initial publication in this journal.