Rancang Bangun Monitor Dan Aktuator Kandang Ayam Menggunakan NodeMCU ESP8266
Mokhamad Yani

Teknik Elektro

Ratna Mustika Yasi

Universitas PGRI Banyuwangi

Charis Fathul Hadi

Universitas PGRI Banyuwangi
Keywords:
Attendance System, NodeMCU ESP8266, Website
Abstract
Abstrak - Pada dasarnya metode monitor dan kontrol kondisi kandang ayam dengan menggunakan tenaga manusia sepenuhnya sudah berjalan dari dulu. Tapi hal itu dirasa kurang praktis dan efisien dalam segi waktu dan tenaga dari manusia secara langsung, terutama terhadap pemilik kandang. Sehingga perlu dibuatkan alat yang dapat meminimalisir hal tersebut menggunakan teknologi praktis.
Pada penelitian ini dibuatlah sebuah alat yang dapat digunakan di peternakan sebagai salah satu solusi agar peternakan dapat dikelola dengan efisien. Alat tersebut memanfaatkan Wireless Sensor Network berbasis microcontroller NodeMCU ESP8266. Dalam hal ini kita akan melakukan penelitian terlebih dahulu dalam bentuk prototipe. Pada prototipe akan dipasang sensor suhu dan kelembaban DHT22 dan beberapa aktuator dalam bentuk relay untuk mengontrol perangkat kandang seperti kipas angin dan lampu. Perangkat tersebut akan dihubungkan dengan internet sehingga monitoring dan kontrol perangkat dapat dilakukan dengan menggunakan website secara online.
Hasil dari pengujian sistem berdasarkan tingkat akurasi dan kecepatan pengiriman data yang dilakukan selama 10 kali pengambilan data didapatkan hasil bahwa semua data dapat terkirim tanpa satupun kehilangan data serta dengan kecepatan pengiriman antara software ke hardware dengan kecepatan 1,4 detik dengan kecepatan akses internet sebesar 2,8 Mbps serta kecepatan pengiriman data dari hardware ke software berada pada 3 detik.
Kata kunci : DHT22, NodeMCU ESP8266, Wireless
Abstract - Basically, the method of monitoring and controlling the condition of the chicken coop by using fully human power has been running for a long time. But it is considered less practical and efficient in terms of time and energy from humans directly, especially to the owner of the cage. So it is necessary to make tools that can minimize this using practical technology.
In this research, a tool that can be used on farms is made as a solution so that farms can be managed efficiently. The tool utilizes a Wireless Sensor Network based on the NodeMCU ESP8266 microcontroller. In this case we will do research first in the form of a prototipe. The prototipe will install a DHT22 temperature and humidity sensor and several actuators in the form of a relay to control enclosure devices such as fans and lights. The device will be connected to the internet so that monitoring and control of the device can be done using an online website.
The results of system testing based on the level of accuracy and speed of data transmission carried out for 10 times of data retrieval showed that all data could be sent without any data loss and with the speed of sending between software to hardware at a speed of 1.4 seconds with an internet access speed of 2, 8 Mbps and the speed of data transmission from hardware to software is 3 seconds.
Keywords: Attendance System, NodeMCU ESP8266, Website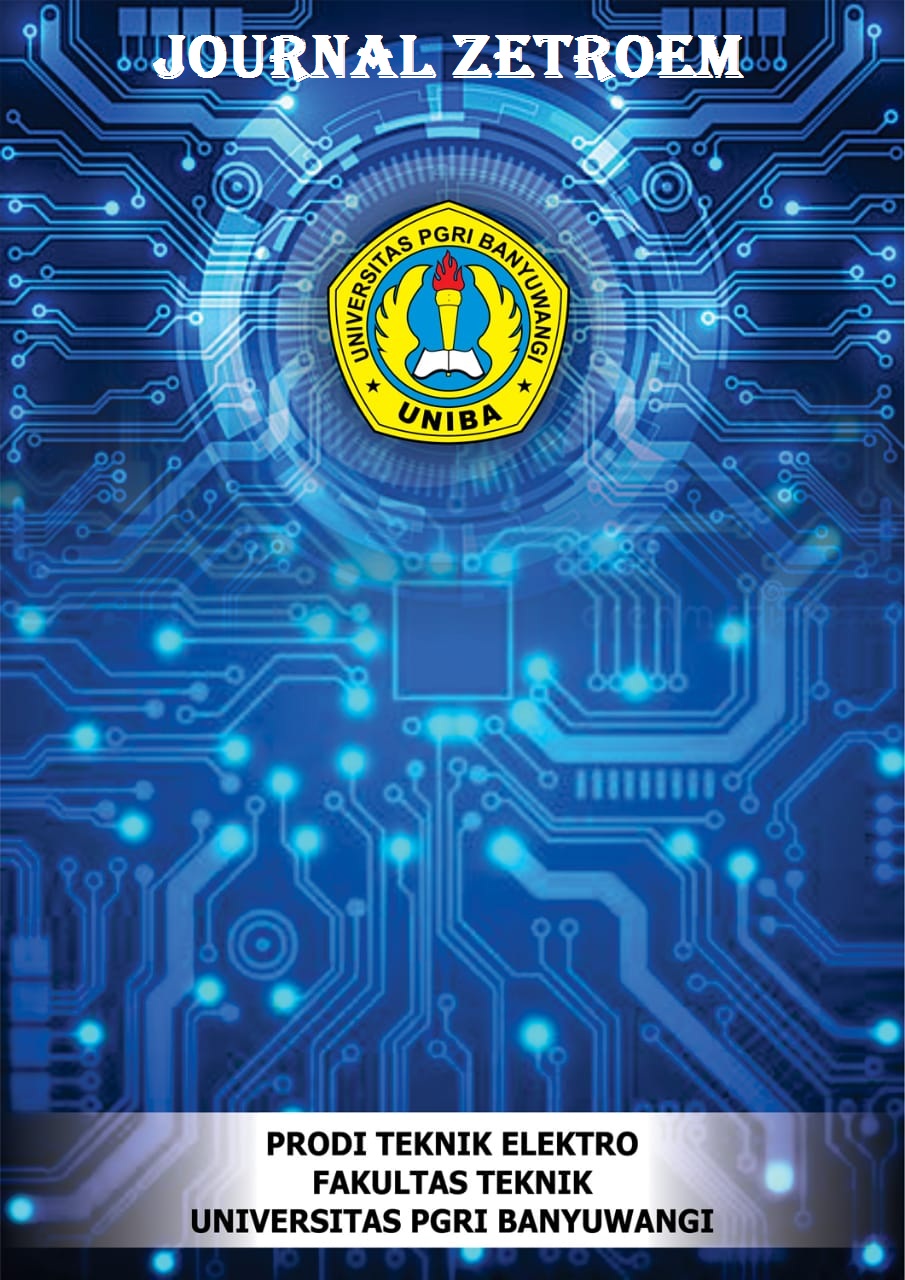 How to Cite
Mokhamad Yani, Ratna Mustika Yasi, & Charis Fathul Hadi. (2021). Rancang Bangun Monitor Dan Aktuator Kandang Ayam Menggunakan NodeMCU ESP8266. JOURNAL ZETROEM, 3(2), 23-29. https://doi.org/10.36526/ztr.v3i2.1487