Rancang Bangun Score Board Digital pada Olahraga Bola Voli
Varied Agus Wahyu Triyanto

Varied Agus Wahyu Triyanto, Ratna Mustika Yasi, Charis Fathul Hadi Teknik Elektro, Universitas PGRI Banyuwangi

Ratna Mustika Yasi

Universitas PGRI Banyuwangi

Charis Fathul Hadi

Universitas PGRI Banyuwangi
Keywords:
Kata Kunci—score board; android; bluetooth.
Abstract
Abstract - The scoreboard is a tool that can provide values ​​or numbers in a match, to show the results of a match in the field of volleyball. Scoreboards that still use conventional technology are very inefficient in changing scores or scores. Therefore, a digital scoreboard was created that uses an android application that is sent via a bluetooth connection which is displayed on the screen. The digital scoreboard displays the score with an LED screen display that can make it easier for the audience to see clearly. Design and build a digital score board in volleyball using Arduino Uno which is connected to several components, by connecting the P10 Panel to the Arduino Uno, then Bluetooth is connected to the Arduino Uno, with the main brain using the Atmega328P-PU IC programmed using the Arduino IDE. The digital score board design has an average device transmission speed of 16 bits per second while the transmission efficiency is 7.69%. In the trial of data retrieval, the transmission speed at a distance of 9 meters, the device could not send a signal due to the disconnection from the smartphone and the scoreboard. This is due to the distance factor that affects the process of sending data by bluetooth and writing coding in programming languages ​​at a distance of 9 meters.
Keywords — score board, android, blueooth
Abstrak—Papan score board merupakan sebuah alat yang dapat memberikan nilai atau angka di sebuah pertandingan, untuk menunjukan hasil sebuah pertandingan di bidang olahraga bola voli. Papan score yang masih mengunkan teknologi konvesional sangatlah kurang efisien dalam merubah score ataupun nilai. Maka dari itu diciptakanlah papan score board digital yang mengunakan aplikasi android yang dikirimkan melalui koneksi bluetooth yang ditampilkan di layar. Papan score board digital menampilkan score dengan tampilan layar LED yang dapat memudahkan penonton melihat dengan jelas. Rancang bangun score board digital pada olahraga bola voli menggunakan arduino uno yang disambungkan dengan beberapa komponen, dengan cara mengkoneksikan Panel P10 disambungkan ke Arduino Uno, kemudian bluetooth disambungkan dengan Arduino Uno, dengan otak utama menggunakan IC Atmega328P-PU yang diprogram menggunakan Arduino IDE. Rancang bangun score
board digital memiliki kecepatan transmisi alat rata rata 16 bit per second sedangkan untuk efisiensi transmisi sebesar 7,69%.  Pada uji coba pengambilan data kecepatan transmisi pada jarak 9 meter alat tidak bisa mengirimkan sinyal dikarenakan terputusnya koneksi dari smartphone dan papan score board. Hal ini dikarenakan faktor jarak yang berpengaruh dalam proses pengiriman data oleh bluetooth dan penulisan koding dalam bahasa pemrograman pada jarak 9 meter.
Kata Kunci—score board; android; bluetooth.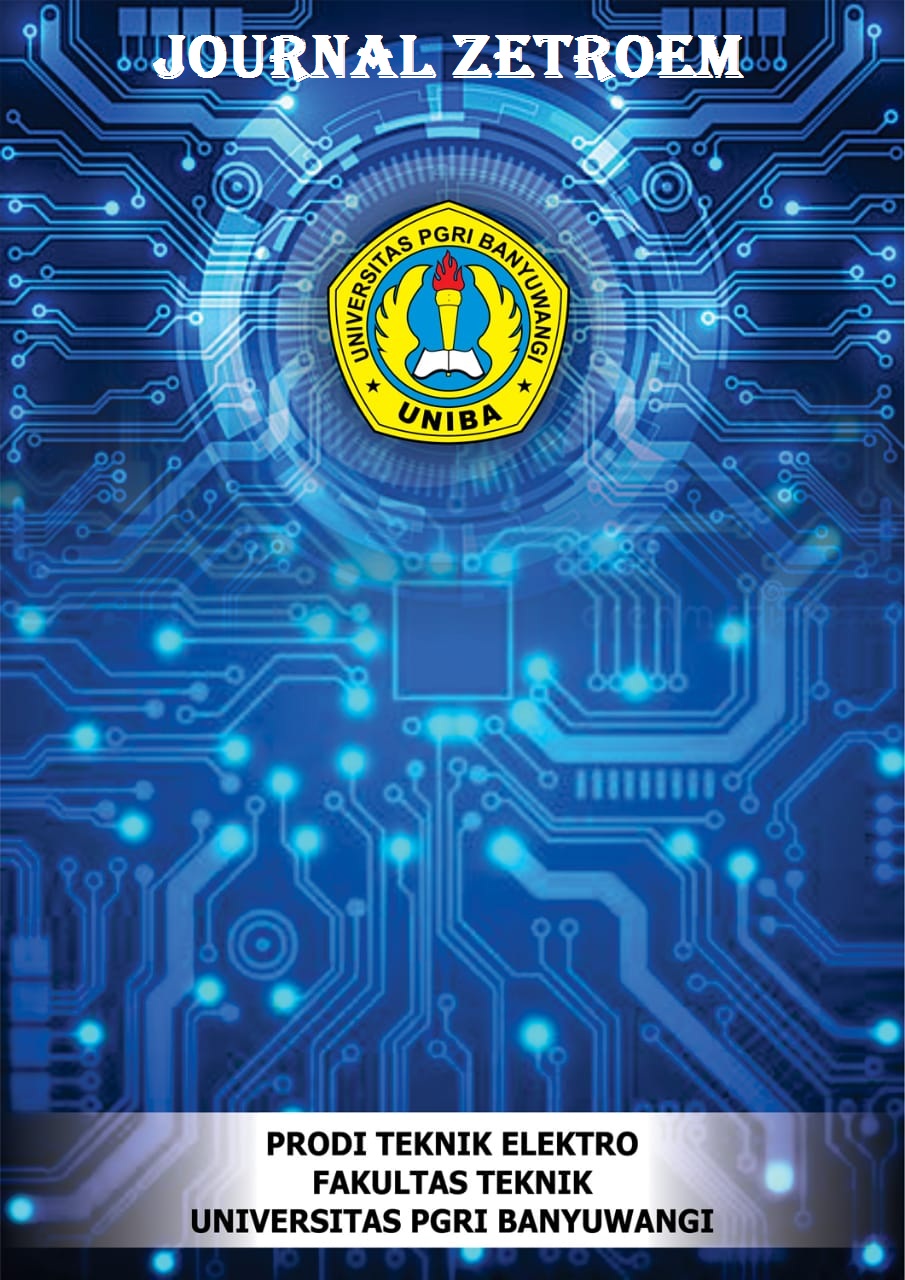 How to Cite
Varied Agus Wahyu Triyanto, Ratna Mustika Yasi, & Charis Fathul Hadi. (2021). Rancang Bangun Score Board Digital pada Olahraga Bola Voli. JOURNAL ZETROEM, 3(2), 1-9. https://doi.org/10.36526/ztr.v3i2.1477