PREVALENSI VIRAL NERVOUS NECROSIS (VNN) PADA IKAN KERAPU EKOR BULAN (Variola sp.) DI PERAIRAN GORONTALO
Prevalence of Viral Nervous Necrosis (VNN) in Lunar-Tailed Grouper (Variola sp.) in Gorontalo Waters
Ahmad Ainul Nurkhozin

Universitas Muhammadiyah Gorontalo

Dewi Shinta Achmad

Universitas Muhammadiyah Gorontalo

Nurqadri Syaia Bakti

Universitas Muhammadiyah Gorontalo

Indri Afriani Yasin

Universitas Muhammadiyah Gorontalo

Sitti Rosnany Alwi Natsir

Stasiun Karantina Ikan, Pengendalian Mutu dan Keamanan Hasil Perikanan Gorontalo
Keywords:
Betanodavirus, Grouper, PCR, VNN
Abstract
Grouper (Family Serranidae) is one of the betanodavirus hosts. Betanodaviruses can infect species in tropical, subtropical or cold climates. This is a major concern because it has been reported to infect a variety of marine fish, both farmed and wild fish. The disease caused by this virus is commonly known as Viral Nervous Necrosis (VNN) or Viral Encephalopathy and Retinopathy (VER). This VNN disease is characterized by vacuolar necrosis of cells found in the brain, retina and spinal cord, can cause up to 100% mortality in larvae and juveniles and can cause significant losses in older fish. Infected fish, both wild and farmed, can act as reservoirs (nesting sites and breeding grounds for viruses) and can be a source of infection for farmed species. The method used in this study was descriptive method, while the Lunar-Tailed grouper (Variola sp.) samples used in this study were groupers caught measuring 26-42 cm. VNN testing on groupers by taking target organs (brains and eyes) then fixing them in 95% Ethanol then PCR testing at the Virology Laboratory. The results of this study indicate a different prevalence in the two waters in Gorontalo.
References
Achmad, D., Alam Ali, S., & Yusran Nur Indar. (2018). Potensi Lestari Ikan Kerapu di Teluk Kwandang Kabupaten Gorontalo Utara Maximum Suistainable Yield of Grouper in. Prosiding Simposium Nasional Kelautan Dan Perikanan V, 127–134.
Bandín, I., & Souto, S. (2020). Betanodavirus and VER disease: A 30-year research review. In Pathogens (Vol. 9, Issue 2). MDPI AG. https://doi.org/10.3390/pathogens9020106
Budiarto, B. R. (2015). POLYMERASE CHAIN REACTION (PCR) : PERKEMBANGAN DAN PERANNYA DALAM DIAGNOSTIK KESEHATAN. BioTrends, 6(2), 29–38. http://www.scienceguardian.com/blog/a-
Dewi, K., & Palm, H. W. (2013). Two new species of philometrid nematodes (Nematoda: Philometridae) in Epinephelus coioides (Hamilton, 1822) from the South Bali Sea, Indonesia. Zootaxa, 3609(1), 49–59. https://doi.org/10.11646/zootaxa.3609.1.3
Faiqoh, Elok., I Wayan G.A.K & Dwi Budi Wiyanto (2019). Dampak Pemutihan Karang Keras pada Komunitas Ikan Karang dan Makrozoobenthos di Wilayah Perairan Tejakula, Buleleng, Bali. Rekayasa: Journal of Science and Technology, 12(1): 24-29
Kurniawati, M. D., Sumaryam, & Nurul Hayati. (2019). APLIKASI POLYMERASE CHAIN REACTION (PCR) KONVENSIONAL DAN REAL TIME-PCR UNTUK DETEKSI VIRUS VNN (Viral Nervous Necrosis) PADA IKAN KERAPU MACAN (Epinephelus fuscoguttatus). Jurnal TECHNO-FISH, 3(1).
Moravec, F., Chaabane, A., Neifar, L., Gey, D., & Justine, J.-L. (2017). Species of Philometra (Nematoda, Philometridae) from fishes off the Mediterranean coast of Africa, with a description of Philometra rara n. sp. from Hyporthodus haifensis and a molecular analysis of Philometra saltatrix from Pomatomus saltatrix. Parasite, 24(8), 1–12. https://doi.org/10.1051/para
Nair, R. J. , A. S. C. M. S. (2018). IUCN.UK.2018-2.RLTS.T132738A100572909.en.2variolalouti. https://doi.org/ttp://dx.doi.org/10.2305/IUCN.UK.2018-2.RLTS.T132738A100572909.en
Novriadi, R., Agustatik, S., Hendrianto, H., Pramuanggit, R., & Wibowo, A. H. (2014). Penyakit Infeksi Pada Budidaya Ikan Laut di Indonesia. KEMENTERIAN KELAUTAN DAN PERIKANAN DIREKTORAT JENDERAL PERIKANAN BUDIDAYA DIREKTORAT KESEHATAN IKAN DAN LINGKUNGAN. https://www.researchgate.net/publication/292477034
Nurlita, W., I Gde Suranaya Pandit, & Ni Made Darmadi. (2020). Detection of The Existence of Viral Nervous Necrosis on Fry Cantang Grouper at Rain Season. SEAS (Sustainable Environment Agricultural Science), 4(1), 46–52. https://doi.org/10.22225/seas.4.1.1687.46-52
Prasetya, R. (2014). LAJU EKSPLOITASI SUMBERDAYA IKAN KERAPU DI PERAIRAN TELUK LASONGKO, KABUPATEN BUTON, SULAWESI TENGGARA. AquaMarine (Jurnal FPIK UNIDAYAN), 2(1), 1–10.
Prihartini, N. C. (2016). Distribusi Pathognomik Virulensi VNN pada Benih Nila (Oreochromis, sp. Samakia: Jurnal Ilmu Perikanan, 7(2), 51–56.
Raihan, R. (2017). Metodologi Penelitian. Universitas Islam Jakarta.
Rasheed, S. (1963). A Revision of the Genus Philometra Costa, 1845. In Journal of Helmintkology.
Rohmana, A., Fuad, M., Ulfin, I., & Kurniawan, F. (2016). Penggunaan Agar-agar Komersial sebagai Media Gel Elektroforesis Pada Zat Warna Remazol: Pengaruh Komposisi Buffer, pH Buffer dan Konsentrasi Media. JURNAL SAINS DAN SENI ITS, 5(2), C130–C133.
Sajriawati, S., & Amir, A. (2019). Identification Fishing Gear of Groupers Environmentally Friendly, in Gusung Island Selayar Archipelago Regency. Musamus Fisheries and Marine Journal, 1–10. https://doi.org/10.35724/mfmj.v2i1.1765
Sembiring, S. B. M., Gigih Setia Wibawa, Ketut Mahardika, Zeny Widiastuti, & Haryanti. (2018). 90 PREVALENSI INFEKSI VIRAL NERVOUS NECROSIS (VNN) DAN IRIDOVIRUS PADA HATCHERI DAN BUDIDAYA IKAN LAUT. Media Akuakultur, 13(2), 83.
Sudaryatma, P. E., & Tri Lestari, A. (2014). Imunohistokimia Patogenitas Viral Nervous Necrosis Isolat Lapang Bali yang Diinfeksikan pada Kerapu Macan Budidaya (Imunohistochemistry of Pathogenicity Viral Nervous Necrosis Bali Field Isolate are Infected in Tiger Grouper Marine Culture). ACTA VETERINARIA INDONESIANA, 2(2), 54–61. http://www.journal.ipb.ac.id/indeks.php/actavetindones
Toffan, A. P. v. (2020). 6. Viral Encephalopathy and Retinopathy/Viral Nervous Necrosis (VER/VNN). Options Méditerranéennes, B(75), 45–60. http://om.ciheam.org/article.php?IDPDF=00007939http://www.ciheam.org/http://om.ciheam.org/
Yanong, R. P. E. (2019). Viral Nervous Necrosis (Betanodavirus) Infections in Fish 1. https://edis.ifas.ufl.edu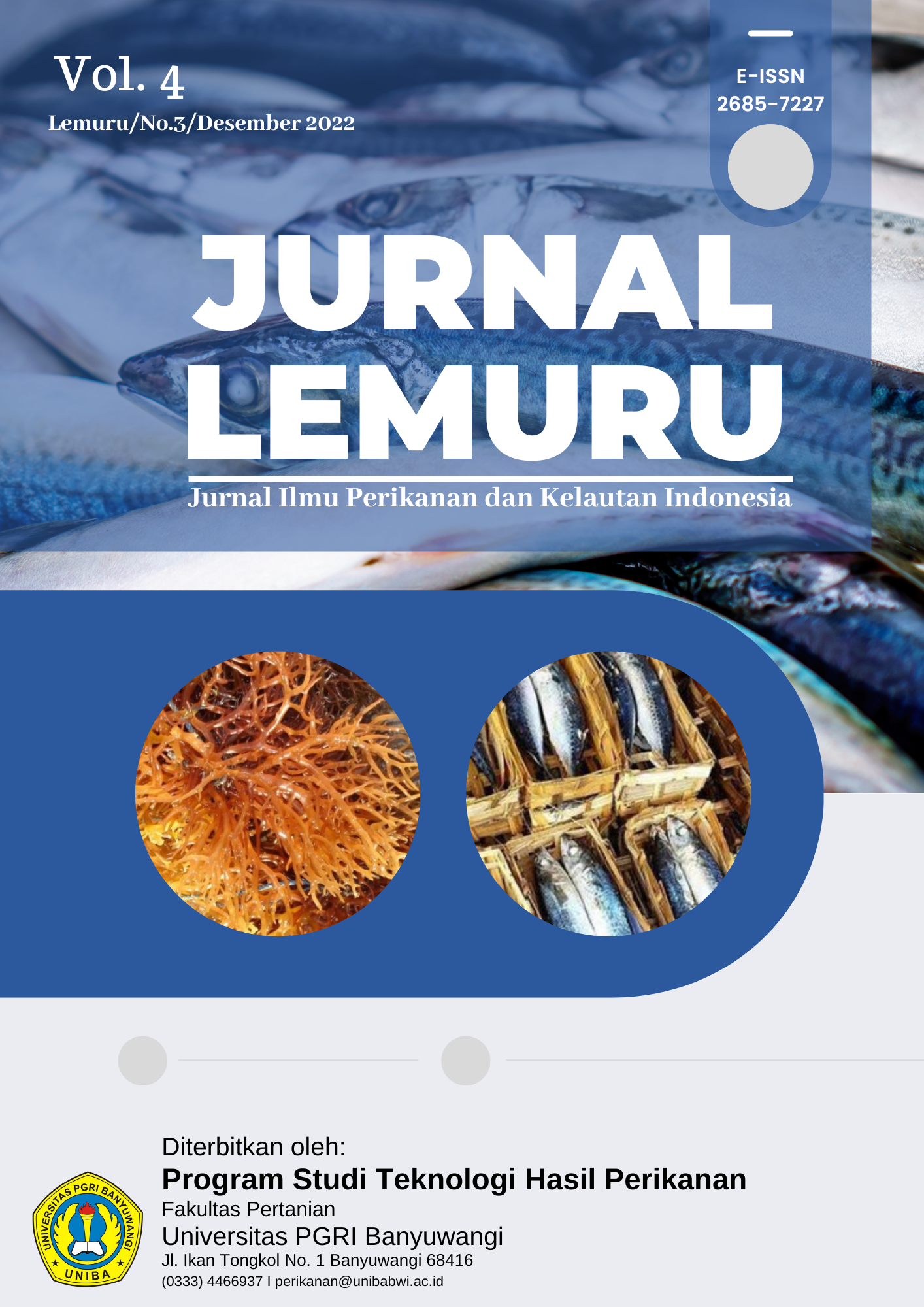 How to Cite
NurkhozinAhmad Ainul, AchmadDewi Shinta, BaktiNurqadri Syaia, YasinIndri Afriani, and NatsirSitti Rosnany Alwi. 2022. "PREVALENSI VIRAL NERVOUS NECROSIS (VNN) PADA IKAN KERAPU EKOR BULAN (Variola sp.) DI PERAIRAN GORONTALO: Prevalence of Viral Nervous Necrosis (VNN) in Lunar-Tailed Grouper (Variola sp.) in Gorontalo Waters". JURNAL LEMURU 4 (3), 99-108. https://doi.org/10.36526/lemuru.v4i3.2295.