Understanding On The Management Of Sport Injuries Through Sport Massage And Rice Method For Ipsi Pencaksilat Athletes In Pekalongan District
Mega Widya Putri

Universitas Muhammadiyah Pekajangan Pekalongan

Gilang Nuari Panggraita

Universitas muhammadiyah Pekajangan Pekalongan

Idah Tresnowati

Universitas muhammadiyah Pekajangan Pekalongan

Ati safitri

Universitas muhammadiyah Pekajangan Pekalongan

Resty Agustryani

Universitas Siliwangi
Keywords:
Sports Injuries, Sport Massage, Rice Method, IPSI Pencak silat Athletes
Abstract
The aim of this The aim of this community service is to provide knowledge in the field of handling sports injuries through sports massage and the rice method for pencak silat athletes in Pekalongan Regency theoretically and practically in increasing knowledge of handling sports injuries in the field. This community service is carried out in Pekalongan Regency. The material presented at this seminar is about handling sports injuries through sports massage and the rice method. The results of the implementation of this community service activity are expected to provide knowledge to athletes, especially pencaksilat athletes in Pekalongan Regency and can produce quality masseurs for the recovery needs of athletes in Pekalongan Regency.
References
Bentley, Eilean. 2007. Pedoman Menjadi Sehat bagi Orang Sibuk "Pemijatan". Indonesia edition :
Karisma Publishing Group 2.Barbara & Kevin Kunz. 2012. Pijat Refleksi-Sehat Lewat Pijatan Jari. Jakarta : Gaya Favorit Press.
Fondy, Tommy. 2012. Merawat dan Mereposisi Cedera Tubuh. Jakarta.Hall,Guyton. 1996.Fisiologi Kedokteran. Jakarta.
Irawan, R.J. 2011. Pencegahan dan Perawatan Cedera Olahraga.Makalahtidakditerbitkan. Surabaya: IKOR FIK UNESA.
Lilis Komariya, M.Pd. 2010.Modul Pencegahan dan Perawatan Olahraga. Jakarta
Riyadi,Slamet, dkk. 2010. Massage Terapi CideraOlahraga.Yuma Pustaka. Ramdan, Endang. 1982. Olahraga dan Kesehatan. Bandung : Angkasa
Satia Graha, Ali,dkk. 2010. Masase Olahraga (Pendukung Prestasi dan Terapi Cedera Olahraga). Jakarta.
Sudijandoko, Andun. 2000. Perawatan dan Pencegahan Cedera. Jakarta: Departemen
Pendidikan dan Kebudayaan.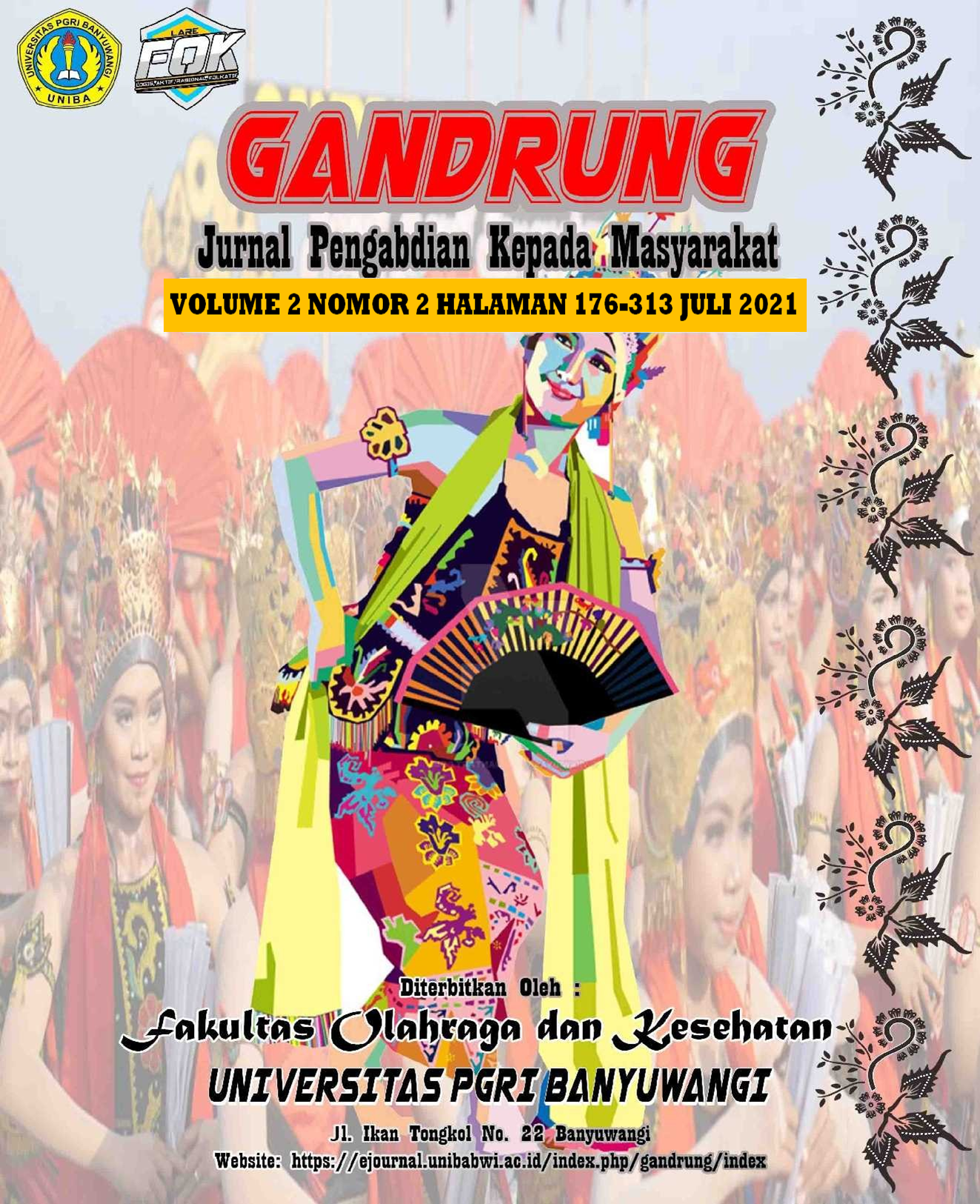 How to Cite
Mega Widya Putri, Gilang Nuari Panggraita, Idah Tresnowati, Ati safitri, & Resty Agustryani. (2021). Understanding On The Management Of Sport Injuries Through Sport Massage And Rice Method For Ipsi Pencaksilat Athletes In Pekalongan District . GANDRUNG: Jurnal Pengabdian Kepada Masyarakat, 2(2), 176-183. https://doi.org/10.36526/gandrung.v2i2.1316
Copyright (c) 2021 GANDRUNG: Jurnal Pengabdian Kepada Masyarakat
This work is licensed under a Creative Commons Attribution-ShareAlike 4.0 International License.
Authors retain copyright and grant the journal right of first publication with the work simultaneously licensed under a Creative Commons Attribution 4.0 International License that allows others to share the work with an acknowledgement of the work's authorship and initial publication in this journal.