CRITICAL STUDY ON THE IMPLEMENTATION OF THE PROVINCIAL ROAD LEVY COLLECTION POLICY BY THE TAMANSARI VILLAGE GOVERNMENT BASED ON GOVERNMENT REGULATION 97/2012
KAJIAN KRITIS PADA IMPLEMENTASI KEBIJAKAN PENARIKAN RETRIBUSI JALAN PROVINSI OLEH PEMERINTAH DESA TAMANSARI BERDASARKAN PERATURAN PEMERINTAH 97/2012
Royatul Firdaus

Universitas 17 Agustus 1945 Banyuwangi

Hary Priyanto

Universitas 17 Agustus 1945 Banyuwangi

Erna Agustina

Universitas 17 Agustus 1945 Banyuwangi
Keywords:
Banyuwangi, Pertentangan, Retribusi Jalan Provinsi
Abstract
Background: The road to Ijen Geopark is one of the provincial roads that connects Banyuwangi Regency and Bondowoso Regency. The activity of collecting levies by the Tamansari Village Government on road users to Ijen Geopark which is intended to increase development in Tamansari Village has become a polemic in itself. The road to Ijen Geopark has 1 lane which has 2 lanes. Government Regulation 97/2012 explains that road fees are intended for roads that have 2 lanes, each of which has at least 2 lanes. Objective: To describe, analyze and interpret the implementation of Tamansari Village Government policy in collecting provincial road levies from road users to Ijen Geopark based on Government Regulation 97/2012. Method: Using qualitative principles according to a constructive and participatory model. Primary data comes from interviews, and secondary data comes from literature reviews and various regulations relevant to the substance of the research. Result: The levy collection program can be justified if it does not violate existing provisions and is truly beneficial for development and society. Conclusion : The wrong levy collection policy causes public dissatisfaction, causes people to have no sympathy for the government, and reduces the use of infrastructure provided by the government
References
Aksa, Adi Faisal. (2018). Pencegahan dan Deteksi Kasus Korupsi Pada Sektor Publik Dengan Fraud Triangle. Jurnal Ekonomi, Bisnis & Akuntansi. 20 (4). DOI: 10.32424/jeba.v20i4.1238;
Albrecht, W. S., Albrecht, C. O., Albrecht, C. C., & Zimbelman, M. F. (2011). Fraud examination. USA: South Western Cengage Learning;
Chikmawati, Zulifah. (2019). Peran BUMDes Dalam Meningkatkan Pertumbuhan Ekonomi Pedesaan Melalui Penguatan Sumber Daya Manusia. Jurnal Istiqro: Jurnal Hukum Islam, Ekonomi & Bisnis. 5(1). DOI: 10.30739/istiqro.v5i1.345;
Cressey, D. R. (1950). The Criminal Violation of Financial Trust. American Sociological Review. 15 (6), 738-743. DOI: 10.2307/2086606;
Creswell, John. (2014). Research Design: Qualitatif and Mixed Approach (Fourth Edition). CA: SAGE Publication;
Fitriyanto, Hari. (2016). Revitalisasi Kelembagaan BUMDes Dalam Upaya Meningkatkan kemandirian dan Ketahanan Desa di Jawa Timur. Jurnal Jejaring Administrasi Publik 8 (2);
Peraturan Pemerintah Nomor 34 Tahun 2006, tentang: Jalan;
Peraturan Pemerintah Nomor 97 Tahun 2012, tentang: Retribusi Pengendalian Lalu Lintas Dan Retribusi Perpanjangan Izin Mempekerjakan Tenaga Kerja Asing;
Peraturan Desa Tamansari Nomor 1 Tahun 2015, tentang: Badan Usaha Milik Desa;
Priyanto, H. (2018). Penerapan Pancasila Sebagai Strategi Deradikalisme Di Kabupaten Banyuwangi;
Priyanto, H. (2018). Tinjauan Peraturan Bupati Nomor: 45 Tahun 2015 Tentang Tata Cara Pencegahan Dan Penanggulangan HIV/AIDS Terhadap Perkembangan Prostitusi Kabupaten Banyuwangi. WELFARE: Jurnal Ilmu Kesejahteraan Sosial, 7(1). Doi: 10.14421/welfare.2018.071-03;
Priyanto, H., & Noviana, N. (2018). Analisis Implementasi Peraturan Daerah Kabupaten Banyuwangi Nomor 45 Tahun 2015. JAKPP (Jurnal Analisis Kebijakan & Pelayanan Publik), 1-9. Doi: 10.31947/jakpp.v4i1.5900;
Priyanto, H., Soepeno, B., Wahyudi, E., & Hara, A. E. (2021). Public Services in Banyuwangi Regency, East Java, Indonesia in a Just and Civilized Humanity Perspective. Budapest International Research and Critics Institute-Journal (BIRCI-Journal), 4(4). 2615-3076. Doi: 10.33258/birci.v4i4.3494;
Priyanto, H., & Noviana, N (2023). Intersubjektif Keadilan Dalam Implementasi Pelayanan Publik Di Kabupaten Banyuwangi. Majalah Ilmiah Dian Ilmu, 22 (2). Doi: 10.37849/midi/v22i2.330;
Nadarsyah, N. N., & Priyanto, H. P. (2022). Decentralization of Policy in Health Services Through the Public and Private Partnership. In Regulating Human Rights, Social Security, and Socio-Economic Structures in a Global Perspective (pp. 108-123). IGI Global.
Noviana, Nana., & Hary Priyanto. (2023). Proactive Personality a Transformational is Consistent in Maintaining Organizational Balance. Partners Universal International Research (PUIRJ), 2 (02). Doi: 10.5281/zenodo.8051223;
Solekhan. (2014). Penyelenggaraan Pemerintahan Desa. Malang: Setara Press;
Sugiman. (2018). Pemerintahan Desa. Jurnal Bina Mulya Hukum, 7(1), 82-95;
Undang-undang Nomor 25 Tahun 2009, tentang: Pelayanan Publik;
Undang-undang Nomor 12 Tahun 2011, tentang: Pembentukan Peraturan Perundang-Undangan;
Undang-undang Nomor 6 Tahun 2014, tentang: Desa;
Undang-undang Nomor 30 Tahun 2014, tentang: Administrasi Pemerintahan.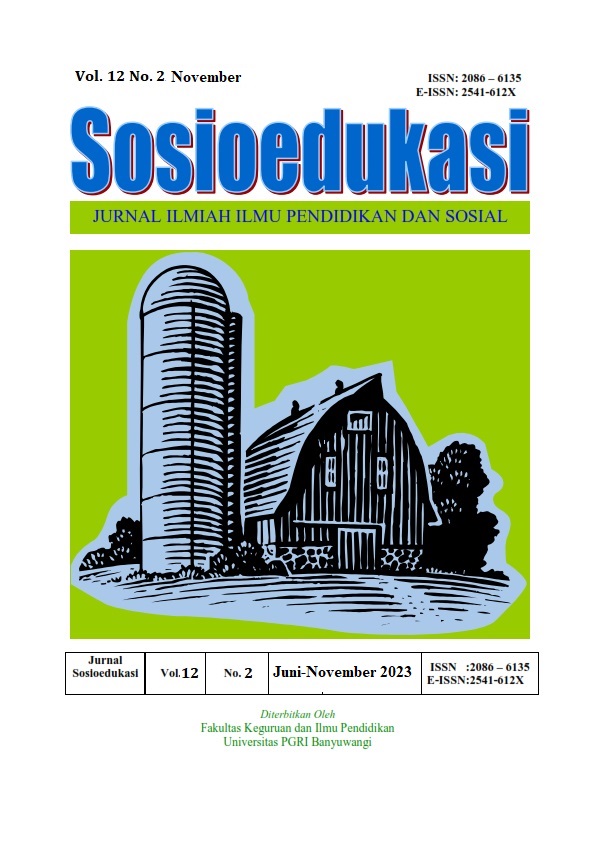 How to Cite
Royatul Firdaus, Hary Priyanto, & Erna Agustina. (2023). CRITICAL STUDY ON THE IMPLEMENTATION OF THE PROVINCIAL ROAD LEVY COLLECTION POLICY BY THE TAMANSARI VILLAGE GOVERNMENT BASED ON GOVERNMENT REGULATION 97/2012: KAJIAN KRITIS PADA IMPLEMENTASI KEBIJAKAN PENARIKAN RETRIBUSI JALAN PROVINSI OLEH PEMERINTAH DESA TAMANSARI BERDASARKAN PERATURAN PEMERINTAH 97/2012. SOSIOEDUKASI JURNAL ILMIAH ILMU PENDIDIKAN DAN SOSIAL, 12(2), 176-182. https://doi.org/10.36526/sosioedukasi.v12i2.3199