EMPOWERMENT OF FISH PROCESSING AND MARKETING GROUPS IN THE CITY OF TOMOHON THROUGH ASSISTANCE WITH PRODUCT PACKAGING USING ENGLISH AND OTHER FOREIGN LANGUAGES
Pemberdayaan kelompok pengolah dan pemasaran ikan di kota Tomohon lewat pendampingan pengemasan produk menggunakan bahasa Inggris dan bahasa asing lainnya
Maya Pinkan Warouw

Fakultas Ilmu Budaya Universitas Sam Ratulangi

Jultje Rattu

Fakultas Ilmu Budaya Universitas Sam Ratulangi

Vivi Tumuju

Fakultas Ilmu Budaya Universitas Sam Ratulangi

Vany Kamu

Fakultas Ilmu Budaya Universitas Sam Ratulangi

Elvie Piri

Fakultas Ilmu Budaya Universitas Sam Ratulangi
Keywords:
Fish processing and marketing group, Tomohon city, product packaging, digital marketing
Abstract
The community service activity aims to enhance the fish processing and marketing groups (Poklahsar) in the city of Tomohon, North Sulawesi. Tomohon is known for its cool and beautiful natural conditions and has traditional markets that serve as local shopping centers. This facilitates fish cultivators to sell their products locally, including through digital platforms like WhatsApp Business and Instagram. Despite local success, the marketing is still limited to the local scale, evident in packaging using local and Indonesian languages. To overcome this, the community service involves providing training, particularly in English, Japanese, and German, to the fish processing groups. English, being an international language, will be introduced for product descriptions on packaging and digital media. The goal is to enable Poklahsar in Tomohon to increase sales quantity and expand their market internationally.
References
[1] Pusat Pelatihan dan Penyuluhan Kelautan dan Perikanan. Programa penyuluhan perikanan nasional. Jakarta: Kementerian Perikanan dan Kelautan; 2023.
[2] Larsen-Freeman D. Techniques and principles in language teaching. New York: Oxford University Press; 2000.
[3] Burgmeier A. Inside reading the academic wordlist in context. New York: Oxford University Press; 2009.
[4] Verlag M H. Themen neu: ausgabe in zwei bänden. Hamburg: Deutsche Luftbild; 1998.
[5] NHK world Japan. Belajar bahasa jepang tata bahasa. [internet]. [cited 2023 April 12]. Available from: https://www.nhk.or.jp/lesson/indonesian/download/
[6] Bao D. Developing materials for speaking skills in Tomlinson B, editor. Developing materials for language teaching. London: Bloomsbury publishing; 2013. pp.407-428.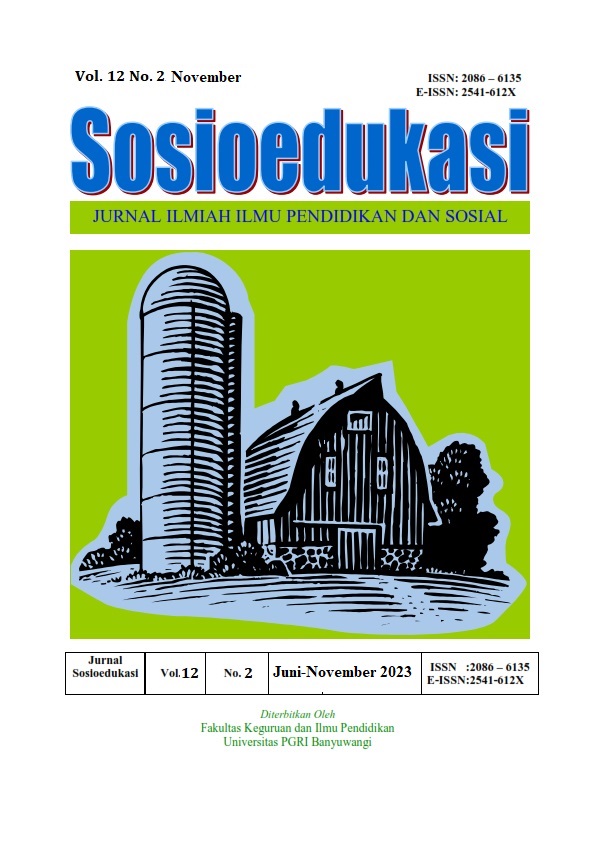 How to Cite
Maya Pinkan Warouw, Jultje Rattu, Vivi Tumuju, Vany Kamu, & Elvie Piri. (2023). EMPOWERMENT OF FISH PROCESSING AND MARKETING GROUPS IN THE CITY OF TOMOHON THROUGH ASSISTANCE WITH PRODUCT PACKAGING USING ENGLISH AND OTHER FOREIGN LANGUAGES : Pemberdayaan kelompok pengolah dan pemasaran ikan di kota Tomohon lewat pendampingan pengemasan produk menggunakan bahasa Inggris dan bahasa asing lainnya. SOSIOEDUKASI JURNAL ILMIAH ILMU PENDIDIKAN DAN SOSIAL, 12(2), 189-195. https://doi.org/10.36526/sosioedukasi.v12i2.3137