DEVELOPMENT OF CHARACTER VALUES FORWARD (Independent, Active, Honest and Tenacious) AT TARUNA DEVELOPMENT INTENSIVE HIGH SCHOOL, SURABAYA
PENGEMBANGAN NILAI KARAKTER MAJU (Mandiri, Aktif, Jujur, dan Ulet) DI SMA INTENSIF TARUNA PEMBANGUNAN SURABAYA
Dwi Retnani Srinarwati

Universitas PGRI Adi Buana Surabaya

Muhammad Muhyi

Prodi Pend. Jasmani, Sekolah Pascasarjana , Universitas PGRI Adi Buana Surabaya

Mimas Ardhianti

Prodi Pend. Bahasa Indonesia, Fakultas Ilmu Sosial Humaniora, Universitas PGRI Adi Buana Surabaya

Tri Ari Prabowo

Prodi Manajemen, Fakultas Ekonomi dan Bisnis, Universitas PGRI Adi Buana Surabaya

I Ketut Samodra

Prodi Teknik Eletkro Universitas PGRI Adi Buana Surabaya

Joko Sutrisno

Prodi Teknik Lingkungan, Fakultas Teknik, Universitas PGRI Adi Buana Surabaya

Ach. Syaifur Rahman

SMA Intensif Taruna Pembangunan Surabaya
Keywords:
Character, Independent, Active, Honest, Tenacious, High School
Abstract
Students at the Senior High School (SMA) level are generally faced with conditions that still require assistance from teachers in terms of character education in order to be able to determine appropriate attitudes and behavior according to norms. On this basis, it is inevitable that character education will continue to be strengthened in educational units. The aim of the research is to develop the character of MAJU (Independent, Active, Honest and Tenacious) in the Intensive Cadet Development High School (ITP) Surabaya. The type of research is development research using the ADDIE model. There are five stages of the ADDIE model, namely Analysis, Design, Development, Implementation and Evaluation, which are used to develop the MAJU character. The research subjects were 10 subject teachers at ITP High School, and the research location was ITP High School Surabaya. The research instrument uses observation sheets, data collection techniques using observation and quantitative descriptive data analysis techniques. The results of the research show that the MAJU character (Independent, Active, Honest and Tenacious) can be practiced and implemented by Subject Teachers at SMA ITP Surabaya, with the results of direct observation assessment of subject teachers with an average score of 85 which is interpreted as development the MAJU character is feasible and can be applied at SMA ITP Surabaya. The conclusion from the research results is that MAJU character development at SMA ITP Surabaya can be applied in strengthening the character of students at SMA ITP Surabaya.
References
Ahmad Fauzi, Widia Winata, Ansharullah, 2020, Pengembangan Karakter Kepedulian Melalui Kurikulum Sentra Dengan Menggunakan Model ADDIE, Jurnal Instruksional, Vol. 2 No. 1. Halaman 64-69.
Asep Dahliyana, 2017, Penguatan Pendidikan Karakter Melalui Kegiatan Ekstrakurikuler di Sekolah, Jurnal Sosioreligi,, Vol. 15. No.1 .Halaman 54-64.
Binti Maunah, 2015, Implementasi Pendidikan Karakter Dalam Pembentukan Kepribadian Holistik Siswa, Jurnal Pendidikan Karakter, Vol. 5 No.1. Halaman 90-101.
Chairiyah, 2014, Pendidikan Karakter Dalam Dunia Pendidikan, Jurnal Literasi, Vol. 4. No. 1 Halaman 42-51.
Dewanto Zulkarnain, 2019, Peran Guru Dalam Pelaksanaan Pendidikan Karakter Pada Siswa Kelas X di Sekolah Menengah Atas Palangkaraya, Jurnal Civic Education, Vol. 3 No.1. Halaman 27-36.
Didit Nantara, 2022, Pembentukan Karakter Siswa Melalui Kegiatan di Sekolah dan Peran Guru, Jurnal Pendidikan Tambusai, Vol. 6. No.1. Halaman 2251-2260.
Elina Wasila Harahap, Nurlizzawati, Sri Oktika Amran, 2022, Penerapan Pendidikan Karakter Terhadap Perilaku Merokok SMAN 1 Batang Onang, Naradidik, Journal of Education&Pedagogy, Vol.1. No. 4. Halaman 430-436.
Idail Uzmi Fitri Umami, Muhammad Sobri, 2022, Nilai-Nilai Kerja Keras (Kreatif, Rajin, Ulet, Teliti, Tekun, Komitmen, Disiplin dan Berilmu dan Cinta Tanah Air dalam Islam, Jurnal El HIkam. Vo. 15. No. 1. Halamam 107-129.
Lia Yuliana, 2022, Manajemen Pendidikan Karakter di SMA Negeri Teladan Yogyakarta Masa Pandemi Covid 19, Jurnal Sosiohumaniora, Vol. 8 No. 1. Halaman 74-85.
Moh Julkarnain Ahmad, Halim Adrian, Muh. Arif, 2021, Pentingnya Pendidikan Karakter Dalam Lingkungan Keluarga, Jurnal Pendais, Vol. 3. No.1 Halaman 1-24.
Nopan Omeri, 2015, Pentingnya Pendidikan Karakter Dalam Dunia Pendidikan, Jurnal Manajemen Pendidikan, Vol. 9. No.1. Halaman 464-468.
Nur Cholifah, 2021, Pembentukan Karakter Siswa di SMAN 12 Semarang, Media Penelitian Pendidikan, Vol. 15 . No. 2. Halaman 108-112.
Nyoman Sugihartini, Kadek Yudiana, 2018, ADDIE Sebagai Model Pengembangan Media Instruksional Edukatif (MIE) Mata Kuliah Kurikulum dan Pengajaran, Jurnal Pendidikan Teknologi dan Kejuruan , Vol. 15. No. 2. Halaman 277-286.
Riska Veronika, Dewi Andriani, 2021, Pengembangan Model Pembelajaran Pendidikan Karakter Berbasis Kearifan Lokal Pada Mahasiswa Program Studi Perhotelan Polteknik Bosowa, Jurnal Kependidikan, Vol. 7. No. 1. Halaman205-213.
Siswati, Cahyo Budi Utomo, Abdul Muntholib, 2018, Implementasi Pendidikan Karakter Dalam Membentuk Sikap dan Perilaku Sosial Peserta Didik Melalui Pembelajaran Sejarah di SMA PGRI 1 Pati Tahun Pelajaran 2017/2018. Indonesian Journal of History Education, Vol. 6. No.1 .Halaman 1-13.
Sugeng WIdarso, Agus Karjuni, 2022, Model Pendidikan Karakter Berbasis Pemanfaatan Smartphone untuk Sekolah Menengah dalam Era Revolusi Industri 4.0. Jurnal Eduprof, Vol. 4. No.1. Halaman 109-142.
Subhi Wahyudi, Rum Rosyid, Thomy Sastra Atmaja, 2020, Implementasi Penguatan Pendidikan Karakter Untuk Membentuk Budaya Sekolah di SMA Negeri 2 Sungari Raya, Jurnal Pendidikan Kewarganegaraan, JPKN, Vol. 4. No.2. Halaman 128-141.
Toho Cholik Mutohir, Muhammad Muhyi, Albertus Fenanlampir, 2011, Berkarakter dengan Berolahraga, Berolahraga dengan Berkarakter, Java Pustaka Surabaya.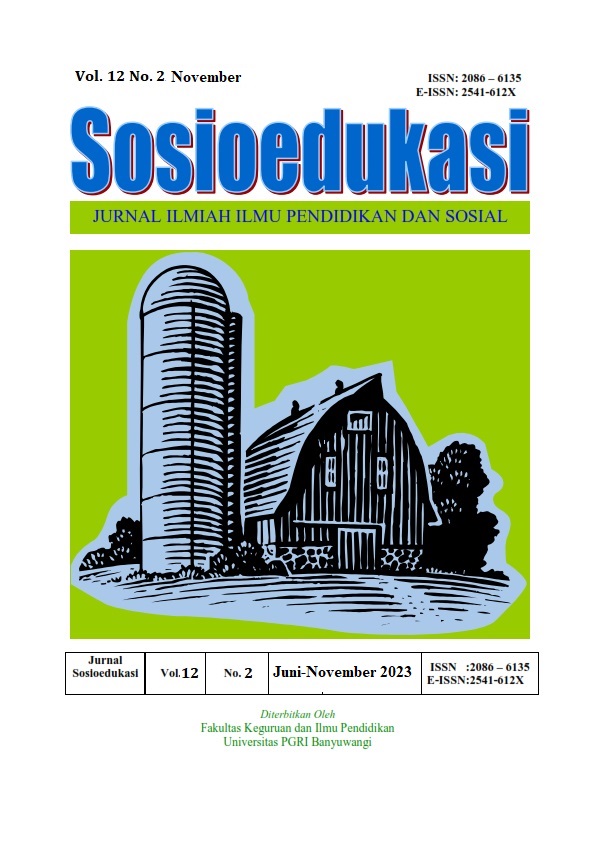 How to Cite
Dwi Retnani Srinarwati, Muhammad Muhyi, Mimas Ardhianti, Tri Ari Prabowo, I Ketut Samodra, Joko Sutrisno, & Ach. Syaifur Rahman. (2023). DEVELOPMENT OF CHARACTER VALUES FORWARD (Independent, Active, Honest and Tenacious) AT TARUNA DEVELOPMENT INTENSIVE HIGH SCHOOL, SURABAYA: PENGEMBANGAN NILAI KARAKTER MAJU (Mandiri, Aktif, Jujur, dan Ulet) DI SMA INTENSIF TARUNA PEMBANGUNAN SURABAYA. SOSIOEDUKASI JURNAL ILMIAH ILMU PENDIDIKAN DAN SOSIAL, 12(2), 196-202. https://doi.org/10.36526/sosioedukasi.v12i2.3108