ORGANIZATIONAL AGILITY (STUDY OF HANDLING OF POST HOUSEHOLD VIOLENCE IN PEKANBARU CITY)
AGILITY ORGANISASI (STUDI PENANGANAN PASCA KEKERASAN DALAM RUMAH TANGGA DI KOTA PEKANBARU)
Indah Indah Febriansyah Nasution

Universitas Riau

Adianto

Program Studi Ilmu Administrasi Publik, Fakultas Ilmu Sosial dan Ilmu Politik, Universitas Riau, Indonesia
Keywords:
Organizational Agility, Domestic Violence
Abstract
Population growth and the development of Pekanbaru City can affect the level of violence against women and children. One of them is Domestic Violence (KDRT). The agility of public organizations is very influential for fast handling and the right time for solving domestic violence cases, in Pekanbaru City the public organization that handles cases is the Technical Implementation Unit for the Protection of Women and Children (UPT PPA). This study aims to describe and analyze agility as well as identify and analyze factors that hinder UPT PPA's agility in dealing with the aftermath of domestic violence in Pekanbaru City. This study uses the theory of Zhang and Sharifi in Sri Raharso (2018) which uses indicators: Responsiveness, Competency, Flexibility, Quickness. The research method used is a qualitative method with a case study approach and is descriptive in nature. The results found that UPT PPA's agility in handling post-domestic violence was still not good and there were several factors that hindered UPT PPA's agility in handling post-domestic violence in Pekanbaru City.
References
Alimi, R., & Nurwati, N. (2021). Jurnal Penelitian dan Pengabdian Kepada Masyarakat (JPPM). Faktor Penyebab Terjadinya Kekerasan Dalam Rumah Tangga Terhadap Perempuan.
Arianty Siregar, N. (2022). Upaya Pencegahan dan Penanganan Kekerasan Perempuan dan Anak dalam Lingkup Rumah Tangga. 10, 1022–1037.
Aryati, A. (2019). Bentuk-Bentuk Kekerasan Dan Wawasan Keserasian Gender Pada Ibu Rumah Tangga Di Kecamatan Sungai Serut Bengkulu. Jurnal Hawa : Studi Pengarus Utamaan Gender Dan Anak, 1(2).
https://doi.org/10.29300/hawapsga.v1i2.2568
Azizah, N. (2022). Kasus Kekerasan Anak dan Perempuan di Riau Meningkat. Republika.co.id. (30 Juli 2022) diakses 20 Agustus 2022 https://www.republika.co.id/berita/rft4e8463/kasus-kekerasan-anak-dan-perempuan-di-riau-meningkat
Hanifah, A. (2007). Permasalahan Kekerasan Dalam Rumah Tangga Dan Alternatif Pemecahannya. Sosio Konsepsia: Jurnal Penelitian Dan Pengembangan Kesejahteraan Sosial, 12(3), 45–56. https://ejournal.kemensos.go.id/index.php/SosioKonsepsia/article/view/640
Jayanthi, E. T. (2009). Faktor-faktor Penyebab Terjadinya Kekerasan Dalam Rumah Tangga Pada Survivor Yang Ditangani Oleh Lembaga Sahabat Perempuan Magelang. Dimensia, 3(2), 33–50. https://journal.uny.ac.id/index.php/dimensia/article/view/3417
Rahardjo, M. (2010). Triangulasi dalam Penelitian Kualitatif. www.uin-malang.ac.id. (15 Oktober 2010) diakses 31 Agustus 2022 https://uin-malang.ac.id/blog/post/read/101001/triangulasi-dalam-penelitian-kualitatif.html
Website Komnas Perempuan. (2022). Catahu 2022: Bayang-Bayang Stagnansi: Daya Pencegahan dan Penanganan Berbanding Peningkatan Jumlah, Ragam dan Kompleksitas Kekerasan Berbasis Gender Terhadap Perempuan. Komnasperempuan.go.id. diakses 20 Agustus 2022 https://komnasperempuan.go.id/catatan-tahunan-detail/catahu-2022-bayang-bayang-stagnansi-daya-pencegahan-dan-penanganan-berbanding-peningkatan-jumlah-ragam-dan-kompleksitas-kekerasan-berbasis-gender-terhadap-perempuan
Peraturan Menteri Pemberdayaan Perempuan dan Perlindungan Anak Nomor 4 Tahun 2018 tentang Pedoman Pembentukan Unit Pelaksana Teknis Daerah Perlindungan Perempuan dan Anak
Peraturan Pemerintah Nomor 87 Tahun 2014 Tentang Perkembangan Kependudukan dan Pembangunan Keluarga Keluarga Berencana dan Sistem Informasi Keluarga.
Peraturan Walikota Pekanbaru Nomor 142 Tahun 2019 Tentang Pembentukan, Kedudukan, Susunan Organisasi, Tugas dan Fungsi Serta Tata Kerja Unit Pelaksana Teknis Perlindungan Perempuan dan Anak
Undang-Undang Nomor 23 Tahun 2004 Tentang Penghapusan Kekerasan Dalam Rumah Tangga.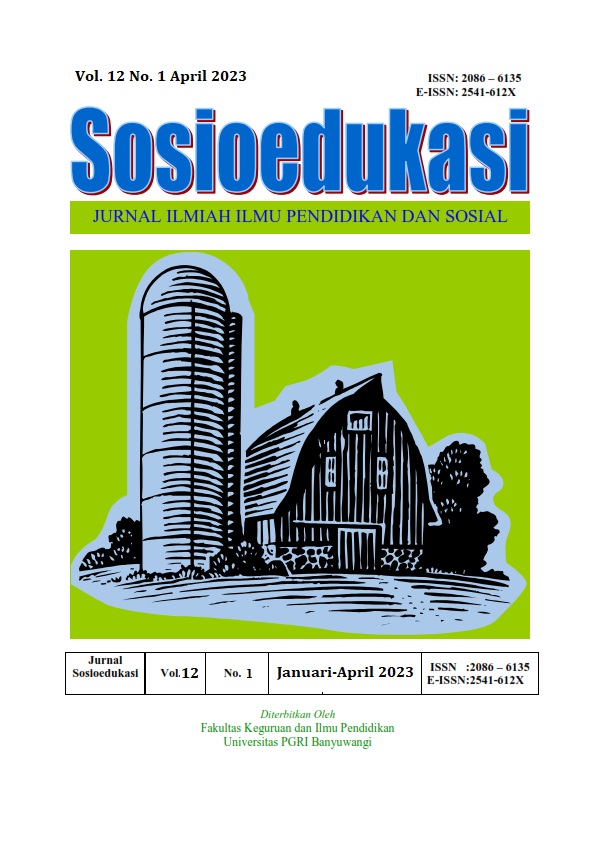 How to Cite
Indah Febriansyah NasutionI., & Adianto. (2023). ORGANIZATIONAL AGILITY (STUDY OF HANDLING OF POST HOUSEHOLD VIOLENCE IN PEKANBARU CITY): AGILITY ORGANISASI (STUDI PENANGANAN PASCA KEKERASAN DALAM RUMAH TANGGA DI KOTA PEKANBARU). SOSIOEDUKASI JURNAL ILMIAH ILMU PENDIDIKAN DAN SOSIAL, 12(1), 134-142. https://doi.org/10.36526/sosioedukasi.v12i1.2617