REGIONAL ASSET MANAGEMENT IN SOUTHEAST MINAHASA REGENCY REGENCY FINANCIAL AND REVENUE MANAGEMENT AGENCY
PENGELOLAAN ASET DAERAH DI BADAN PENGELOLAAN KEUANGAN DAN PENDAPATAN DAERAH KABUPATEN MINAHASA TENGGARA
Enrico Ryan Sarilim

Pascasarjana Universitas Sam Ratulangi, Manado

Novie Revli Pioh

Postgraduate from Sam Ratulangi University, Manado

Shirley YVI Goni

Postgraduate from Sam Ratulangi University, Manado
Keywords:
Assets, BPKPD, Management, Regional Assets, Southeast Minahasa
Abstract
This study aims to analyze the management of regional assets in the Regional Revenue and Financial Management Board of Southeast Minahasa Regency. The research method used in this study uses a qualitative approach. The data used consists of primary data and secondary data. The informants in the study were taken using a purposive sampling technique with a total of 5 people. The research focus is based on management principles consisting of planning, implementation or utilization and supervision. The data collection was carried out by means of observations, interviews and documentation which were then analyzed in three stages, namely data reduction, data presentation and conclusion drawing. The results of the study show that the management of regional assets in the BPKPD of Southeast Minahasa Regency is carried out in advance, namely each SKPD within the Government of Southeast Minahasa Regency submits for the use of the assets needed, in this case the use of regional property which must be accompanied by supporting documents as part of the requirements administration which aims to determine the utilization of regional assets
References
Aripin, Z., & Negara, M. R. P. (2021). Akuntansi Manajemen. Deepublish.
Badan Pemeriksa Keuangan. (2016). Manajemen Aset Daerah.
Moleong, L. J. (2012). Metodologi penelitian kualitatif. Bandung: Remaja Rosdakarya.
Moleong, L. J. (2018). Metodologi Penelitian Kualitatif Remaja Rosdakarya. Inter Komunika, Stikom InterStudi.
Prasetyowati, H., & Panjawa, J. L. (2022). Teknologi Dan Distribusi Pajak Mendukung Kualitas Pembangunan Manusia. Transekonomika: Akuntansi, Bisnis Dan Keuangan, 2(2), 23–36.
Rijali, A. (2019). Analisis data kualitatif. Alhadharah: Jurnal Ilmu Dakwah, 17(33), 81–95.
Sarosa, S. (2021). Analisis Data Penelitian Kualitatif. Pt Kanisius.
Sofwan, S. V., & Sulastri, T. (2019). Peran Pusat Pemulihan Aset Di Kejaksaan Negeri Bandung. Akurat| Jurnal Ilmiah Akuntansi Fe Unibba, 10(3), 151–165.
Sugiyono. (2018). Metode Penelitian Kuantitatif, Kualitatif dan R&D (p. 336).
Suwanda, D. (2013). Strategi Mendapatkan Opini WTP Laporan Keuangan PEMDA. PPM.
Syaodih. (2013). Metode Penelitian Pendidikan. PT. Remaja Rosdakarya.
Wida, S. A., Supatmoko, D., & Kurrohman, T. (2017). Akuntabilitas Pengelolaan Alokasi Dana Desa (ADD) di Desa–Desa Kecamatan Rogojampi Kabupaten Banyuwangi. E-Journal Ekonomi Bisnis Dan Akuntansi, 4(2), 148–152.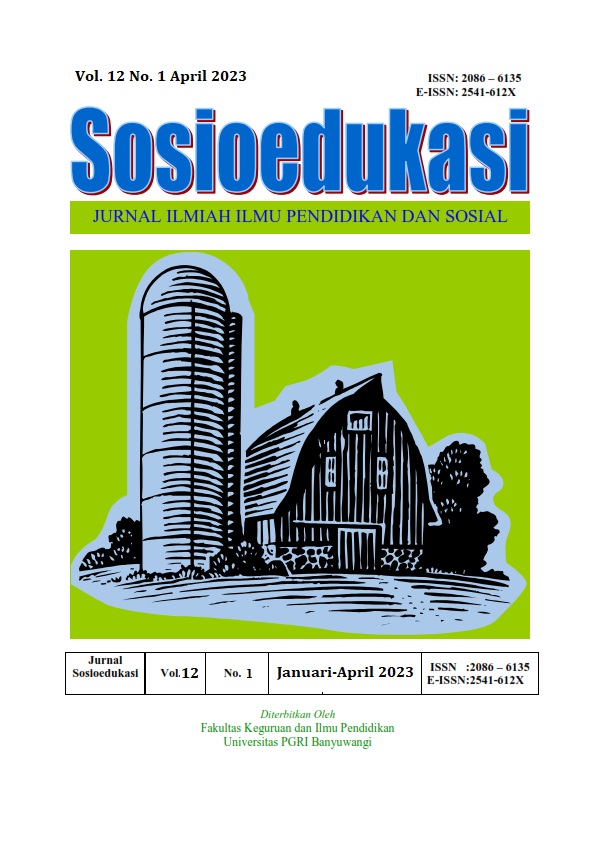 How to Cite
Ryan SarilimE., Novie Revli Pioh, & Shirley YVI Goni. (2023). REGIONAL ASSET MANAGEMENT IN SOUTHEAST MINAHASA REGENCY REGENCY FINANCIAL AND REVENUE MANAGEMENT AGENCY: PENGELOLAAN ASET DAERAH DI BADAN PENGELOLAAN KEUANGAN DAN PENDAPATAN DAERAH KABUPATEN MINAHASA TENGGARA. SOSIOEDUKASI JURNAL ILMIAH ILMU PENDIDIKAN DAN SOSIAL, 12(1), 102-115. https://doi.org/10.36526/sosioedukasi.v12i1.2593