DISTRIBUTION OF AGAINST ASSETS AND DETERMINATION OF CHILDREN'S RESPONSIBILITY DUE TO DIVORCE
PEMBAGIAN HARTA GONO-GINI DAN PENETAPAN HAK ASUH ANAK AKIBAT PERCERAIAN
Carissa Christiana

Magister Kenotariatan, Universitas Surabaya
Keywords:
Distribution of Joint Assets, Determination of child custody, Divorce
Abstract
This research was conducted with the aim of finding out how the dividend of property due to divorce according to the Marriage Law and how to determine custody of children due to divorce. By using the normative juridical research method, the following conclusions are: 1. Distribution of property due to divorce based on the provisions of Article 36 of the Marriage Law, husband and wife can act with the consent of both parties. 2. Determination of custody of children due to divorce according to Presidential Instruction No. 1 of 1991, for children who are not yet mature or not yet 12 (twelve) years of age are the rights of the mother. Meanwhile, for adult children, it is up to the child to choose between the father and mother as the holder of the child's rights. Or according to the judge's consideration based on the condition of the wife's and husband's behavior in raising children. The court ruling on child custody does not sever the blood relationship between the child and the biological parents and does not eliminate the obligation of both parents to support their child.
References
Abas, R. (2017). Konsep Peranan Peradilan Agama dalam Menyelesaikan Konflik Hak Asuh Anak Akibat Perceraian di Kabupaten Aceh Tenggara.
Bahari, A. (2016). Tata cara gugatan cerai, pembagian harta gono-gini, dan hak asuh anak. Pustaka Yustisia.
Efendi, J., & Ibrahim, J. (2018). Metode Penelitian Hukum: Normatif dan Empiris. Prenada Media.
Iskandar, Umami, A., & Fadilla, D. (2021). Analysis Related To Judges' Considerations In The Immediate Decision Of Criminal Actions Against Children. Policy, Law, Notary and Regulatory Issues (POLRI), 1(1), 57–64. https://doi.org/https://doi.org/10.55047/polri.v1i1.32
Prawirohamidjojo, R. S., & Pohan, M. (2008). Hukum orang dan keluarga: personen en familie-recht. Pusat Penerbitan dan Percetakan Unair.
Robiyah, N. R. (2019). Pertimbangan Hakim Dalam Penyelesaian Sengketa Harta Bersama Antara Suami Dan Istri Pada Perkara Perceraian Di Pengadilan Agama Trenggalek (Studi Putusan Perkara No. 0950/Pdt. G/2018/PA. TL).
Salim, H. S. (2005). Pengantar Hukum perdata tertulis (BW).
Situmorang, V. (1988). Kedudukan wanita di mata hukum. Bina Aksara.
Subekti, R. (2003). Pokok-Pokok Hukum Perdata, Jakarta: PT. Intermasa, Hlm, 165.
Sultan, L. (2020). Penyelesaian harta bersama pasca perceraian di pengadilan agama Bantaeng kelas II (studi kasus Putusan No. 50/Pdt. G/2018/PA. Batg. Qadauna: Jurnal Ilmiah Mahasiswa Hukum Keluarga Islam, 1, 291–301.
Syahid, I. M. (2015). Peran ibu sebagai pendidik anak dalam keluarga menurut Syekh Sofiudin bin Fadli Zain. UIN Walisongo.
Tan, H. T. (2015). Politik Hukum Putusan Pengadilan Agama Yang Menyimpangi Pasal 105 (A) KHI Tentang Hak Asuh Anak Yang Belum Mumayyiz Dalam Kasus Perceraian Marshanda Vs Ben Kasyafani. Refleksi Hukum: Jurnal Ilmu Hukum, 9(2), 219–228.
Tutik, T. T. (2015). Hukum Perdata dalam Sistem Hukum Nasional. Kencana.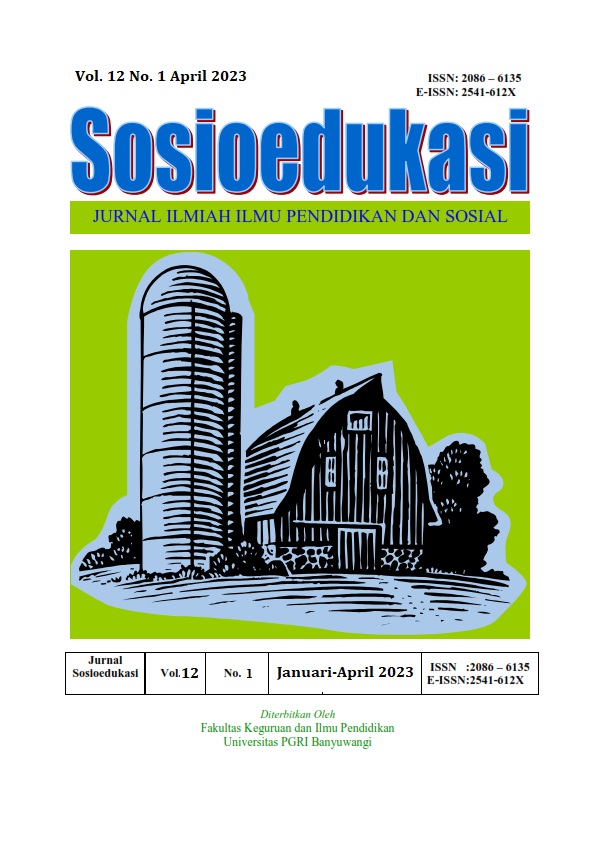 How to Cite
ChristianaC. (2023). DISTRIBUTION OF AGAINST ASSETS AND DETERMINATION OF CHILDREN'S RESPONSIBILITY DUE TO DIVORCE: PEMBAGIAN HARTA GONO-GINI DAN PENETAPAN HAK ASUH ANAK AKIBAT PERCERAIAN. SOSIOEDUKASI JURNAL ILMIAH ILMU PENDIDIKAN DAN SOSIAL, 12(1), 116-122. Retrieved from https://ejournal.unibabwi.ac.id/index.php/sosioedukasi/article/view/2592