USE OF TRADEMARK CERTIFICATES AS COLLATERAL IN DOING CREDIT WITH BANKING
PENGGUNAAN SERTIPIKAT MEREK SEBAGAI JAMINAN DALAM MELAKUKAN KREDIT DENGAN PERBANKAN
Tegar Rastratama

Program Studi Magister Ilmu Hukum, Fakultas Hukum, Universitas Indonesia

Brian Amy Prastyo

Program Studi Magister Ilmu Hukum, Fakultas Hukum, Universitas Indonesia
Keywords:
Intellectual Property Rights, Trademark, Collateral
Abstract
Intellectual Property Rights are a form of protection for everyone who has creative ideas by creating works. One form of Intellectual Property Rights is Trademark Rights which is a sign given to an item to differentiate it from other goods and has economic value so that it can be used as collateral in making credit with financial institutions. The goal of this article is to examine the use of brand certificates as collateral in banking credit transactions. This analysis was carried out using normative juridical methods. The results of this analysis say that the Mark is part of the Intellectual Property which can be used as collateral by using a certificate as proof of ownership and collateral object.
References
Amriani, N. (2012). Mediasi: Alternatif Penyelesaian Sengketa Perdata di Pengadilan.
Flignor, P., & Orozco, D. (2006). Intangible asset & intellectual property valuation: A multidisciplinary perspective. World Intellectual Property Organization (WIPO), Genebra.
Harahap, M. Y. (2017). Hukum acara perdata: tentang gugatan, persidangan, penyitaan, pembuktian, dan putusan pengadilan. Sinar Grafika.
Hardianti, V. (2022). Restructuring Policy for Problematic Murabahah Financing for MSME Customers due to the 2019 Coronavirus Disease (Covid-19) Pandemic. CASHFLOW: Current Advanced Research on Sharia Finance and Economic Worldwide, 1(4), 21–28. https://doi.org/https://doi.org/10.55047/cashflow.v1i4.241
Kurnianingrum, T. P. (2017). Hak Kekayaan Intelektual Sebagai Jaminan Kredit Perbankan (Intellectual Property As Banking Credit Guarantee). Negara Hukum: Membangun Hukum Untuk Keadilan Dan Kesejahteraan, 8(1), 31–54.
Nugroho, S. A. (2014). Hukum persaingan usaha di Indonesia. Prenada Media.
Purba, A., & Umar, Z. (2003). TRIP's dan Negara-Negara Brkembang. Indonesian J. Int'l L., 1, 245.
Widiyono, T. (2006). Aspek Hukum Operasional Transaksi Produk Perbankan di Indonesia: Simpanan, Jasa dan Kredit. Bogor: Ghalia Indonesia.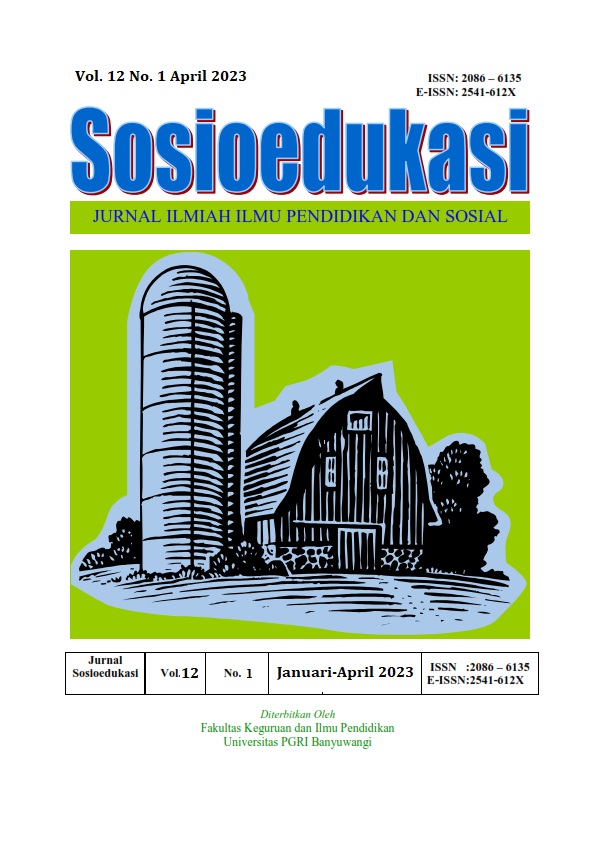 How to Cite
RastratamaT., & PrastyoB. A. (2023). USE OF TRADEMARK CERTIFICATES AS COLLATERAL IN DOING CREDIT WITH BANKING: PENGGUNAAN SERTIPIKAT MEREK SEBAGAI JAMINAN DALAM MELAKUKAN KREDIT DENGAN PERBANKAN. SOSIOEDUKASI JURNAL ILMIAH ILMU PENDIDIKAN DAN SOSIAL, 12(1), 77-91. https://doi.org/10.36526/sosioedukasi.v12i1.2525