FORM OF LEGAL PROTECTION OF SMALL BUSINESS IN THE CONTEXT OF BUSINESS COMPETITION IN INDONESIA
BENTUK PERLINDUNGAN HUKUM TERHADAP USAHA KECIL DALAM KONTEKS PERSAINGAN USAHA DI INDONESIA
Andreas Prayuda Aprindo

Universitas Indonesia, Jakarta
Keywords:
Business Competition, Economic Democracy, Legal Protection, MSMEs
Abstract
This study aims to determine how small businesses in Indonesia are afforded legal protection in the context of business competitiveness. This is normative legal study, which is often referred to as doctrinal legal research. This study employs 2 (two) approaches: the statutory approach and the conceptual method. The findings indicate that the legal protection of small business actors in business competition in Indonesia is a manifestation of the implementation of economic democracy that contains the principles of justice, unity, and fairness to encourage the creation of business opportunities for every citizen in an atmosphere of healthy and reasonable competition so as not to cause the concentration of economic power on only a few business actors, but to provide opportunities for small business actors.
References
Ariani, A., & Utomo, M. N. (2017). Kajian strategi pengembangan usaha mikro kecil dan menengah (UMKM) di kota tarakan. Jurnal Organisasi Dan Manajemen, 13(2), 99–118.
Arliman, L. (2017). Perlindungan hukum UMKM dari eksploitasi ekonomi dalam rangka peningkatan kesejahteraan masyarakat. Jurnal Rechts Vinding: Media Pembinaan Hukum Nasional, 6(3), 387–402.
Bahri, Z. H. (2019). Kewenangan Komisi Pengawas Persaingan Usaha Dalam Pengawasan Merger Perusahaan Yang Menimbulkan Praktek Monopoli Dan Persaingan Usaha Tidak Sehat. Universitas Islam Sultan Agung.
Baswir, R. (2000). Keterbelakangan Usaha Kecil dan Peningkatan Otonomi Daerah. Jurnal Analisis Sosial, 5(1).
Hadi, I. R. R. (2017). Pengawasan Kppu Terhadap Penyalahgunaan Posisi Tawar pada Perjanjian Kemitraan oleh Pelaku Usaha Besar dan Pelaku Usaha UMKM. Universitas Airlangga.
Hafni, R., & Rozali, A. (2015). Analisis usaha mikro, kecil, dan menengah (UMKM) terhadap penyerapan tenaga kerja di Indonesia. Muhammadiyah University North Sumatra.
Hernoko, A. Y. (2010). Hukum perjanjian asas proporsionalitas dalam kontrak komersial. Kencana.
Kagramanto, L. B. (2008). Mengenal Hukum Persaingan Usaha : Berdasarkan UU No. 5 Tahun 1999. Laros.
KPPU. (n.d.). Kemitraan dan Advokasi Kemitraan. KPPU. http://www.kppu.go.id/id/kemitraan/advokasi-kemitraan/
Kurniawan, R., & Azhar, A. (2021). Analisis Dampak Toko Modern Terhadap Keberadaan Usaha Mikro, Kecil, Menengah Di Kota Padangsidimpuan. AT-TAWASSUTH: Jurnal Ekonomi Islam, 4(1), 208–230.
Lubis, A. F. (2017). Buku Teks Hukum Persaingan Usaha Edisi Kedua. Komisi Pengawas Persaingan Usaha.
Margono, S. (2009). Hukum anti monopoli. Sinar Grafika.
Rokan, M. K. (2012). Hukum persaingan usaha: teori dan praktiknya di Indonesia. RajaGrafindo Persada.
Shidarta. (2006). Moralitas Profesi Hukum Suatu Tawaran Kerangka Berfikir. PT Revika Aditama.
Sulasno, I. D. (2022). Implikasi Kebijakan Persaingan Usaha Produk Usaha Mikro Kecil Menengah (UMKM) Untuk Meningkatkan Perekonomian di Kabupaten Serang. SKETSA BISNIS, 9(2), 165–185.
Usman, R. (2022). Hukum persaingan usaha di Indonesia. Sinar Grafika.
Yusri, Y. (2014). Perlindungan Hukum terhadap Usaha Mikro, Kecil dan Menengah dalam Perspektif Keadilan Ekonomi. Kanun Jurnal Ilmu Hukum, 16(1), 103–127.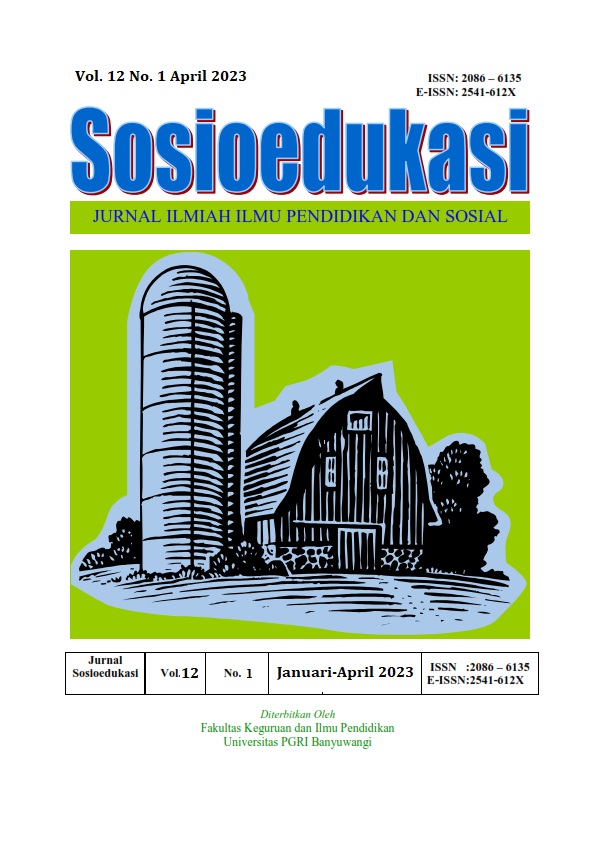 How to Cite
AprindoA. P. (2023). FORM OF LEGAL PROTECTION OF SMALL BUSINESS IN THE CONTEXT OF BUSINESS COMPETITION IN INDONESIA: BENTUK PERLINDUNGAN HUKUM TERHADAP USAHA KECIL DALAM KONTEKS PERSAINGAN USAHA DI INDONESIA. SOSIOEDUKASI JURNAL ILMIAH ILMU PENDIDIKAN DAN SOSIAL, 12(1), 64-70. https://doi.org/10.36526/sosioedukasi.v12i1.2524