JURIDICAL ANALYSIS OF CRIMINAL ACCOUNTABILITY TO DISTRIBUTE ELECTRONIC DOCUMENTS THAT CONTAIN DECENT VIOLATIONS (Case Study, Decision No. 133/Pid.Sus/2021/PN Jkt.Sel)
ANALISIS YURIDIS PERTANGGUNGJAWABAN PIDANA MENDISTRIBUSIKAN DOKUMEN ELEKTRONIK YANG MEMUAT PELANGGARAN KESUSILAAN(Studi Kasus, Putusan No. 133/Pid.Sus/2021/PN Jkt.Sel)
Maryanto Roberto Sihotang

Program Pascasarjana Magister Ilmu Hukum, Universitas Krisnadwipayana
Keywords:
Criminal Liability, Criminal Code, Decency, Electronic Distribution
Abstract
Basically, moral crimes were only committed by those directly involved in committing them, such as showing female or male genitals in public. However, with the development of information technology, it now encourages those who witness the spectacle to record it with cameras or cellphones and distribute it through Social Media such as WhatsApp using their own accounts. The research approach employed is the normative juridical method, which entails the study of legal norms as outlined in statutes and regulations. The result is that there is no concept or limitation on decency, as alluded to in paragraph one of article 27 of the ITE Law, addressing who is the most accountable legal subject in terms of sending or disseminating content that is charged with immorality. In practice, the limit is a breach of Articles 281-294 of the Criminal Code's decency provisions. The crime of decency through electronic media happened at the time of distribution, transmission, and making accessible video recordings, photos, and images including decency violations through WhatsApp, Facebook, Instagram, Telegram, and other accounts, threatened with imprisonment for 6 (six) years, and the most accountable legal subject is the person who first viewed it through electronic media.
References
Chazawi, A. (2010). Pelajaran Hukum Pidana Bagian I; Stelsel Pidana, Tindak Pidana, Teori-Teori Pemidanaan & Batas Berlakunya Hukum Pidana. Jakarta: PT. Rajawali Pers.
Effendi, E. (2011). Hukum pidana Indonesia: suatu pengantar. Refika Aditama.
Fajar, M. S., & Jelani, A. Q. (2021). Efficiency Of Implementing Sanctions In Case Of Polygamy In The Modern Islamic World. Policy, Law, Notary And Regulatory Issues (Polri), 1(1), 1–7. https://doi.org/https://doi.org/10.55047/polri.v1i1.21
Friedrich, C. J. (2004). Filsafat hukum perspektif historis. Bandung: Nuansa Dan Nusamedia.
Ilyas, A., & Mustamin, M. (2012). Asas-asas hukum pidana: memahami tindak pidana dan pertanggungjawaban pidana sebagai syarat pemidanaan: disertai teori-teori pengantar dan beberapa komentar. Kerja sama Rangkang Education Yogyakarta & PuKAP-Indonesia.
Lahera, T., & Dewi, D. A. (2021). Hak Asasi Manusia : Pentingnya Pelaksanaan dan Penegakan Hak Asasi Manusia di Indonesia saat ini. Journal Civics & Social Studies, 5(1). https://doi.org/10.31980/civicos.v5i1.1055
Marpaung, L. (2012). Asas Teori Praktik Hukum Pidana (Cetakan Ketujuh). Jakarta: Sinar Grafika.
Rahardjo, S. (2010). Penegakan hukum progresif. Penerbit Buku Kompas.
Soekanto, S. (1988). Soerjono Soekanto dan Sri Mamudji, Penelitian Hukum Normatif Suatu Tinjauan Singkat. Jakarta: Rajawali Pers.
Soemitro, R. H. (1990). Metodologi penelitian hukum dan jurimetri. Ghalia Indonesia, Jakarta, 167.
Utrecht, F. (1989). Pengantar Dalam Hukum Indonesia, Terjemahan Moh. Saleh Djindang, Sinar Harapan. Jakarta.
Widnyana, I. M. (2010). Asas-Asas Hukum Pidana. Fikahati Aneska, Jakarta.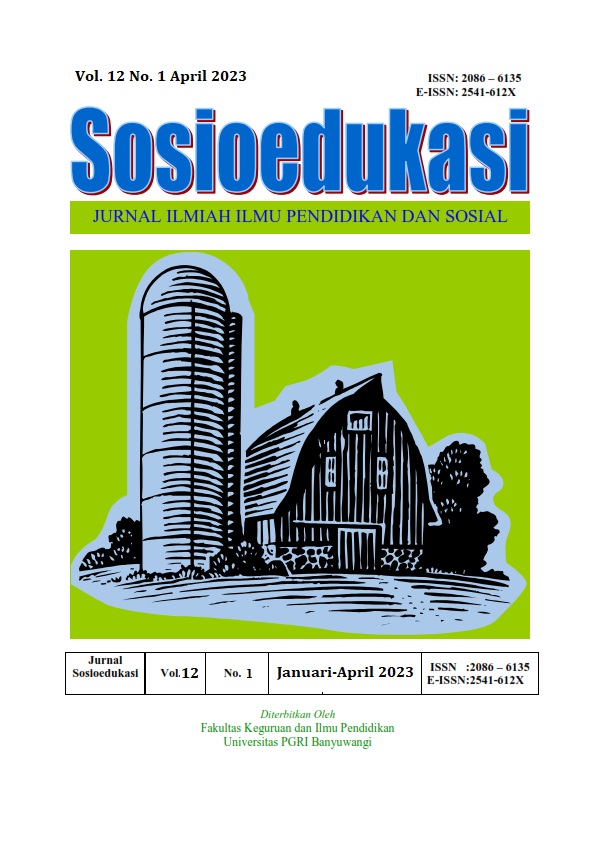 How to Cite
SihotangM. R. (2023). JURIDICAL ANALYSIS OF CRIMINAL ACCOUNTABILITY TO DISTRIBUTE ELECTRONIC DOCUMENTS THAT CONTAIN DECENT VIOLATIONS (Case Study, Decision No. 133/Pid.Sus/2021/PN Jkt.Sel): ANALISIS YURIDIS PERTANGGUNGJAWABAN PIDANA MENDISTRIBUSIKAN DOKUMEN ELEKTRONIK YANG MEMUAT PELANGGARAN KESUSILAAN(Studi Kasus, Putusan No. 133/Pid.Sus/2021/PN Jkt.Sel). SOSIOEDUKASI JURNAL ILMIAH ILMU PENDIDIKAN DAN SOSIAL, 12(1), 9-20. https://doi.org/10.36526/sosioedukasi.v12i1.2519