Perlindungan Hukum Bagi Penyedia Jasa Pembiayaan Berbasiskan Elektronik (Peer to peer Landing) Dalam Peraturan OJK NO.77/OJK/01/2016 Tentang Layanan Pinjam Meminjam Uang Berbasis Teknologi Informasi
Miranda Selvy Nasari

Program Pascasarjana Magister Ilmu Hukum, Universitas Krisnadwipayana
Keywords:
Perlindungan Hukum, Penyedia Jasa Pembiayaan, Peer to Peer Landing
Abstract
This study aims to analyze the Legal Protection for Electronic-Based Financing Service Providers (Peer to Peer Landing) in OJK Regulation No.77/Ojk/01/2016 concerning Information Technology-Based Borrowing-Lending Services. The type of research used is a type of research that includes normative legal research. This type of research approach is an approach through legislation (statute approach) and a conceptual approach (conceptual approach). which focuses on the provisions of the legislation that has been enacted. Sources of data obtained from this study based on primary legal sources, secondary data sources and tertiary data sources obtained based on library materials. The results of the study indicate that the Financial Services Authority plays a role in carrying out the regulatory function in protecting peer to peer lending users, specifically regulated regarding peer to peer lending in the Financial Services Authority Regulation Number 77 of 2016 Article 1 Number 3 concerning Information Technology-Based Lending and Borrowing Services ( POJK LPMUBTI). As referred to in decision No.267 NO.267/Pdt.G/2020/PN Bdg that the defendant Budi Santosa made a loan via application/online to PT one stop financially for a year with a loan of Rp.40,000,000 with a payment tenor of one year.
References
Abdi, M. (2017). Studi kepustakaan mengenai landasan teori dan praktik konseling. Jurnal Unversitas Surabaya.
Agustiyani. (2018, March 3). OJK Tak Tanggung Jawab jika Ada Fintech Bangkrut . CNN Indonesia. https://www.cnnindonesia.com/ekonomi/20180303133022-78-280165/ojk-tak-tanggung-jawab-jika-ada-fintech-bangkrut
Asshiddiqie, J. (2010). Teori Hans Kelsen tentang Hukum, Jakarta. Konstitusi Press.
Debora, D. (2021). Legal Protection On Consumers Of Fintech Peer to peer Lending Due To Covid-19 Pandemic. Nagari Law Review, 5(1), 69–75.
Dewanthara, N. M. I. P., & Resen, M. G. S. K. (2020). Perlindungan Hukum Terhadap Pihak Pemberi Pinjaman Akibat Terjadinya Gagal Bayar Peer to peer Lending. Acta Comitas Jurnal Hukum Kenotariatan, 5(3).
Hardika, R. A. N. J. M., & Ardianto, F. (2015). Perlindungan Hukum Terhadap Konsumen Dalam Transaksi Online. Serambi Hukum, 8(02), 23092.
Hariyani, I. (2017). Perlindungan Hukum dan Penyelesaian Sengketa Bisnis Sistem Pembayaran Berbasis Teknologi Finansial.
Harris, F. (2017). Pembebasan Jaminan Kebendaan dalam Jaminan Fidusia. Jurnal Hukum & Pembangunan, 46–57.
Hartanto, R., & Ramli, J. P. (2018). Hubungan Hukum Para Pihak dalam Peer to peer Lending. Jurnal Hukum Ius Quia Iustum, 25(2), 320–338.
Laucereno, S. F. (2019, August 7). Wow! Ada Nasabah Nakal Ngutang di 60 Aplikasi Rentenir Online. DetikFinance. https://finance.detik.com/fintech/d-4655662/wow-ada-nasabah-nakal-ngutang-di-60-aplikasi-rentenir-online
Nurrita, S. (2015). Wanprestasi dan akibatnya terhadap perjanjian. Bali. Jurnal Universitas Udayana.
Raharjo, H. (2009). Hukum perjanjian di Indonesia.
Rahmahafida, N. I. (2020). Perlindungan Hukum Pihak Pemberi Pinjaman pada Layanan Pinjaman Pendidikan Berbasis Teknologi Informasi terhadap Risiko Gagal Bayar. Jurist-Diction, 3(2), 541–558.
Simamora, Y. S. (2009). Hukum Perjanjian. Laksbang Pressindo.
Soekanto, S. (2007). Penelitian hukum normatif: Suatu tinjauan singkat.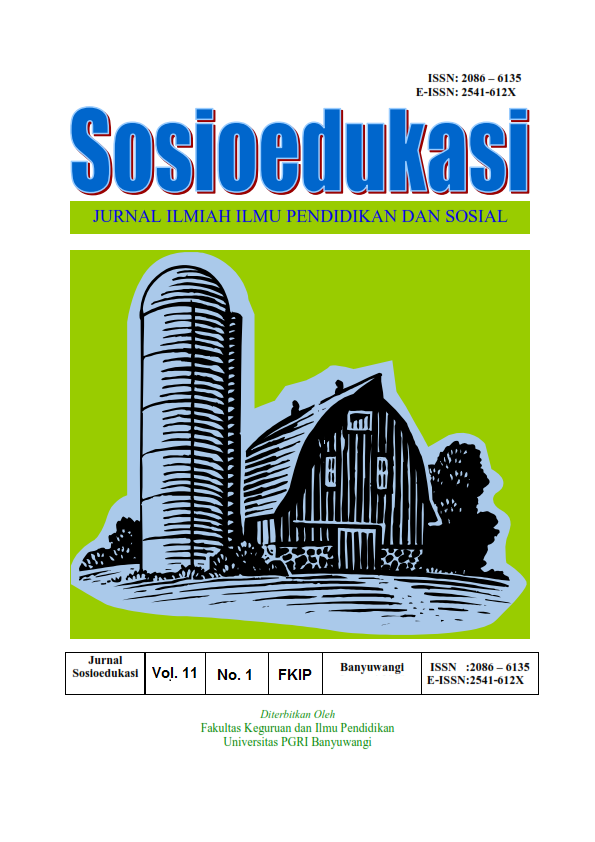 How to Cite
Nasari, M. S. (2022). Perlindungan Hukum Bagi Penyedia Jasa Pembiayaan Berbasiskan Elektronik (Peer to peer Landing) Dalam Peraturan OJK NO.77/OJK/01/2016 Tentang Layanan Pinjam Meminjam Uang Berbasis Teknologi Informasi. SOSIOEDUKASI : JURNAL ILMIAH ILMU PENDIDIKAN DAN SOSIAL, 11(1), 53-67. https://doi.org/10.36526/sosioedukasi.v11i1.1885