TINJAUAN KOMUNIKASI PUBLIK DI ERA PANDEMI COVID-19 TERKAIT OPTIMALISASI VAKSINASI COVID-19
Jessica Alfreda

Master of Art in Communication/ Corporate Communication, London School of Public Relations, Jakarta
Keywords:
Komunikasi, Komunikasi Publik, Vaksinasi Covid-19
Abstract
Penelitian ini bertujuan untuk melakukan Tinjauan Komunikasi Publik di Era Pandemi Covid-19 terkait Optimalisasi Vaksinasi Covid 19. Penelitian ini menggunakan pendekatan deskriptif kualitatif. Desain penelitian ini adalah tinjauan pustaka yakni mengumpulkan data atau sumber yang berhubungan pada sebuah topik tertentu yang bisa didapat dari berbagai sumber seperti jurnal, buku, internet, dan pustaka lain. Hasil penelitian ini menunjukkan bahwa keberhasilan program vaksinasi Covid-19 bergantung pada banyak faktor yang mempengaruhinya, dan salah satu faktor tersebut adalah komunikasi publik. Komunikasi publik yang dipersiapkan dengan akurat, tuntas, strategi yang matang, monitoring dan evaluasi yang berkesinambungan akan memberikan pengaruh positif pada tingkat pengetahuan, pemahaman, dan partisipasi masyarakat.
References
Arni, M. (2005). Komunikasi organisasi. Jakarta: Bumi Aksara, 145.
Astuti, N. P., Nugroho, E. G. Z., Lattu, J. C., Potempu, I. R., & Swandana, D. A. (2021). Persepsi Masyarakat terhadap Penerimaan Vaksinasi Covid-19: Literature Review. Jurnal Keperawatan, 13(3), 569–580.
Dewi, S. A. E. (2021). Komunikasi Publik Terkait Vaksinasi Covid 19. HEALTH CARE: JURNAL KESEHATAN, 10(1), 162–167.
Hadi, I. P., Wahjudianata, M., Sos, S., Indrayani, I. I., & SIP, M. S. (2020). Komunikasi massa. Penerbit Qiara Media.
Hooker, C., & Leask, J. (2020). Risk communication should be explicit about values. A perspective on early communication during COVID-19. Journal of Bioethical Inquiry, 17(4), 581–589.
Krammer, F. (2021). A correlate of protection for SARS-CoV-2 vaccines is urgently needed. Nature Medicine, 27(7), 1147–1148.
Lazarus, J. V, Ratzan, S. C., Palayew, A., Gostin, L. O., Larson, H. J., Rabin, K., Kimball, S., & El-Mohandes, A. (2021). A global survey of potential acceptance of a COVID-19 vaccine. Nature Medicine, 27(2), 225–228.
Lexy, J. M. (2012). Metodologi penelitian kualitatif. Bandung: Remaja Rosdakarya.
Lima, C. K. T., de Medeiros Carvalho, P. M., Lima, I. de A. A. S., de Oliveira Nunes, J. V. A., Saraiva, J. S., de Souza, R. I., da Silva, C. G. L., & Neto, M. L. R. (2020). The emotional impact of Coronavirus 2019-nCoV (new Coronavirus disease). Psychiatry Research, 287, 112915.
Macartney, K., Quinn, H. E., Pillsbury, A. J., Koirala, A., Deng, L., Winkler, N., Katelaris, A. L., O'Sullivan, M. V. N., Dalton, C., & Wood, N. (2020). Transmission of SARS-CoV-2 in Australian educational settings: a prospective cohort study. The Lancet Child & Adolescent Health, 4(11), 807–816.
Nguyen, L. H., Drew, D. A., Graham, M. S., Joshi, A. D., Guo, C.-G., Ma, W., Mehta, R. S., Warner, E. T., Sikavi, D. R., & Lo, C.-H. (2020). Risk of COVID-19 among front-line health-care workers and the general community: a prospective cohort study. The Lancet Public Health, 5(9), e475–e483.
NN. (2012). Teori Persuasi: Formula Segitiga Retorika.
Rakhmat, J. (1996). Psikologi Komunikasi, PT. Remaja Rosdakarya, Bandung.
Sallam, M., & Mahafzah, A. (2021). Molecular analysis of SARS-CoV-2 genetic lineages in jordan: tracking the introduction and spread of COVID-19 UK variant of concern at a country level. Pathogens, 10(3), 302.
Sarno, M. A. (2021). Literasi Media Mahasiswa Ilmu Komunikasi Ups Tegal Mengenai Informasi Hoax Tentang Virus Covid-19 Di Social Networking (Facebook & Twitter) Berdasarkan Individual Competence Framework. Universitas Pancasakti Tegal.
Srisadono, W. (2018). Komunikasi Publik Calon Gubernur Provinsi Jawa Barat 2018 dalam Membangun Personal Branding Menggunakan Twitter. Jurnal Pustaka Komunikasi, 1(2), 213–227.
Sugiono, S. (2018). Strategic Planning: Shaping Or Emerging From Organisations. AL-TANZIM: Jurnal Manajemen Pendidikan Islam, 2(2), 177–184.
Sukmana, R. A., Iyansyah, M. I., Wijaya, B. A., & Kurniawati, M. F. (2021). Implementasi Strategi Komunikasi Kesehatan dalam Meyakinkan Masyarakat untuk Pelaksanaan Vaksinasi COVID-19 di Kabupaten Barito Kuala. Jurnal Sains Sosio Humaniora, 5(1), 409–419.
Syaipudin, L. (2020). Peran Komunikasi Massa Di Tengah Pandemi Covid-19. Kalijaga Journal of Communication, 2(1), 14–34.
Voss, A., Coombs, G., Unal, S., Saginur, R., & Hsueh, P.-R. (2020). Publishing in face of the COVID-19 pandemic. International Journal of Antimicrobial Agents, 56(1), Art-106081.
Zahid, A. (2019). Sensualitas Media Sosial di Era Globalisasi (Kajian Sosiologi Media McLuhan sebagai Analisis Media Masa Kini). Jurnal Sosiologi USK (Media Pemikiran & Aplikasi), 13(1), 1–15.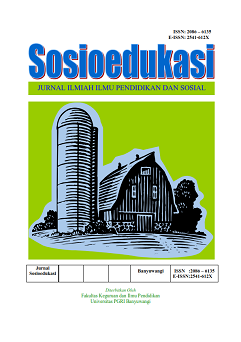 How to Cite
Alfreda, J. (2021). TINJAUAN KOMUNIKASI PUBLIK DI ERA PANDEMI COVID-19 TERKAIT OPTIMALISASI VAKSINASI COVID-19. SOSIOEDUKASI : JURNAL ILMIAH ILMU PENDIDIKAN DAN SOSIAL, 10(2), 229-238. https://doi.org/10.36526/sosioedukasi.v10i2.1505