ANALISIS INOVASI DAN KREATIVITAS TERHADAP KINERJA KARYAWAN INDUSTRI SANDAL DAN SEPATU DI DESA WEDORO DI ERA PANDEMI COVID-19
Rivaldi Adi Yahya

Management Studies Program, Faculty of Economics and Business, National Development University "Veterans"

Gendut Sukarno

Management Studies Program, Faculty of Economics and Business, National Development University "Veterans"
Keywords:
SMEs, Innovation, Creativity, Employee Performance
Abstract
Small and Medium Enterprises (SMEs) are an important part of the economy of a country or region. Various SME development efforts have been carried out, one of which is by generating and creating jobs by starting new businesses in the SME sector. Production in the sandal and shoe industry in Wedoro village, Sidoarjo decreased in 2020 by 4000 Kodi due to the Covid-19 pandemic. This is the concern of the owner of the industry to better understand the desires of consumers who want new innovations for the products sold so that in the following year they can increase. This study aims to analyze the effect of innovation and creativity on the performance of sandal and shoe industry employees in Wedoro Village in the Covid-19 pandemic era. The sampling technique in this research is census sampling. The population in this study is the Owner of the Sandal and Shoe Industry in Wedoro village, with total of 30 people. The data were analyzed using the Partial Least Square (PLS) approach. The results showed that Innovation and Creativity simultaneously had a positive effect on Employee Performance in the Sandal and Shoe Industry in Wedoro Village during the Covid-19 pandemic era.
References
A.A. Anwar Prabu Mangkunegara, 2009. Manajemen sumber daya manusia. Remaja Rosdakarya. Bandung
Dama, J., & Ogi, I. W. (2018). Pengaruh Inovasi Terhadap Dan Kreativitas Terhadap Kinerja Karyawan Pada PT Bank Mandiri (Persero) Tbk. Manado. Jurnal EMBA: Jurnal Riset Ekonomi, Manajemen, Bisnis Dan Akuntansi, 6(1).
Hadiyati, Ernani. 2011. Kreativitas dan Inovasi Berpengaruh Terhadap Kewirausahaan Usaha Kecil. Jurnal Manajemen dan Kewirausahan Vol 13, 8-16
Indrajita, I. K., Sadiartha, A. N. G., & Mahayasa, I. G. A. (2021). Pengaruh Kreativitas dan Inovasi terhadap Kinerja Karyawan pada PT. Tohpati Grafika Utama Denpasar. Widya Amrita: Jurnal Manajemen, Kewirausahaan dan Parwisata, 1(1), 1-13.
Jogiyanto, H. M., & Abdillah, W. (2015). Partial least square (PLS): Alternatif structural equation modeling (SEM) dalam penelitian bisnis. Yogyakarta: Andi.
Lakoy, A. C. (2015). Pengaruh komunikasi, kerjasama kelompok, dan kreativitas terhadap kinerja karyawan pada Hotel Aryaduta Manado. Jurnal EMBA: Jurnal Riset Ekonomi, Manajemen, Bisnis dan Akuntansi, 3(3).
Lengkey, S. J., Lengkong, V. P., & Dotulong, L. O. (2021). PENGARUH KOMPETENSI, INOVASI, DAN KREATIVITAS TERHADAP KINERJA KARYAWAN (STUDI PADA KANTOR PDAM DUA SUDARA KOTA BITUNG). Jurnal EMBA: Jurnal Riset Ekonomi, Manajemen, Bisnis dan Akuntansi, 9(1).
Wibowo, A. S. C. (2013). PENGARUH PELATIHAN DAN KREATIVITAS TERHADAPKINERJA KARYAWAN BAGIAN TEKNISI PADA PT. PERUSAHAAN LISTRIK NEGARA (PERSERO) AREA BOJONEGORO. Jurnal Ilmu Manajemen (JIM), 1(4).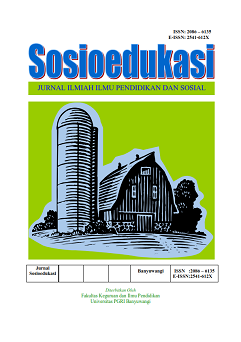 How to Cite
Rivaldi Adi Yahya, & Gendut Sukarno. (2021). ANALISIS INOVASI DAN KREATIVITAS TERHADAP KINERJA KARYAWAN INDUSTRI SANDAL DAN SEPATU DI DESA WEDORO DI ERA PANDEMI COVID-19. SOSIOEDUKASI : JURNAL ILMIAH ILMU PENDIDIKAN DAN SOSIAL, 10(2), 178-193. https://doi.org/10.36526/sosioedukasi.v10i2.1499