AN ERROR ANALYSIS OF DESCRIPTIVE ESSAY OF THE FOURTH SEMESTER STUDENTS OF ENGLISH DEPARTMENT PGRI UNIVERSITY OF BANYUWANGI
ABDUL HALIM

Pendidikan Bahasa Inggris Fakultas Bahasa dan Seni Universitas PGRI Banyuwangi

WAGEYONO WAGEYONO

Pendidikan Bahasa Inggris Fakultas Bahasa dan Seni Universitas PGRI Banyuwangi

YUNITA ERVIANA

Pendidikan Bahasa Inggris Fakultas Bahasa dan Seni Universitas PGRI Banyuwangi

ELOK FIKIANI

Pendidikan Bahasa Inggris Fakultas Bahasa dan Seni Universitas PGRI Banyuwangi
Abstract
Writing is an important skill in language learning. There are four components of the language skills are: listening, speaking, reading, and writing. Writing is a skill which can be learned by anyone who wants to express their thought, ideas, feeling, etc. To get the data of the research, the researcher used essay writing test as the instrument. The researchers used purposive sampling to take the sample that is a class 14A. Purposive of the research was taken from the Fourth Semester students of English Department PGRI University of Banyuwangi in the 2015/2016 academic year. They are 12 students as sample which was taken by using cluster random sampling. Based on data of the result and discussion, it can be concluded that type of errors made by the students in their English writing descriptive essay from the highest percentage to lowest are error of grammar, vocabulary and organization. The result of the error analysis process showed that the students committed error into three types, grammar, vocabulary, mechanics, content and organization. From the frequency of each error types, vocabulary was the error which most frequently produced by the students. makes error of mechanics 120 or 41,49% that capitalization is 61 or 21,32%. Punctuation is 59 or 20,62%.. With those frequency, the lecturer should pay more attention to this part. It indicates that the students are weak in making a precise set of a sentence in particular and in writing in genaral. The second level error, is vocabulary is 53 or 40,25 that are spelling is 14 or 4,89%. Addition word 23 or 8,04%. Word choice is 36 or 12,58%. Diction is 44 or 1,38%. %. The third level error, is grammar 21 or 16,41% that article is 14 or 4,89%. Singular or plural is 10 or 3,49%. Preposition is 8 or 2,79%. The fourth level error, is content 6 or ,09%. The last level error, is organization 11 or 3,84%.
References
Allan G. Bluman, Elementary Statistics: A Step by Step Approach, (New York: McGraw-Hill, 2004)
An Analysis of the Common Grammatical Errors in the English Writing made by 3rd Secondary Male Students in the Eastern Coast of the UAE ByTaiseer Mohammed Y. Hourani.
Bacha, N.N. (2002).Developing Learners' Academic Writing Skills in Higher Education: A Study for Educational Reform. Language &Education,16(3),161-177.
Barber.2003. Developing Strategic Readers and Learners.Wisconsin: Mc. Giow Hill Companies.
Bustomi, Ahmad. 2009. An error analysis on students' writing descriptive. English Letter Department Adab Humanities Faculty State Islamic University Syarif Hidayatullah Jakarta
Brown, H.D. 2000.Principles of Language Learning and Teaching. White Plains, NY :Longman.
Brown, H. Douglas. Principle of Language Learning and Teaching, 5th Edition.New York: Pearson Education, Inc., 2007.
Chen, C. Y., & Huang, H. Y. (2003). L2 acquisition of subject-prominence by EFL
students in Taiwan. English Teaching & Learning, 27(4), 99-122.
Faye. 2005. Literacy from A to Z. New York: Eye on Education, Inc
Herrero, Annabelle Hernandez. 2007. Jurnals :A tool to improve students' writing Skills. Co.Ltd
Kirszner,LaurieG.,andStephenR.Mandell."DefinitionEssay."FocusonWriting:ParagraphsandEssays.NewYork,NY:Bedford/St.Martin.2008.132.Print.
Merriam, Webster's Collegate Dictionary, Massachusetts USA: An Encyclopedia Britanica Company, 2003.
Meyers, Alan.2003. Gate ways to Academic Writing. While plains. New York.
Novianti, Santi. 2013. An Analysis On Students' Grammatical Errors In Writing Descriptive Paragraph. Department Of English Education Faculty of Tarbiya and Teachers Training State Islamic University Syarif Hidayatullah Jakarta
Nunan, D. (2001). Second Language Acquisition. Carter, R. &Nunan, D., (eds.). The Cambridge Guide to Teaching English to Speakers of Other Languages [C], pp 87-92. Cambridge: Cambridge University Press.
Richards. 2008. Co-Teaching That Works Structures and Strategies for Maximizing Student Learning. Jafferson City: Professional Books
Richards, J. C. &Renandya, W. A. (eds) (2002) Methodology in Language Teaching: An Anthology of Current Practice. Cambridge: Cambridge
University Press
Shuttleworth, M. (2008).Quantitative research design.From: Experiment Resources. Accessed on: 10/08/2010.Retrieved from: http://www.experiment-resources.com/quantitative-research-design.html.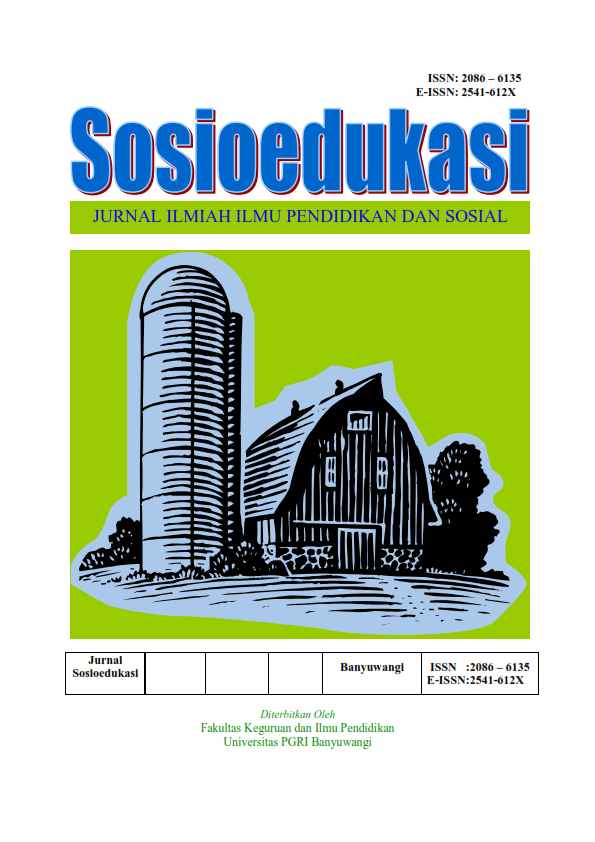 How to Cite
HALIM, A., WAGEYONO, W., ERVIANA, Y., & FIKIANI, E. (2017). AN ERROR ANALYSIS OF DESCRIPTIVE ESSAY OF THE FOURTH SEMESTER STUDENTS OF ENGLISH DEPARTMENT PGRI UNIVERSITY OF BANYUWANGI. SOSIOEDUKASI : JURNAL ILMIAH ILMU PENDIDIKAN DAN SOSIAL, 6(1). Retrieved from https://ejournal.unibabwi.ac.id/index.php/sosioedukasi/article/view/104