A DESCRIPTIVE STUDY OF USING ENGLISH SONGS IN TEACHING LISTENING TO DEVELOP STUDENTS' VOCABULARY MASTERY AT THE TENTH GRADE STUDENTS OF IPA 1 OF MAN SRONO BANYUWANGI
Wulan Wangi

Pendidikan Bahasa Inggris Fakultas Bahasa dan Seni Universitas PGRI Banyuwangi

Pratiwi i Widyaning Premest

Pendidikan Bahasa Inggris Fakultas Bahasa dan Seni Universitas PGRI Banyuwangi

Atik Nurul Khotimah

Pendidikan Bahasa Inggris Fakultas Bahasa dan Seni Universitas PGRI Banyuwangi

Rohim Pradana

Pendidikan Bahasa Inggris Fakultas Bahasa dan Seni Universitas PGRI Banyuwangi
Abstract
This research was aimed at investigating the use of English songs in improving students' vocabulary mastery and students' response toward learning vocabulary through song. A descriptive qualitative research design was employed in a class consisting of 30 students at Tenth Grade of IPA 1 of MAN Srono Banyuwangi. Songs in learning activities positively promote memorizing and gaining new vocabulary easier, developing listening skill, understanding the lesson more, and expanding knowledge. The teachers can take its advantages in classroom activities to promote an effective and interesting learning atmosphere.
The objective of this study is directed to improve the vocabulary mastery of the tenth grade (10) of IPA I students of MAN Srono Banyuwangi, Academic Year 2014-2015.This study applied English songs to improve the students' vocabulary.
The design of this research is Classroom Action Research (CAR) to check the students' vocabulary improvement as well as their rate in vocabulary. This study was conducted on one cycle. It was conducted onin four meetings; three meetings were for giving treatment and implementing English songs and the other one was used for asking students' response.
 The writer determined that the criteria of success the students would be successful if generally the 70% of the students' average score were up to 61 or B. The data in this research are classified into qualitative and quantitative data. The qualitative data are taken from observation sheet, field note and students' response sheet. Meanwhile, the quantitative data are taken from the result of listening test.
References
Astya, M.(2011:127-129) BambangYudiChayono&ShirlyRizkyKusumaningrum. 2011. Practical Techniques for English Language Teaching . Malang: State University of Malang Press.
Brynildssen, Shawna. 2014. Vocabulary's Influence on Successful Writing (http://www.ericdigests.org/2001-3/influence.htm)
Broward. 2007.Vocabulary (http://www.broward.k12.fl.us/esol/eng/bestpractices/ pdf/ intructional%20considerations/12%20vocabulary.pdf, accessed on 30th of April 2014)
Doghlas, F.2014. Vocabulary and Background Knowledge: Important Factors in Reading Comprehension (http://www.flexliteracy.com/flex _literacy _vocabulary.pdfaccessed on 10th of August 2014 )
Fromkin, V., et.al. 2013. Introduction to a Language. (http://www.cengange.com
/highered, accessed on 28th of April 2014)
Hudson, T. 2007. Teaching Second Language Reading. Oxford: Oxford
University Press.
James, M. 2014. Measuring The Contribution of VocabularyKnowledge to Proficiency in the four skills(http://www.eurosla.org/ monographs/EM02/Milton.pdfaccessed on 10th of August 2014).
Majid, A.N et.al (2013:457-468) in BambangYudiChayono&Fika Megawati. 2013. Materials and Media in English Language Teaching. Malang: State University of Malang Press.
Montgomery, Judy K. 2007. The Bridge of Vocabulary: Evidence Based Activities for Academic Success (NCS Pearson Inc), (http://www. srsdeaf.org/Downloads/ Bridge_of_Vocabulary.pdfaccessed on 2nd of May 2014)
Musfiqon, M. 2012. PanduanLengkapMetodologiPenelitianPendidikan. Jakarta: PrestasiPustakaKarya
Nation, I. S. P. (2001).Learning Vocabulary in Another Language. Cambridge: Cambridge University Press.Nuttal, C. 2011.PLT-Teaching Reading Skill in a Foreign Language. Oxford: Heinemann Educational Books Ltd.
O'Malley, J.M., and L.Valdez Pierce. 1996. Authentic Assessment for English
Language Learners, Practical Approaches for Teachers. London: Longman
PikulskiJ.Johnand Templeton, S. 2004.Teaching and Developing Vocabulary:
Key to Long-Term Reading Success(http://www.eduplace.com /marketing/nc/pdf/author_pages.pdfaccessed on 10th of August 2014)
Pramundita,K.W. 2012. Comparative Study between Total Physical Response and Grammar Translation Method in Enhancing Students' Vocabulary Mastery. Unpublished Thesis Banyuwangi: Universitas PGRI Banyuwangi.
Putri, N.S. (2011:51-54) in BambangYudiCahyono&ShirlyRizkiKusumaningrum. 2011. Practical Techniques for English Language Teaching. Malang: State University of Malang Press.
Stenius L. Stæhr .2008..Vocabulary Size and The Skills of Listening, Reading and Writing. Language Learning Journal Vol. 36, No. 2, December 2008, 139–152(http://www. tandfonline.com/doi/pdf/10. 1080/09571730802389975accessed on 10th of August 2014 )
Sukaryadi, L. 2007. A Descriptive Study on The Students' Vocabulary Achievement by Using Games of The Twelfth Year Students of The Social Department at SMA Negeri 1 Glenmore in The Academic Year 2008/2009. Unpublished Thesis Banyuwangi: Universitas PGRI Banyuwangi.
Wahono, S.S. 2006. Improving Listening Ability Through Recorded Supplementary Material. Unpublised Thesis. Malang: Program PascasarjanaUniversitas Islam Malang.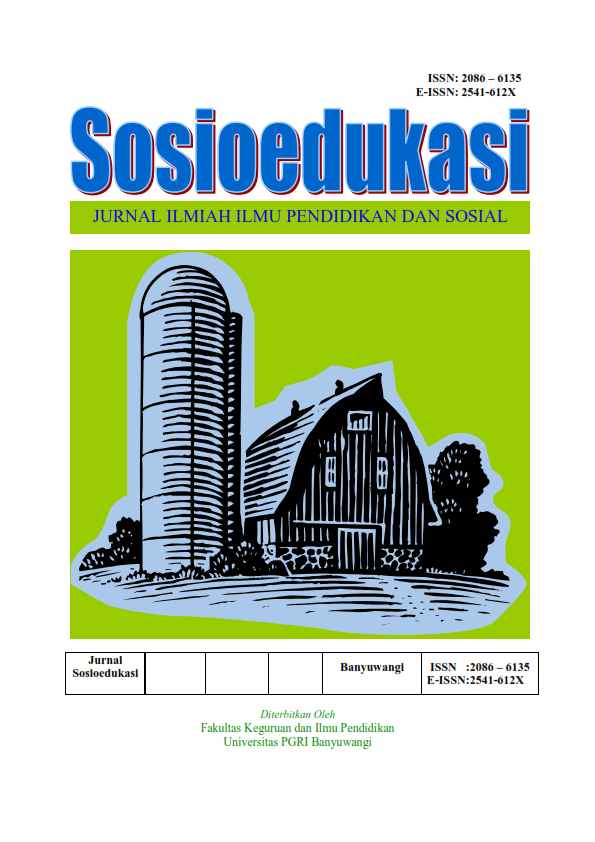 How to Cite
Wangi, W., Premest, P. i W., Khotimah, A. N., & Pradana, R. (2017). A DESCRIPTIVE STUDY OF USING ENGLISH SONGS IN TEACHING LISTENING TO DEVELOP STUDENTS' VOCABULARY MASTERY AT THE TENTH GRADE STUDENTS OF IPA 1 OF MAN SRONO BANYUWANGI. SOSIOEDUKASI : JURNAL ILMIAH ILMU PENDIDIKAN DAN SOSIAL, 6(1). Retrieved from https://ejournal.unibabwi.ac.id/index.php/sosioedukasi/article/view/103