IMPLEMENTASI PEMBELAJARAN SHOOTING BOLA BASKET BERBASIS VIDIO DI STKIP PASUNDAN
Ruslan Rusmana

STKIP Pasundan

Budiman

STKIP Pasundan
Keywords:
Implementasi, Pembelajaran, Bola Basket, Shooting Lay Up
Abstract
Penelitian ini bertujuan untuk mengetahui hasil belajar keterampilan lay up shoot bola basket pada mahasiswa prodi PJKR STKIP Pasundan.  Subjek penelitian adalah 25 orang mahasiswa. Penelitian ini menggunakan metode penelitian desain eksperimen. Keterampilan yang dinilai adalah hasil tembakan dari tiga kali kesempatan dan diambil yang terbaik dengan menggunakan teknik total sampling mahasiwa tingkat dua yang mengikuti perkuliahan bola basket. Berdasarkan output diperoleh nilai Sig.(2-tailed) sebesar 0,038 > 0,05, maka sesuai dasar pengambilan keputusan Paired Samples Test, maka dapat disimpukan Ho diteriam Hi ditolak, yang artinya bahwa tidak terdapat pengaruh signifikan implementasi video pembelajaran terhadap hasil lay up dalam permainan bola basket.
References
Ahlgrim-Delzell, L., & Rivera, C. (2015). A Content Comparison of Literacy Lessons from 2004 and 2010 for Students with Moderate and Severe Intellectual Disability. Exceptionality, 23(4), 258–269. https://doi.org/10.1080/09362835.2015.1064417
Akhmad Sobarna, Ruslan Rusmana, Y. M. (2018). MENINGKATAN HASIL BELAJAR LAY UP SHOOT DENGAN MENGGUNAKAN METODE BAGIAN PERBAGIAN. SEGAR, 7, 54–63.
Argaheni, N. B. (2020). Sistematik Review: Dampak Perkuliahan Daring Saat Pandemi COVID-19 Terhadap Mahasiswa Indonesia. PLACENTUM: Jurnal Ilmiah Kesehatan Dan Aplikasinya, 8(2), 99. https://doi.org/10.20961/placentum.v8i2.43008
Beban, T. I. M., & Dosen, K. (2020). Rubrik beban kerja dosen (bkd).
Brown, A. H., & Brown, A. H. (2016). Making Better Use of Technology by Creating a Personal Taxonomy of Instructional Media. The Clearing House: A Journal of Educational Strategies, Issues and Ideas, 8655(April). https://doi.org/10.1080/00098650109599226
Cucinotta, V. V. (2020). WHO Declares COVID-19 a Pandemic. Acta Biomedica, . 2020; 91, : 157–160.
Donovan, M. (2010). Youth Basketball 101 Drills.
FIBA. (2018). Official Basketball Rules 2018.
Hampson, N., King, L., Eriksson, L. M., & Smee, H. (2020). The effects of relaxation training on depression and anxiety in people living with long-term neurological conditions. Disability and Rehabilitation, 42(15), 2100–2105. https://doi.org/10.1080/09638288.2018.1554009
Ilham, M., & Oktafiranda, N. D. (2021). PENGEMBANGAN BAHAN AJAR MATA KULIAH TEORI DAN PRAKTIK BOLA VOLI BERBASIS E-LEARNING. 1(1), 105–112.
Muskania, R., & Zulela MS. (2021). Realita Transformasi Digital Pendidikan di Sekolah Dasar Selama Pandemi Covid-19. Jurnal Pendidikan Dasar Nusantara, 6(2), 155–165. https://doi.org/10.29407/jpdn.v6i2.15298
Rosnaeni, R., & Prastowo, A. (2021). Kendala Implementasi Pembelajaran Daring di Sekolah Dasar pada Masa Pandemi Covid-19: Kasus di SDN 24 Mecanang Kabupaten Bone. Jurnal Basicedu, 5(4), 2241–2246.
Subiakto, H. (2013). Internet untuk pedesaan dan pemanfaatannya bagi masyarakat The usage of internet for the village and villagers.
Vic Amber. (2012). Petunjuk Untuk Pelatih dan Pemain Bola Basket.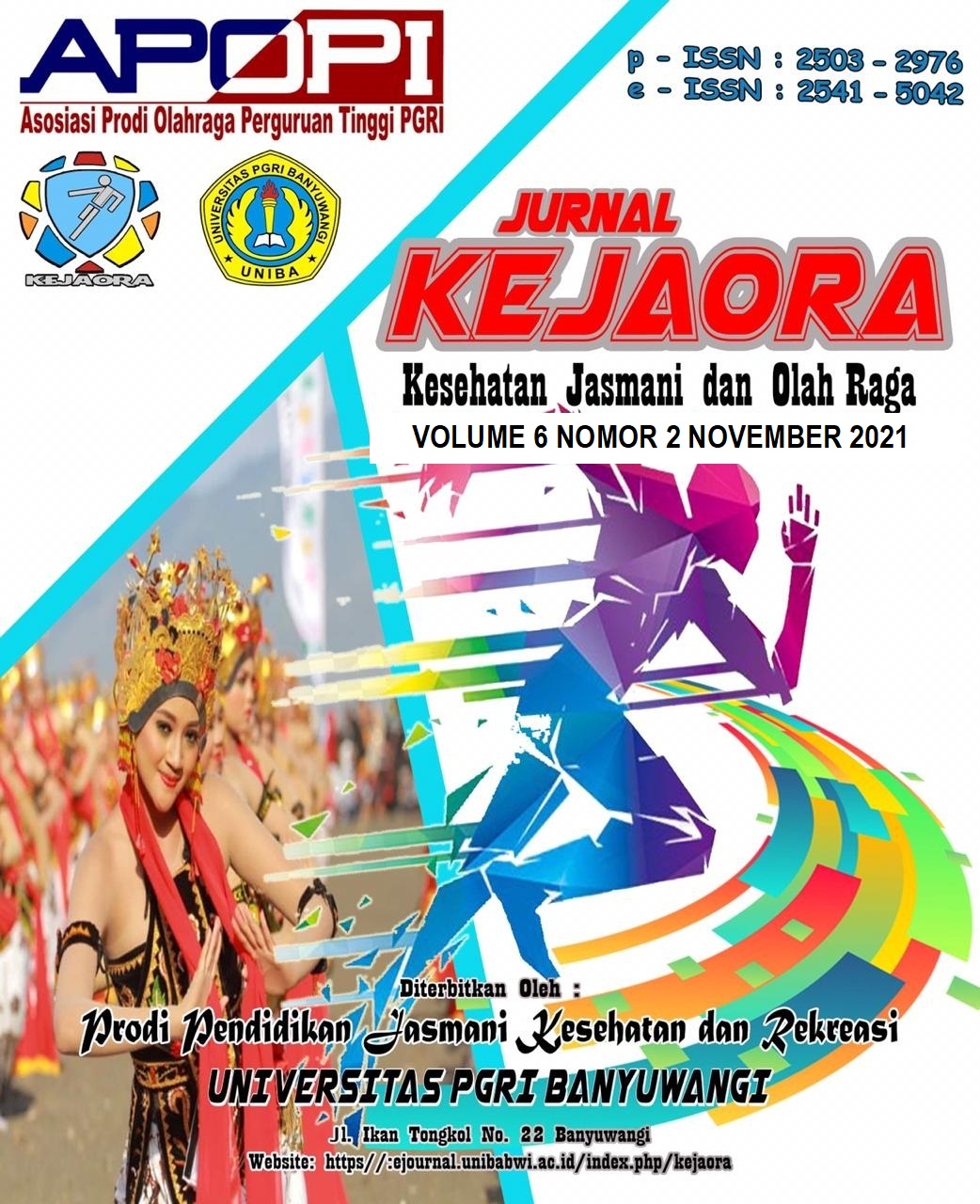 How to Cite
Ruslan Rusmana, & Budiman. (2021). IMPLEMENTASI PEMBELAJARAN SHOOTING BOLA BASKET BERBASIS VIDIO DI STKIP PASUNDAN . Jurnal Kejaora (Kesehatan Jasmani Dan Olah Raga), 6(2), 315-320. https://doi.org/10.36526/kejaora.v6i2.1558
Copyright (c) 2021 Jurnal Kejaora (Kesehatan Jasmani dan Olah Raga)
This work is licensed under a Creative Commons Attribution-ShareAlike 4.0 International License.
Authors retain copyright and grant the journal right of first publication with the work simultaneously licensed under a Creative Commons Attribution 4.0 International License that allows others to share the work with an acknowledgement of the work's authorship and initial publication in this journal.