Chainsaw Operator Training & Occupational Safety and Health Socialization at Perum Perhutani KPH Banyuwangi Utara
Ikhwanul Qiram

Universitas PGRI Banyuwangi

Joko Suwondo

SMK Muhammadiyah 6 Rogojampi
Keywords:
Traning, Chainsaw operator, Occupational Health And Safety, Community service
Abstract
Chainsaw operator is an important profession in logging production forest which has high occupational accident risk criteria. These potential risks can be in the form of accidents that are mechanical, electrical, biological, and physical. This community service activity is in the form of socializing chainsaw machine operational SOPs and introducing occupational health and safety as a preventive effort in reducing the potential risks faced by loggers in the Perum Perhutani KPH Banyuwangi Utara. This activity received quite a good appreciation for chainsaw operators in the Perum Perhutani KPH North Banyuwangi environment. The results of the training have provided basic knowledge about maintaining chainsaw machines and increasing safety first discipline for all parties involved in chainsaw operator activities.
References
C, G. (2006). Work-related prevalence of musculoskeletal symptoms among Greek forest workers. International Journal of Industrial Ergonomics.
Gani, S. (1992). Ketenagakerjaan dan Keselamatan Kerja. Bogor: IPB Press.
Matangaran, J. (2007). Pengetahuan tentang Chainsaw (Prinsip Kerja dan Pengoperasian). Bogor: Fakultas Kehutanan IPB.
Muhibudin. (2012). Perlindungan Keselamatan dan Kesehatan Kerja (K3) dalam Kegiatan Penebangan Pohon melalui Desain Sarung Tangan untuk Operator Chainsaw. Bogor: Institut Pertanian Bogor.
Pahlevi, R. (2018). Penilaian Postur Kerja dan Risiko Musculoskeletal Disorders (MSDs) pada Kegiatan Penebangan Pohon Jati di Perum Perhutani KPH Madiun Jawa Timur . Bogor: DEPARTEMEN MANAJEMEN HUTAN, FAKULTAS KEHUTANAN, NSTITUT PERTANIAN BOGOR.
Perum Perhutani KPH Banyuwangi Utara. (2021, 06 30). KPH BANYUWANGI UTARA. Retrieved from www.perhutani.co.id
Pradipta, R. A. (2016). RISK ASSESSMENT PADA PEKERJAAN MENEBANG KAYU DI HUTAN PRODUKSI (STUDI KASUS PADA PENGOPERASIAN CHAINSAW PERUM PERHUTANI KPH MADIUN). The Indonesian Journal of Occupational Safety and Health, 153–162.
Puspitasari, T. (2019). Analisis Potensi Bahaya dan Penilaian Risiko di Project Management Unit. Semarang: Skripsi, Jurusan Ilmu Kesehatan Masyarakat, Universitas Negeri Semarang.
Yovi EY, P. W. (2015). High risk posture on motor-manual short wood logging system in Acacia man gium plantation. Jurnal Manajemen Hutan Tropika.
Yovi, E. Y. (2019). Status Ergonomi Pekerja Sektor Kehutanan di Indonesia: Kelelahan Fisik-Mental-Sosial, Kepuasan Kerja, Konsep Sumber Bahaya, dan Konsep Biaya Kecelakaan. Jurnal Ilmu Kehutanan.
Yuniawati, S. S. (2011). The Use of Efficient Logging Equipment at a Timber Estate Company in South Kalimantan. Jurnal Penelitian Hasil Hutan, 369-384.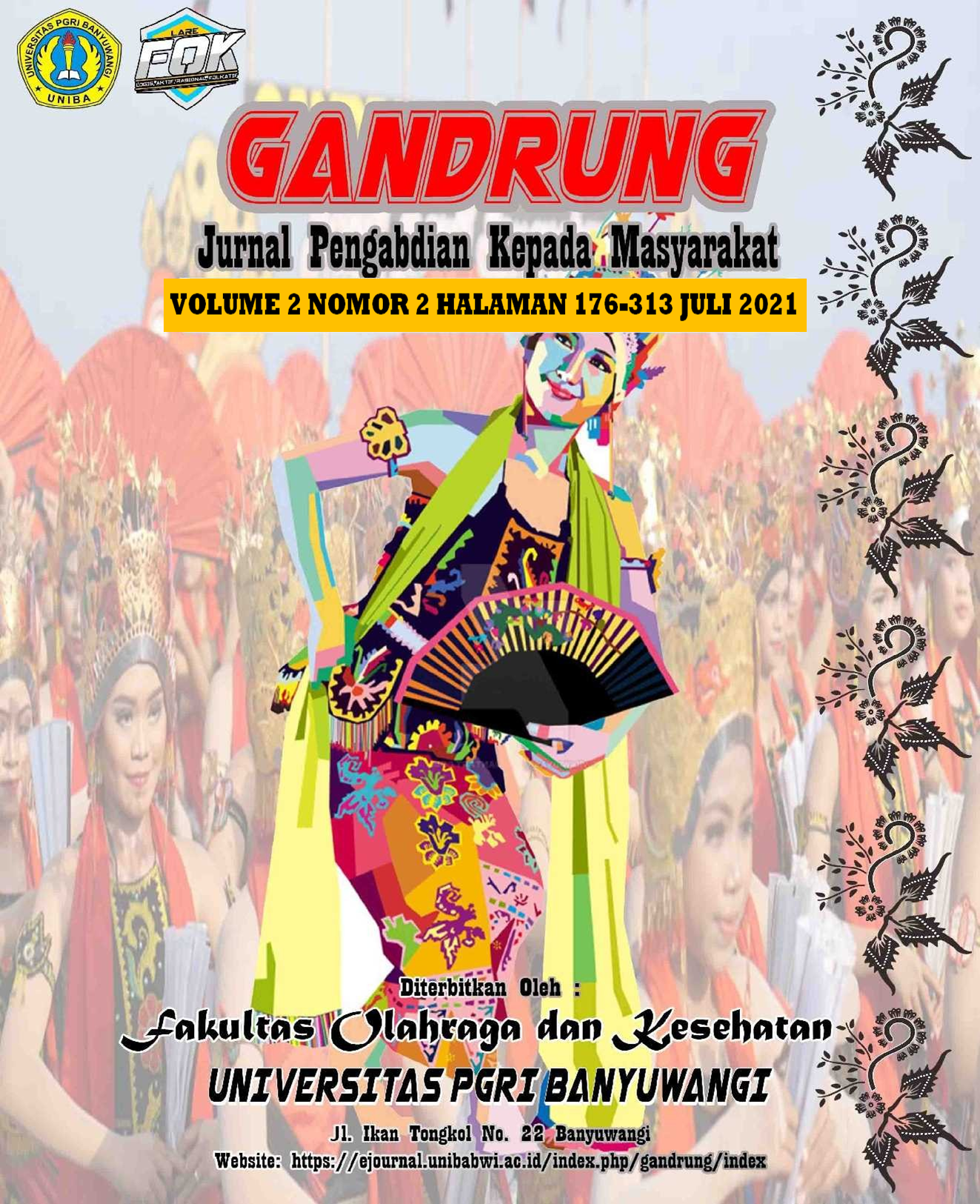 How to Cite
QiramI., & Joko Suwondo. (2021). Chainsaw Operator Training & Occupational Safety and Health Socialization at Perum Perhutani KPH Banyuwangi Utara. GANDRUNG: Jurnal Pengabdian Kepada Masyarakat, 2(2), 260-265. https://doi.org/10.36526/gandrung.v2i2.1391
Copyright (c) 2021 GANDRUNG: Jurnal Pengabdian Kepada Masyarakat
This work is licensed under a Creative Commons Attribution-ShareAlike 4.0 International License.
Authors retain copyright and grant the journal right of first publication with the work simultaneously licensed under a Creative Commons Attribution 4.0 International License that allows others to share the work with an acknowledgement of the work's authorship and initial publication in this journal.