Socialitation and Simulation Game of the Volleyball Sand Sport in Babar Islands District of Southwest Maluku Regency
Mieke Souisa

Universitas Pattimura

Jacob Anaktototy

Universitas Pattimura

Jusak Syaranamual

Universitas Pattimura
Keywords:
Socialitation, Games, Simulation, Matches, Sand Volleyball
Abstract
Since 1996 the volleyball sand sports have developed in Maluku province, and there has been vocation in PON as well as being one of the regular sport events of the province Maluku. But volleyball sand sport is known only to a view counties and cities in Maluku province. Such the cities of Southeast Maluku (Tual), the Regency of Tanimbar Island (Saumlaki), the Regency of Buru Island (Namlea), and Ambon City. But in Southwest Regency (Moa), the volleyball sand sports is now means to know until this day. Than Southwest Regency MOA has never include the sport branch in both the POPMAL administration and the state of the region. Event without it's being recognized as a means of development for the regency of Southwest Maluku. Babar Islands is one of the sub district in Maluku Southwest, it is far from the capital of Southwest Regency (MOA) and Maluku Province. It is a analized factor in the development of the volleyball sand sport branch on Kalwedo Earth. Thus community service activities that embody the volleyball basic skills by college of the academy of arts and sciences, perform devotionals aimed at introducing a volleyball sand sport to the community and those responsible. The method uses for achieving goals in this community service is: 1) identification problem, 2) social approach, 3) planning, 4) administration management, 5) matrial preparation, 6) execution, 7) reporting. The results is: 1) participants of both the sons and doughters volleyball and the socialist-in volved volleyball. 2) participants understand the rules of volleyball sand game. 3) entry to the games own game. 4) the means and infrastructure of the game's of the volleyball games. 5) the volleyball sand sport and infrastructure help during public service activities by lecture and collages of study programe physical education in Babar Islands
References
Afri Rizka Nugraheni, S. R. (2017). Evaluasi Pembinaan Olahraga Prestasi Bolavoli Pantai Puteri Klub Ivojo (Ikatan Voli Ngembalrejo) di Kabupaten Kudus Tahun 2016. Jurnal of Physical Education and Sports. Volume 6 No.3. p-ISSN: 2252-648X. e-ISSN: 2502-4477 , 225-231.
Dian Ratnasari, J. T. (2018). Evaluasi Program Pemusatan Latihan Daerah (PELATDA) Bolavoli Pasir Puteri DKI Jakarta. Jurnal Ilmiah Sport Coaching and Education. Volume 2, 8-16.
Nurhasan. (1991). Manuasia dan Olah Raga. Seri Bahan Kuliah Olahraga ITB. Bandung: ITB dan FPOK/IKIP Bandung.
Prof. Drs. Harsono, M. (1993). Latihan Kondisi Fisik. In Seri Bahan Penataran (pp. 1-46). Jakarta: Komite Olahraga Nasional Indonesia Pusat (KONI PUSAT), Pusat Pendidikan dan Penataran.
Souisa, M. (2015, Juni). Identifikasi Faktor-Faktor Risiko Cedera Terhadap Teknik Lompatan dan Pendaratan Atlet Bolavoli Pantai Puteri Kota Ambon. Vol. 1, No. 1. ISSN: 2443-1206, pp. 103-116.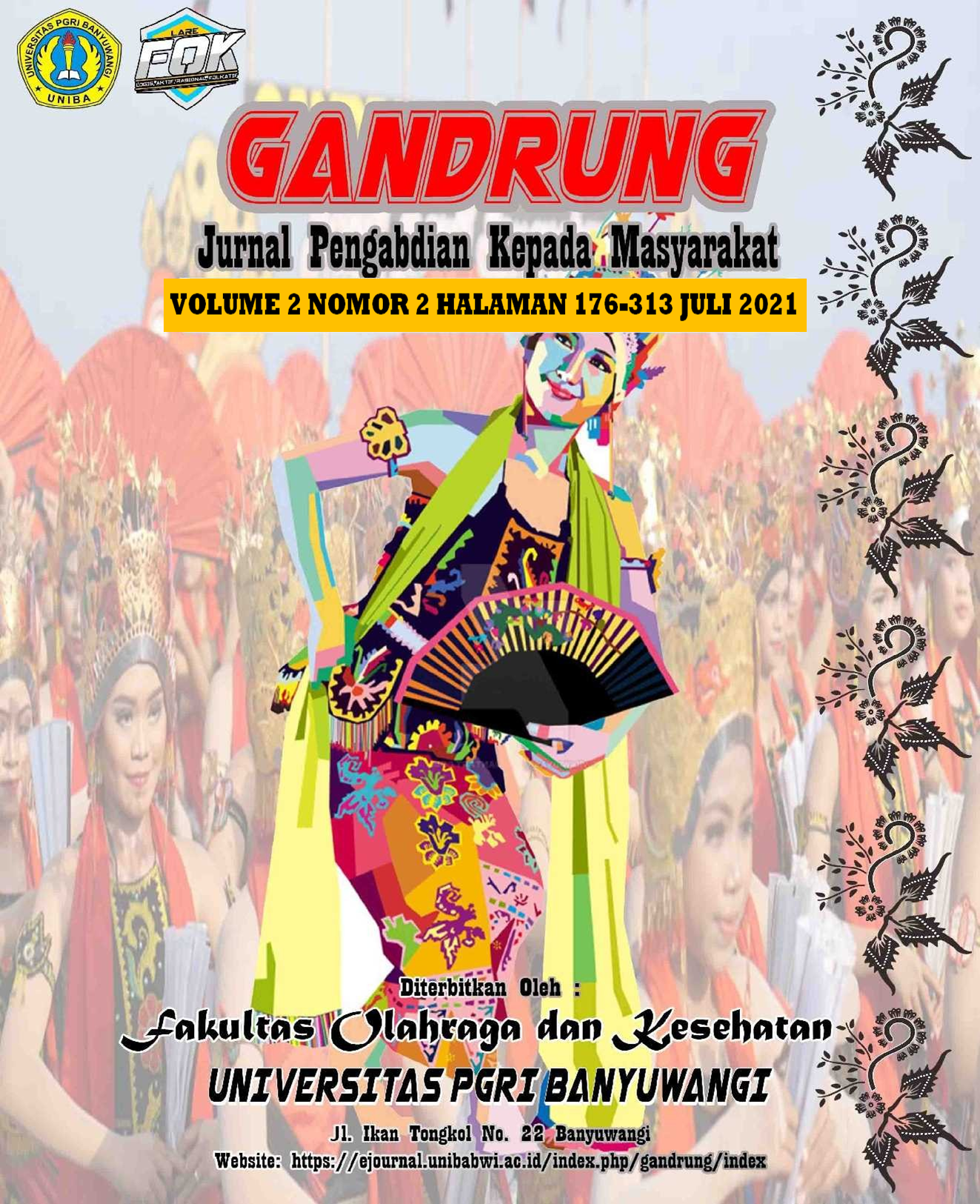 How to Cite
Mieke Souisa, Jacob Anaktototy, & Jusak Syaranamual. (2021). Socialitation and Simulation Game of the Volleyball Sand Sport in Babar Islands District of Southwest Maluku Regency. GANDRUNG: Jurnal Pengabdian Kepada Masyarakat, 2(2), 234-251. https://doi.org/10.36526/gandrung.v2i2.1384
Copyright (c) 2021 GANDRUNG: Jurnal Pengabdian Kepada Masyarakat
This work is licensed under a Creative Commons Attribution-ShareAlike 4.0 International License.
Authors retain copyright and grant the journal right of first publication with the work simultaneously licensed under a Creative Commons Attribution 4.0 International License that allows others to share the work with an acknowledgement of the work's authorship and initial publication in this journal.