Assistance of Class Action Research (Car) And Open Journal System (OJS Teachers for Sports and Health Physical Education
Destriana

Universitas Sriwijaya

Silvi Aryanti

Universitas Sriwijaya

Arizky Ramadhan

Universitas Sriwijaya
Keywords:
Assistance, Class Action Research, OJS
Abstract
The purpose of this community service is to provide assistance in writing classroom action research (CAR) and the open journal system (OJS) for physical education teachers in Ogan Ilir District. This community service was carried out online from 20-22 November 2020. The number of participants in this service was 75 physical education teachers consisting of elementary school, junior high school, high school. The methods used in the implementation of the service are lectures, questions and answers, demonstrations, and practice. To see the results of assistance, use a questionnaire to see to what extent this assistance is useful. The results obtained in mentoring the writing of CAR and OJS were that on average 91.8% of participants could understand the writing of CAR and could use OJS. The results of this service are expected to increase competence as a teacher so that it can improve and improve the quality of physical education learning, especially in Ogan Ilir Regency
References
Dewi, P. K., Rizal, M. S., Ardhian, D., & Hardinata, V. (2017). Pelatihan Penulisan Artikel Ilmiah Berbasis Penelitian Tindakan Kelas Pada Guru Smp. Jurnal Abdi. https://doi.org/10.26740/ja.v2n2.p7-17
Hanifah, N. (2014). Memahami penelitian tindakan kelas: teori dan aplikasinya. UPI Press.
Khasinah, S. (2013). Classroom action research. PIONIR: Jurnal Pendidikan,4(1).
Lorimer, R., Lynch, L., & Provençal, J. (2006). Augmenting print: Planning for online journal publish-ing by social sciences and humanities journals in Canada. Burnaby, BC: Canadian Association of Learned Journals & Simon Fraser University. URL: http://www.sshrc.ca/site/about-crsh/publica-tions/cajl_report_e.pdf [March 29, 2010]
Undang-Undang Republik Indonesia No. 14 Tahun 2005 tentang Guru dan Dosen.
Rahmatullah, & Inanna. (2019). Pelatihan Penulisan Penelitian Tindakan Kelas Bagi Guru. Jurnal Dedikasi Masyarakat.
Sumini, T. (2017). Penelitian Tindakan Kelas dan Pengembangan Profesi Guru. Tersedia secara online di: https://www. usd. ac. id/lembaga/lppm/f1l3/Jurnal% 20Historia% 20Vitae/vol24no1april2010/PENELITIAN% 20TINDAKAN% 20KELAS% 20Th% 20sumini. pdf [diakses di Manado, Sulawesi Utara, Indonesia: 24 Agustus 2018].
Susilowati, D. (2018). Penelitian Tindakan Kelas (PTK) Solusi Alternatif Problematika Pembelajaran. Jurnal Ilmiah Edunomika, 2(01).
Ulia, N., Fironika KD, R., Ismiyanti, Y., Yustiana, S., Jupriyanto, J., & Cahyaningtyas, A. P. (2019). Pendampingan kelompok guru SD di kecamatan Genuk tentang pemahaman metodologi penelitian pendidikan (action research & experiment) dan penyusunan artikel jurnal. Indonesian Journal of Community Services. https://doi.org/10.30659/ijocs.1.1.32-47
Widayati, A. (2008). Penelitian tindakan kelas. Jurnal Pendidikan Akuntansi Indonesia, 6(1).
Wiganda, S. (2014). Pelatihan Penelitian Tindakan Kelas Bagi Guru-Guru Se-Jakarta Timur. Sarwahita. https://doi.org/10.21009/sarwahita.111.01
Willinsky, J. (2005). Open Journal Systems: An example of open source software for journal management and publishing. Library Hi Tech, 23 (4), 504-516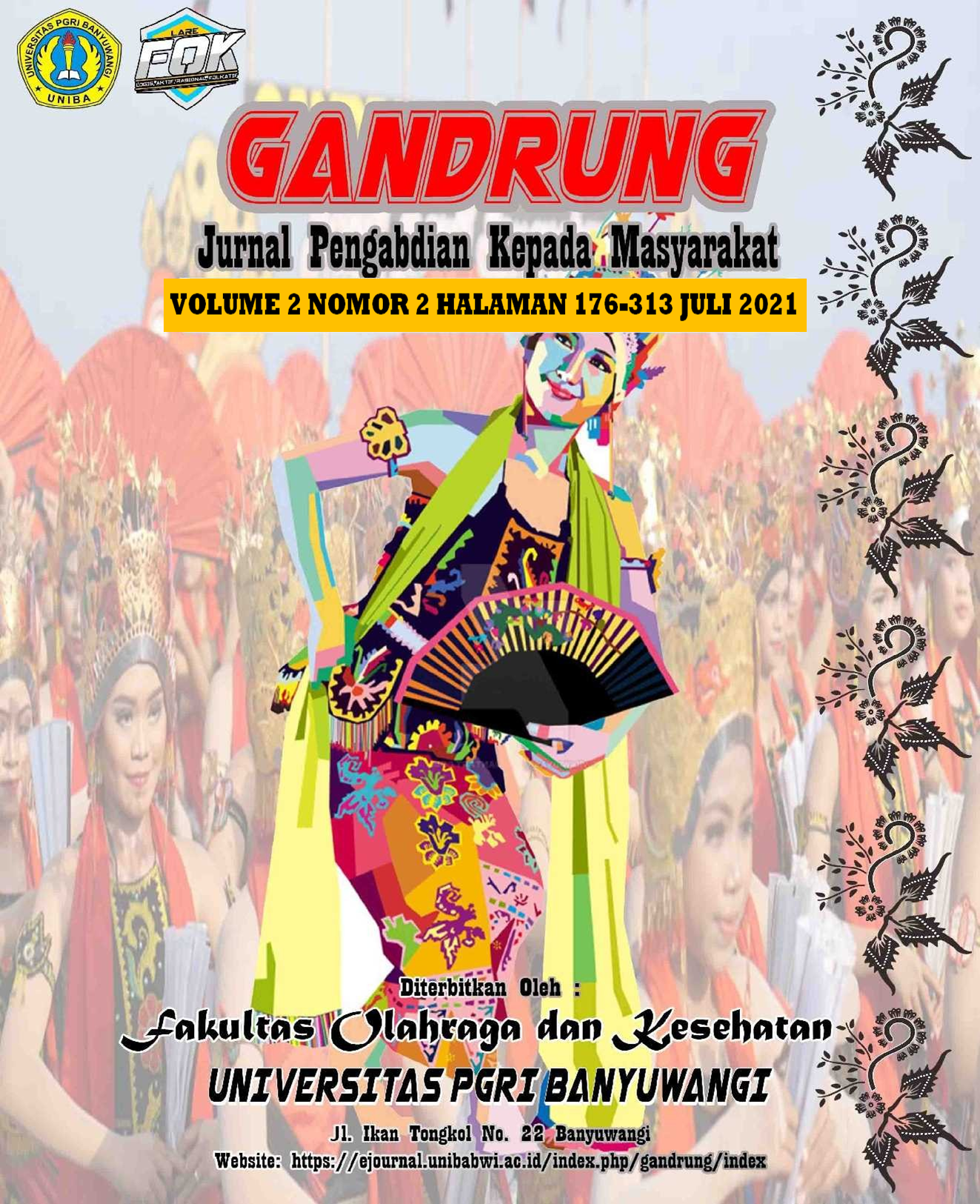 How to Cite
Destriana, Silvi Aryanti, & Arizky Ramadhan. (2021). Assistance of Class Action Research (Car) And Open Journal System (OJS Teachers for Sports and Health Physical Education. GANDRUNG: Jurnal Pengabdian Kepada Masyarakat, 2(2), 252-259. https://doi.org/10.36526/gandrung.v2i2.1334
Copyright (c) 2021 GANDRUNG: Jurnal Pengabdian Kepada Masyarakat
This work is licensed under a Creative Commons Attribution-ShareAlike 4.0 International License.
Authors retain copyright and grant the journal right of first publication with the work simultaneously licensed under a Creative Commons Attribution 4.0 International License that allows others to share the work with an acknowledgement of the work's authorship and initial publication in this journal.