Measurement of Physical Fitness Employees Solo Net Surakarta
Baskoro Nugroho Putro

Fakultas Keolahragaan UNS

Djoko Nugroho

Fakultas Keolahragaan UNS

Budhi Satyawan

Fakultas Keolahragaan UNS

Sunardi

Fakultas Keolahragaan UNS

Waluyo

Fakultas Keolahragaan UNS
Keywords:
Fitness, Sport, Productivity, Performance
Abstract
Physical fitness is an essential aspect of life. The role of physical fitness in living life is limited to athletes and society in general. For workers, having a fit body will increase productivity because they do not feel tired quickly. Good physical fitness is supported by good endurance as well. However, endurance does not play a single role in supporting physical activity. Having good endurance is indeed beneficial and is a must for individuals involved in activities or work that take a long time. Please note that every activity or work has specific targets that must be completed. Other aspects must be possessed in order to become an individual with complete physical fitness. The demands of the quality of physical fitness in the general public certainly cannot be equated with athletes' standards. For the general public, not getting tired of doing work and meeting the targets given by the institution where they work is already extraordinary.
References
Bompa, Tudor O., and Carlo A. Buzzichelli. (2015). Periodization Training for Sports. 3rd ed. Human Kinetic.
Bompa, Tudor O., and G. Gregory Haff. (2009). Periodization: Theory and Methodology of Training. Forth Edit. New York: Kendal/Hunt Publishing Company.
Faruk Ugras, A. (2013). "Effect of High Intensity Interval Training on Elite Athletes' Antioxidant Status." Science and Sports 28 (5): 253–59. https://doi.org/10.1016/j.scispo.2012.04.009.
Gaydosh, Lauren, and Sara McLanahan. (2021). "Youth Academic Achievement, Social Context, and Body Mass Index." SSM - Population Health 13. https://doi.org/10.1016/j.ssmph.2020.100708.
Kushartanti, Wara. (2008). "Kebugaran Jasmani Dan Produktivitas Kerja." Yogyakarta.
Lakka, Timo A., David E. Laaksonen, Hanna-Maaria Lakka, Niko Mannikko, Leo K. Niskanen, Rainer Rauramaa, and Jukka T. Salonen. (2003). "Sedentary Lifestyle , Poor Cardiorespiratory Fitness, and the Metabolic Syndrome." Medicine & Science in Sports & Exercise, 1279–86. https://doi.org/10.1249/01.MSS.0000079076.74931.9A.
Mackenzie, Brian. (2005). 101 Performance Evaluation Tests. Jonathan Pye.
Martinez-Gonzalez, M. A., J. Alfredo Martinez, F. B. Hu, M. J. Gibney, and J. Kearney. (1999). "Physical Inactivity , Sedentary Lifestyle and Obesity in the European Union." International Journal of Obesity.
Paulitsch, Renata G., and Samuel C. Dumith. (2021). "Is Food Environment Associated with Body Mass Index, Overweight and Obesity? A Study with Adults and Elderly Subjects from Southern Brazil." Preventive Medicine Reports 21 (December 2020): 101313. https://doi.org/10.1016/j.pmedr.2021.101313.
Salazar-Martínez, Eduardo, Alfredo Santalla, José Naranjo Orellana, Jochen Strobl, Martin Burtscher, and Verena Menz. (2018). "Influence of High-Intensity Interval Training on Ventilatory Efficiency in Trained Athletes." Respiratory Physiology and Neurobiology 250 (November 2017): 19–23. https://doi.org/10.1016/j.resp.2018.01.016.
Selmi, O., W. Ben khalifa, M. Zouaoui, F. Azaiez, and A. Bouassida. (2018). "High Intensity Interval Training Negatively Affects Mood State in Professional Athletes." Science and Sports 33 (4): e151–57. https://doi.org/10.1016/j.scispo.2018.01.008.
Siregar, Yan Indra. (2010). "Peranan Kebugaran Jasmani Dalam Meningkatkan Kinerja." Jurnal Pengabdian Kepada Masyarakat 16 (60): 77–83.
Tremblay, Mark Stephen, Rachel Christine Colley, Travis John Saunders, Genevieve Nissa Healy, and Neville Owen. (2010). "Physiological and Health Implications of a Sedentary Lifestyle" 740: 725–40. https://doi.org/10.1139/H10-079.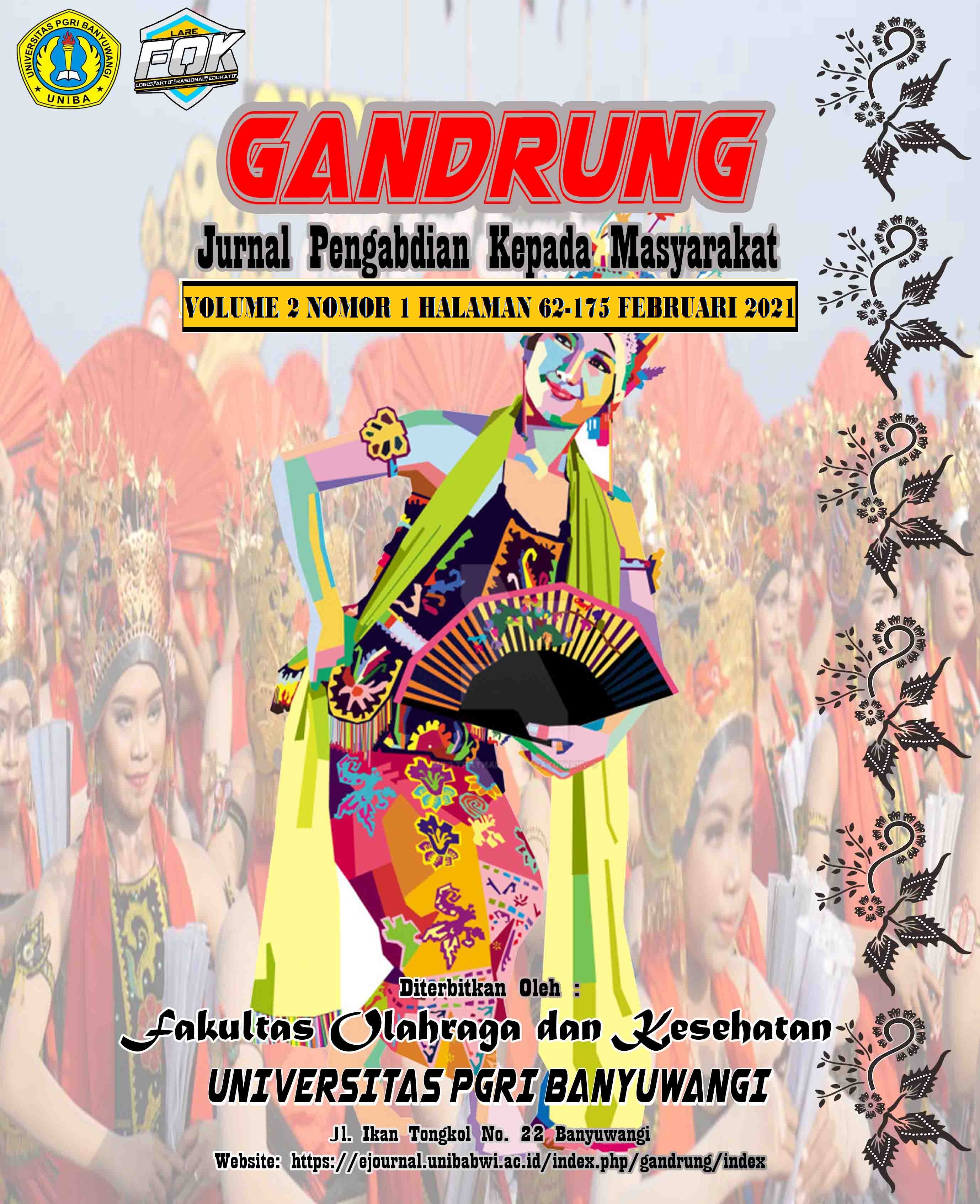 How to Cite
Baskoro Nugroho Putro, Djoko Nugroho, Budhi Satyawan, Sunardi, & Waluyo. (2021). Measurement of Physical Fitness Employees Solo Net Surakarta. GANDRUNG: Jurnal Pengabdian Kepada Masyarakat, 2(1), 91-105. https://doi.org/10.36526/gandrung.v2i1.1186
Copyright (c) 2021 GANDRUNG: Jurnal Pengabdian Kepada Masyarakat
This work is licensed under a Creative Commons Attribution-ShareAlike 4.0 International License.
Authors retain copyright and grant the journal right of first publication with the work simultaneously licensed under a Creative Commons Attribution 4.0 International License that allows others to share the work with an acknowledgement of the work's authorship and initial publication in this journal.