Workshop on Implementation of Learning on Disability Teaching in the Era of Industrial Revolution 4.0
Adi Rahadian

Universitas Suryakancana

Ervan Kastrena

Universitas Suryakancana

Aziz Amrulloh

Universitas Suryakancana

Firdaus Hendry Prabowo Yudho

Universitas Suryakancana

Andi Kurniawan Pratama

Universitas Suryakancana

Muhamad Syamsul Taufik

Universitas Suryakancana

Asep Ramdan Afriyuandi

Universitas Suryakancana
Keywords:
Education, Physical Education Resources, Students
Abstract
In this study looking for how much the level of teacher ability in the development of physical education As for the stages of research as follows: (1) Conduct initial identification and analysis of the needs of the object and location of research and conduct preliminary studies, and also literature studies relating to research, (2) Arranging program plans regularly, (3) Arranging instructional, books or activity evaluation tools, (4) Developing research instruments to reveal the ability of physical education teachers in developing Physical Education learning (5) Conducting small group trials to Physical Education teachers; and (6) conducting field trials on physical education teachers. So the conclusion of this research is the experience factor which consists of teaching experience of children with special needs and contact experience with children with special needs. Third, knowledge factors consisting of teacher education background, training, knowledge, and teacher learning needs. Fourth, educational environment factors consisting of resource support, parent and family support, and the school system.
References
Adi, R., & Muhamad, S. T. (2020). Technology Innovation and Learning Media in Industrial Revolution Era 4 . 0 ( Blended Learning ) in Physical Education. UHAMKA, 120–122.
Anjar, F., Laksono, T., & Soedirman, U. J. (2020). Penerapan Adaptasi Kebiasaan Baru pada Era Pandemi Virus Corona 19 di Berbagai Sektor Pendidikan (Issue December).
Fathurrahman, A., Sumardi, Yusuf, A. E., & Harjianto, S. (2019). Peningkatan Efektivtas Pembelajaran Melalui Peningkatan Kompetensi Pedagogik dan Teamwork. Jurnal Manajemen Pendidikan, 7(2), 1–14. https://doi.org/10.16043/j.cnki.cfs.2019.15.130
Gall, M. D., Gall, J. P., & Borg, W. R. (2003). Epdf.Pub_Educational-Research-an-Introduction-7Th-Edition.Pdf.
Sumantri, A., & Neldi, H. (2019). Profil Pelaksanaan Pembelajaran PJOK di SD Gugus 1 Kecamatan Bintan Timur. JPO Jurnal Pendidikan Dan Olahraga, 2(1), 160–164. jpdo@ppj.unp.ac.id
Wijayanto, A., Yunis, S., Ari, B., Kurniawan, W., Rahadian, A., Amiq, F., Ika, A., Joan, N., Andrianto, R., & Baun, A. (n.d.). eBook B Strategi Pembelajaran PJKR selama Covid19.
Wisman, Y. (2017). Komunikasi Efektif Dalam Dunia Pendidikan. Jurnal Nomosleca, 3(2), 646–654. https://doi.org/10.26905/nomosleca.v3i2.2039
Yuniarto, A., Supriyadi, S., & Sudjana, I. N. (2018). Pengembangan Media Pembelajaran Berbasis Mobile Learning Teknik Dasar Dan Peraturan Permainan Futsal. JP.JOK (Jurnal Pendidikan Jasmani, Olahraga Dan Kesehatan), 2(1), 51–62. https://doi.org/10.33503/jpjok.v2i1.188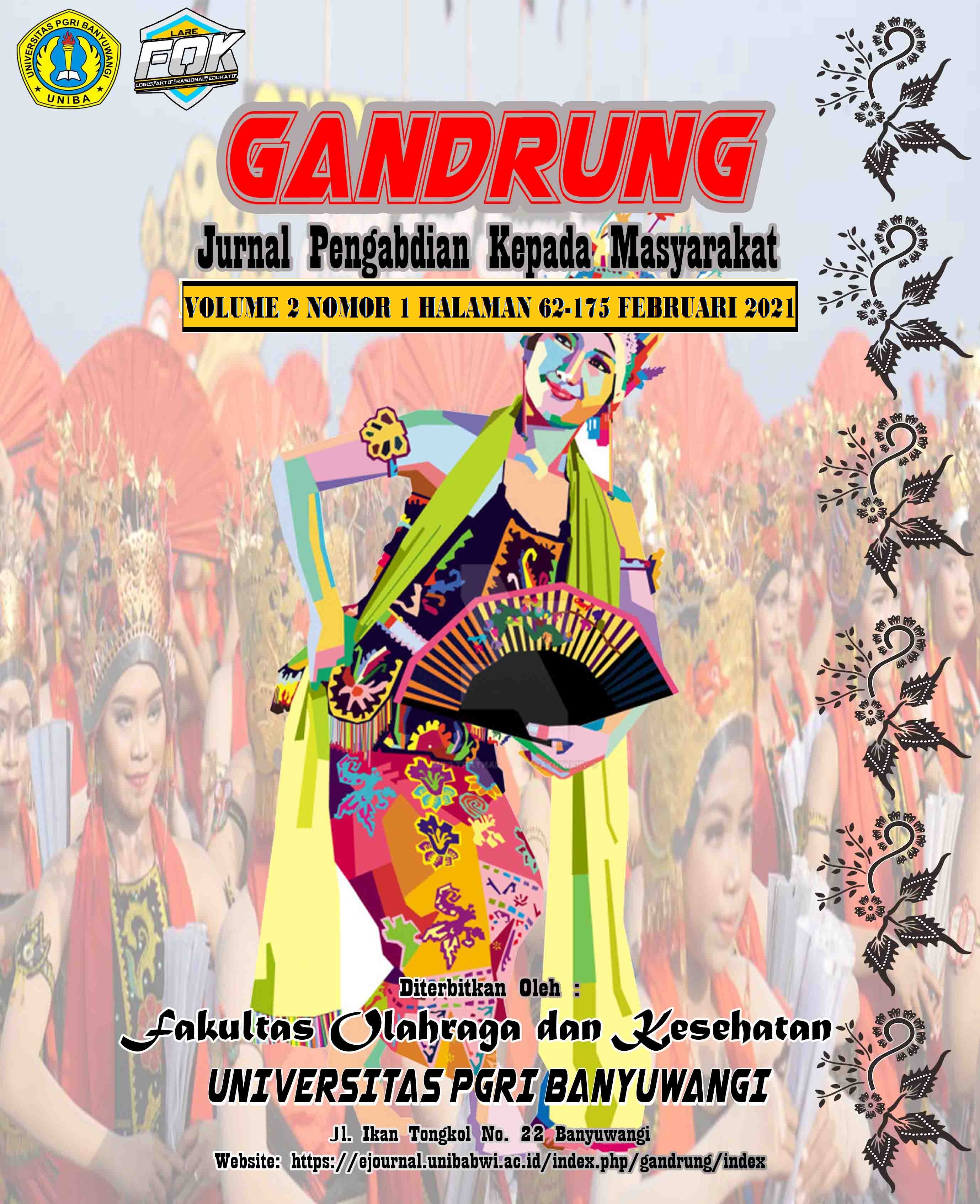 How to Cite
Adi Rahadian, Ervan Kastrena, Aziz Amrulloh, Firdaus Hendry Prabowo Yudho, Andi Kurniawan Pratama, Muhamad Syamsul Taufik, & Asep Ramdan Afriyuandi. (2021). Workshop on Implementation of Learning on Disability Teaching in the Era of Industrial Revolution 4.0. GANDRUNG: Jurnal Pengabdian Kepada Masyarakat, 2(1), 158-166. https://doi.org/10.36526/gandrung.v2i1.1170
Copyright (c) 2021 GANDRUNG: Jurnal Pengabdian Kepada Masyarakat
This work is licensed under a Creative Commons Attribution-ShareAlike 4.0 International License.
Authors retain copyright and grant the journal right of first publication with the work simultaneously licensed under a Creative Commons Attribution 4.0 International License that allows others to share the work with an acknowledgement of the work's authorship and initial publication in this journal.