Imobilisasi Fotokatalis Komposit Tio2- Kitosan Sebagai Pendegradasi Zat Warna Remazol Yellow Fg
Siti Latifah

Program Studi Kimia, Fakultas Matematika dan Ilmu Pengetahuan Alam Universitas PGRI Banyuwangi

Rosyid Ridho

Program Studi Kimia, Fakultas Matematika dan Ilmu Pengetahuan Alam Universitas PGRI Banyuwangi

Ibnatu Fajril Baiti

Program Studi Kimia, Fakultas Matematika dan Ilmu Pengetahuan Alam Universitas PGRI Banyuwangi
Keywords:
fotokatalisis, TiO2-Kitosan, Remazol Yellow F.G
Abstract
Telah dilakukan pembuatan TiO2-kitosan untuk fotokatalis dan pengujian aktivitas katalitiknya dalam proses fotodegradasi zat warna Remazol Yellow F.G. Penelitian ini bertujuan untuk membuat komposit TiO2-Kitosan, menentukan kondisi optimum, yaitu massa TiO2-kitosan, waktu optimum dan Konsentrasi Remazol Yellow FG. Metode penelitian dimulai dengan re-deasetilasi kitosan serta penentuan derajat deasetilasinya. Tahap kedua adalah pembuatan komposit TiO2-Kitosan. Proses pembuatan komposit dilakukan dengan mencampurkan 20 gr Kitosan dengan 2 gr TiO2 ditambah 50 ml etanol sambil diaduk selama 5 jam. Kemudin disaring dengan kertas saring whatman, endapannya dikeringkan dan dikalsinasi pada sushu 2000C selama 10 menit. Pada penelitian ini Komposit TiO2-kitosan yang terbentuk lalu di karakterisasi menggunakan FTIR (Fourrier Transform Infra Red) untuk mengetahui gugus fungsinya. Hasil dari FTIR menunjukkan bahwa fotokatalis TiO2- Kitosan telah terbentuk yaitu muncul serapan O-Ti-O pada serapan sekitar 712cm-1.
Sedangkan uji adsorpsi-fotokatalisis menggunakan spektrofotometer UV-Vis. Uji kemampuan TiO2-Kitosan dalam proses adsorpsi-fotokatalisis, dilakukan dengan mendekolorisasi larutan zat warna Remazol Yellow FG. Hasil penelitian menunjukkan bahwa massa TiO2-Kitosan yang optimum yaitu 25 mg, waktu kontak selama 5 jam dan dan konsentrasi Remazol Yellow FG 5 ppm . Pada kondisi optimum tersebut, komposit TiO2- Kitosan mampu mendekolorisasi zat warna Remazol Yellow F.G sebesar 92,98 %, hasil tersebut lebih tinggi daripada adsorben kitosan.
References
Christie, R.M. 2001. Colour Chemistry RSC Paperback, The Royal Society of Chemistry, UK.
Hakala, T.K. 2007.Caracterization 0f The Lignin-Modifying Enzymes of TheSelective White-Rot Fungus Physisporinus Rivulosus. Disertasi.Department of Applied Chemistry and Microbiology.University ofHelsinki.
Hoffman, M.R., S.T. Martin, W.J. Choi, D.W. Bahnemann. 1995, Environmental Applications of Semiconductor Photocatalysis, Chem.Rev., 95, Hal 69-96.
Linsebigler, A.L., G. Lu, J.T. Yates. 1995, Photocatalysis on TiO2 Surfaces:Principles, Mechanism, and Selected Result, Chem. Rev., 95, Hal 735-758.
Martins, C.R; G. Ruggeri dan M.A.D. Paoli. 2003 Synhesis in Pilot Scale and Physical Properties of Sulfonated Polystyrene Vol.14 No.5 : 797 -802
Mattioli, D., Malpei, F., Bortone, G., and Rozzi, A. 2002. "Water Minization and Reuse In Textile Industry: Analysis, Technologies And Implementation". IWA Publishing, Cornwall, UK.
Park, N.G., G. Schlichthorl, J. Van de Lagemaat, H.M. Cheong, A. Mascarennhas,
A.J. Frank. 2004, Morphological and PhotoelectrochemicalCharacterization of Core-Shell Nanoparticle Film for Dye-Sensitized Solar Cells: Zn-O Type Shell on SnO2 and TiO2 Cores, Langmuir.,20, Hal 4246-4253.
Odian, G. 1988,Synthesis and characterization of cross – Linked SulfonatedPinto, B.P; L.C.S. Maria dan M.E.Sena. 2006 Sulfonated Polyb(Ether Imide) : a Versatile Route to Prepare Functionalized Polymers by Homogenous Sulfonation. Elsevier.61 : 2540 – 2543.
Sastrawidana, I D. K. 2009.Isolasi bakteri dari Lumpur Limbah Tekstil danAplikasinya untuk Pengolahan Limbah Tekstil Menggunakan SystemKombinasi Anaerob-Aerob. Disertasi Doktor Ilmu Lingkungan(Spesialisasi Pencemaran Lingkungan). IPB: Bogor.
Zhou, N.C ; W.Rburghardt dan K.I. Winey. 2006. Phase Behaviour Of Sulfonated Polystyrene Systems. U.S : Army Research Office.
Hoffman, M.R ., et al. environmental Aplications of Semiconductor Photocatalysis. Chem. Rev., (1995),95, 69-96. Kabra, k., R. Chaudhary, R.L.Swahney. Treatment of Hazardous Organic and Inorganic Compound through Aqueous-Phase Photocatalysis: A Review. Ind. Eng. Chem. Res., (2004), 43, 7683-7696.Brugnerotto et al., 2001; Ming et al., 2001; Fernandes et al., 2004; Gyliene et al., 2003; Liu et al., 2006; Khan et al., 2002; Tretenichenko et al., 2006.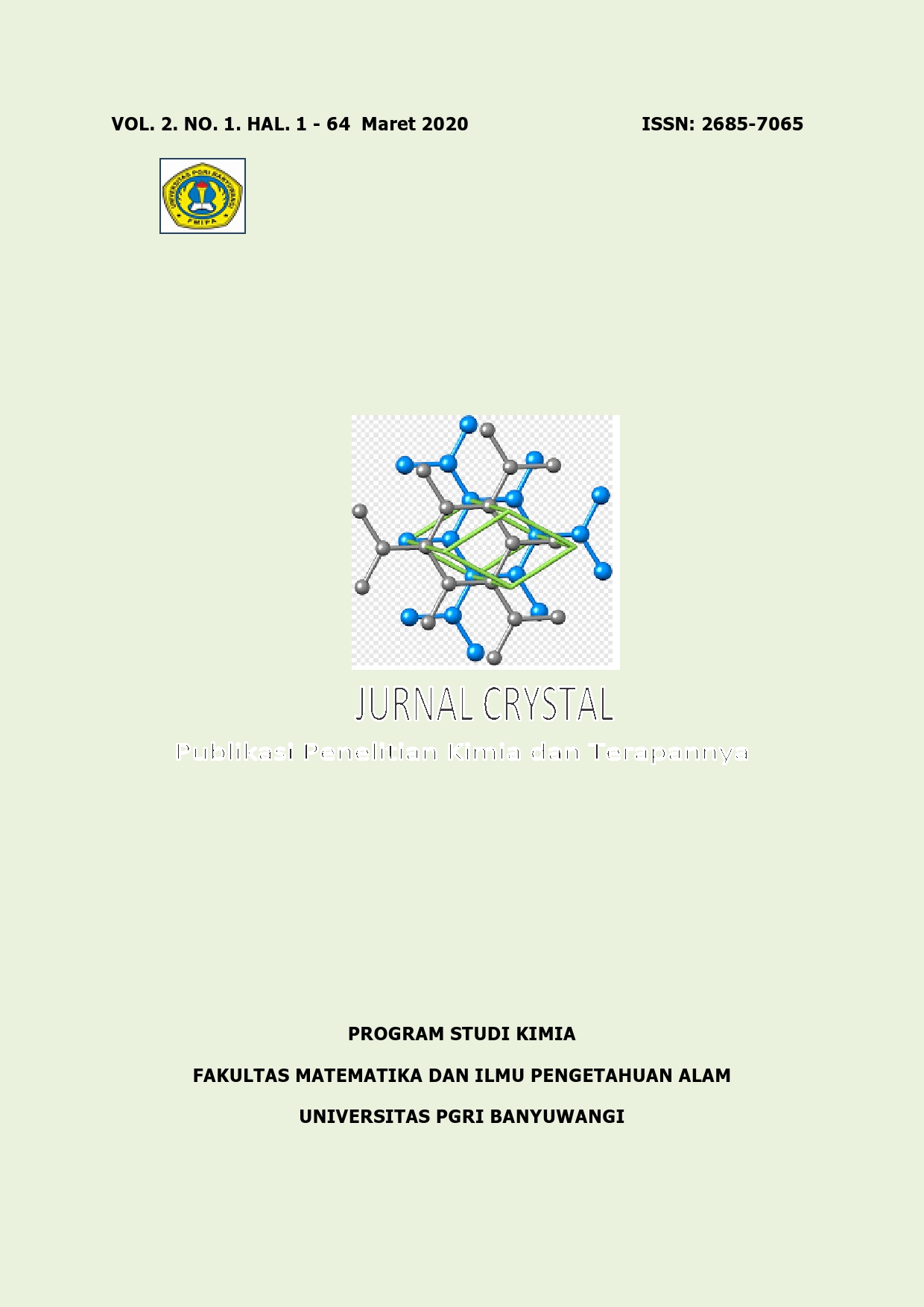 How to Cite
Latifah, S., Ridho, R., & Baiti, I. F. (2020). Imobilisasi Fotokatalis Komposit Tio2- Kitosan Sebagai Pendegradasi Zat Warna Remazol Yellow Fg. Jurnal Crystal : Publikasi Penelitian Kimia Dan Terapannya, 2(1), 25-35. https://doi.org/10.36526/jc.v2i1.923