Sintesis Dan Karakterisasi Titanium Dioksida (Tio2) Plat Kaca Serta Aplikasi Pada Proses Fotodegradasi Metilena Biru
Ni Putu Gita Anggreani

Program Studi Kimia, Fakultas Matematika dan Ilmu Pengetahuan Alam Universitas PGRI Banyuwangi

Rosyid Ridho

Program Studi Kimia, Fakultas Matematika dan Ilmu Pengetahuan Alam Universitas PGRI Banyuwangi

rika endara safitri

Program Studi Kimia, Fakultas Matematika dan Ilmu Pengetahuan Alam Universitas PGRI Banyuwangi
Keywords:
Metilena Biru, TiO2 Plat Kaca, Fotodegradasi
Abstract
Telah dilakukan pembuatan TiO2 Plat Kaca untuk fotokatalis yang digunakan dalam proses
fotodegradasi zat warna metilena biru. Pada penelitian ini dilakukan pembuatan teknologi
fotoadsorp dengan skala besar untuk proses penanganan limbah dalam jumlah besar.
Teknologi fotoadsorp adalah modifikasi alat sederhana dengan menambahkan lampu UV
sebanyak 8 unit untuk proses penyinaran dan dilakukan pengadukkan yang dimana pada
pengaduknya dipasang TiO2 Plat Kaca. Pembuatan TiO2 Plat Kaca dilakukan dengan
melapisi TiO2 yang mengandung etanol pada plat kaca. Pelapisan dilakukan dengan variasi
TiO2 Plat Kaca 2, 4, 6, 8, dan 10x. Kemudian struktur kristal TiO2 Plat Kaca dianalisis
menggunakan difraktometer sinar-X (XRD) dan didapatkan hasil terbaik pada pelapisan
8x. Pengujian keefektifitasan TiO2 Plat Kaca dilakukan dengan menentukan waktu
penyinaran (1, 2, 3, 4, 5 dan 6 jam) dan banyak lampu (2, 4, 6 dan 8 unit) maksimum yang
diaplikasikan pada zat warna metilena biru 5 ppm dan didapatkan hasil maxmimum pada
waktu penyinaran 6 jam dan banyak lampu 8 unit. Setelah ditentukan waktu penyinaran
dan banyak lampu optimum, kemudian dilakukan variasi pelapisan optimum. Larutan
sampel diuji menggunakan Spektrofotometer Uv-Vis dengan panjang gelombang 663 nm.
Kemudian didapatkan variasi pelapisan maximum sebesar 10 kali pelapisan.
References
Ali, R., & Siew, O.B. 2010. Photodegradation New Methylene Blue in Aqueous Solution
Using Zinc Oxide and Titanium Dioxide as Catalyst. Jurnal Teknologi University of
Technology Malaysia. Malaysia.
Andarini, N.R., Wardhani, S., dan Khunur, M.M., 2012, Fotodegradasi Zat Warna Jingga
Metil Menggunakan TiO2-Zeolit dengan Penambahan Anion Anorganik NO3-, Kimia.Student
Journal, Vol. 1, No. 1, pp. 98-104, Universitas Brawijaya, Malang.
Anwar, D.I. 2011. Sintesis Komposit Fe-TiO2-SiO2 Sebagai Fotokatalis Pada Degradasi
Erionyl Yellow. Tesis, FMIPA, Universitas Gadjah Mada, Yogyakarta.
Batista, A.P. L., Carvalho, H. W., Luz, G. H. P., Martins, P. F. Q., Goncalves, M., Oliveira,
L. C. A. O. 2010. Preparation of CuO/SiO2 and Photocatalytic Activity by Degradation of
Methylene Blue. Environ Chem Lett, (8), 63-67.
Darajat, S., Aziz, H., dan Alif, A., 2008, Seng Oksida (ZnO) Sebagai Fotokatalis pada
Proses Degradasi Senyawa Biru Metilen, J.Ris. Kim., Vol 1, No 2, pp. 179-186.
Darzi, S. J., Mahjoub, A. R., Sarfi, S., 2012, Visible-Light-Active Nitrogen Dopen TiO2
Nanoparticles Prepared by Sol-Gel Acid Catalyzed Reaction, Iranian Journal of Materials
Science & Engineering, Vol. 9(3): 17-23
Dony, N., Azis, H., Syukri. 2013. Study Fotodegradasi Biru Metilen di Bawah Sinar Matahari
Oleh ZnO SnO2 yang Dibuat Dengan Metoda Solid State Reaction. Prosiding Semirata FMIPA
Universitas Lampung, 297-303.
Hamdaoui, O. and Chiha, M., 2006, Removal of Methylene Blue from Aqueous Solutions
by Wheat Bran, Acta Chim. 54 : 407–418
Khopkar, S.M., 1990, Konsep Dasar Kimia Analitik, UI Press, Jakarta.
Kuo W.S and P.H. Ho. 2001. Solar Photocatalytic Decolorization of Metilen biru in Water.
J. Chemosphere, 45:77-83
Licciulli A., Lisi D. 2002. Self-Cleaning Glass. Universita Degli Studio Di Lecce
Ljubas, D., Curcovic, L., Dobrovic, S. 2010. Photocatalytic degradation of an Azo Dye by
UVIrradiation at 254 and 365 nm. Transactions of Famena XXXIV-1.
Masahiro Terashima, Narumi Inoue, Shigeru Kashiwabara, Ryiozo
Fujimoto,Phtocatalytic TiO2 thin films deposited by pulsed laser ablation technique, Applied
Surface Science 169-170(2001)535.
Radecka M., Rekas M, Trenczek-Zajac A, Zakrzewsk K. 2008. Importance of theband gap
energi and flat band potential for application of modified TiO2photoanodes in water
photolysis. J. Power Sources., Volume 181, 46-55
Ramadhana, A.K.K., Wardhani, S., dan Purwonugroho, D., 2013, Fotodegradasi Zat Warna
Methyl Orange Menggunakan TiO2-Zeolit dengan Penambahan Ion Persulfat,
Kimia.Student Journal, Vol. 1, No. 2, pp. 168-174, Universitas Brawijaya, Malang.
Tjahjanto, R.T dan J. Gunlazuardi. 2001. Preparasi Lapisan Tipis SebagaiFotokatalis:
Keterkaitan antara Ketebalan dan Aktivitas Fotokatalisis.Makara. Jurnal Penelitian
Universitas Indonesia, Vol 5, No 2: 81-91.
Underwood, A.L., and R.A. Day. 1980. Quantitative Analysis. 4thEdition.
Prentice-Hall.Inc. Hal 393-395.
Utubira, Y., Wijaya, K., Triyono, dan Sugiharto, E., 2006, Preparation and Characterization of
TiO2-Zeolite and Its Application to Degrade Textille Wastewater by Photocatalytic Method,
Indo. J. Chem., Vol 6 (3), pp. 231-237.
Yu, J.C., and L.Y.L. Chan.1998, Photocatalityc Degradation of a Gaseous organic
Pollutant, Journal of Chemical Education, Vol. 75, No.6.
Zaleska, Adriana, 2008, Doped-TiO2: A Review, Recent Patents on Engineering,
Bentham Science Publishers Ltd, 2, 157-164
Zsolt, Pap. 2011. Synthesis, Morpho-structural Characterization andEnveronmental
Aplication of Titania Photocatalysts Obtained by RapidCrystallization. Ph.D Dissertation.
University of Szeged, Babes-BolyaiUniversity. Szaged, Hungary, Cluj-Napoca, Romania.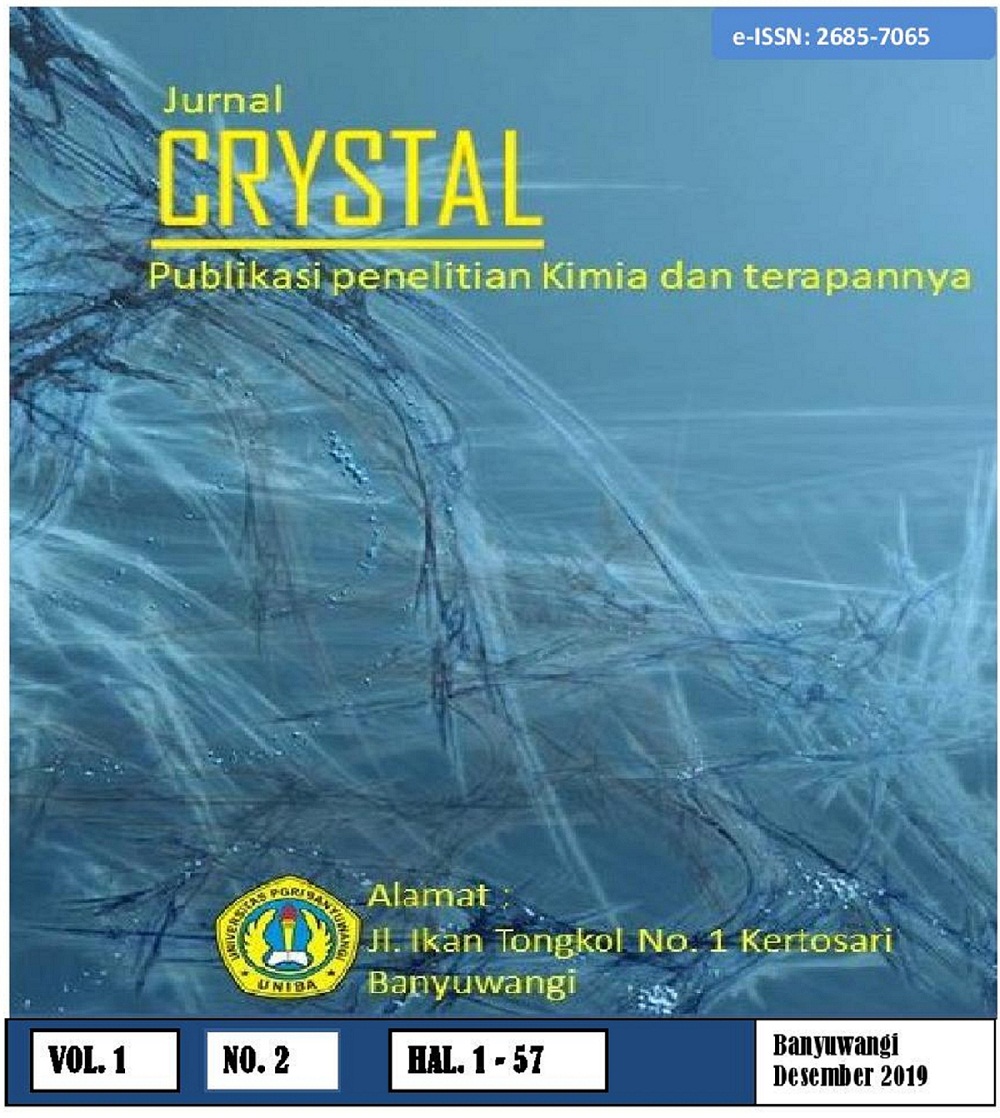 How to Cite
Gita Anggreani, N. P., Ridho, R., & endara safitri, rika. (2019). Sintesis Dan Karakterisasi Titanium Dioksida (Tio2) Plat Kaca Serta Aplikasi Pada Proses Fotodegradasi Metilena Biru. Jurnal Crystal : Publikasi Penelitian Kimia Dan Terapannya, 1(2), 1 - 10. https://doi.org/10.36526/jc.v1i2.801