KOMPONEN FITOKIMIA DAN AKTIVITAS ANTIOKSIDAN RUMPUT LAUT EUCHEUMA COTTONII DI PERAIRAN DESA PAJUKUKANG BANTAENG
Saadatul Husna

Akademi Komunitas Industri Manufaktur Bantaeng

Nurlaida Nurlaida

Yusriadi Yusriadi

Hermin Hardayanti Utami

Prodi Analisis Kimia, Akademi Komunitas Industri Manufaktur Bantaeng.

najmah najmah

Kimia, Universitas Negeri Gorontalo
Keywords:
phytochemical, antioxidant, red seaweed, Bantaeng.
Abstract
Red seaweed (Eucheuma cottoni) is a plant that has high cultivation potential and is growing rapidly. Bantaeng Regency is one of the 15 seaweed processing centers in Indonesia. The use of seaweed is very diverse, both for food, feed, fertilizer, cosmetics and pharmaceuticals. This is related to the content of nutrients, minerals and bioactive compounds contained in seaweed. This research aims to determine the water content, ash content, phytochemical compound and antioxidant activity of red seaweed in the waters of Pajukukang Village Bantaeng. The research result showed that water content and ash content of red seaweed were 7.21%,17.626% respectively. Red seaweed ethanol extract contains alkaloids, flavonoids, saponins, and steroids. The result of antioxidant test showed that the red seaweed ethanol extract has weak antioxidant activity with IC50 value of 961,83 ppm.
References
Arsianti, A., fadilah., Fatmawati., Lies, K.W., Kusmardi., Norma, N.U., Rista, P., Tutik, M., Abdullah, R., Ratih, P. (2016) Phytochemical composition and anticancer activity of seaweed Ulca lactuca and Eucheuma cottonii against breast MCF-7 and Colon HCT-116 cells, Asian Journal of Pharmaceutical and Clinical Research, 9(6), 115-119.
Bahriul, P., Rahman, N., Diah, A.W.M. (2014) Uji aktivitas antioksidan ekstrak daun dalam (Syzygium polyanthum) dengan menggunakan 1,1-difenil-2-pikrilhidrazil, Jurnal Akademia Kimia, 3(3):143-149.
Harborne, J.B. (1987) Metode fitokimia penentuan cara modern menganalisis tumbuhan, Terbitan Kedua, Penerbit ITB Bandung, Bandung.
Jasrah, R. S. 2014. Aplikasi Citra Landsat 8 untuk Estimasi Potensi Produksi Rumput Laut di Kabupaten Bantaeng. Universitas Hasanuddin.
KKP. (2018). Peta lalu lintas rumput laut nasional 2018. https://kkp.go.id/bkipm/artikel/8104-peta-lalulintas-rumput-laut-nasional-2018.
Kedare Sagar B, R.P. Singh. (2011) Genesis and vevelopment of DPPH method of antioxidant assay, Journal Food Science and Technology, 48(4), 412-422.
Kumar, S., Abhay, K.P. 2013. Review Article: Chemistry and Biological Activities of Flavonoid. The Scientific World Journal, Volume 2014 Article ID 162750, 16 pages.
Muawanah., Ahyar, A., Hasnah, N. (2016) Antioxidant activity and toxicity polysaccharide extract from red algae Eucheuma cottonii and Eucheuma spinosum. International Journal Marina Chimica Acta The University of Hasanuddin, 17(2), 15-23.
Teo, B.S.X., Rui, .Y.G., Sarah, A.A., Thanchanok, S., Mohd, F.M.A., Eddy, Y. (2020) In Vitro Evaluation of antioxidant and antibacterial activities of Eucheuma cottonii extract and its in vivo evaluation of the wound-healing activity in mice, Journal of Cosmetic Dermatology, 1-9.
Nurjanah., Mala, N., Effionora, A., Novi, L., Taufik, H. (2017) Identification of Bioactive Compounds of Seaweed Sargassum sp. and Eucheuma cottonii Doty as a Raw Sunscreen Cream, Life and Environmental Science, 54(4), 311-318.
Mutamimah, D., Iid, M., Arfiati, U.U. (2022) Karakterisasi Bioaktif Ekstrak Eucheuma cottonii di Perairan Desa Sumberkencono Banyuwangi, Jurnal Ilmu Perikanan dan Kelautan, 4(2), 65-71.
Rohyani, I.S., Evy, A., Suripto. (2015) Kandungan fitokimia beberapa jenis tumbuhan lokal yang sering dimanfaatkan sebagai bahan baku obat di pulau Lombok, Prosidng Seminar Nasional Masyarakat Biodiversitas Indonesia, 1(2), 388-391.
Safia, W., Budiyanti., Musrif. (2020) Kandungan Nutrisi dan Senyawa Bioaktif Rumput Laut (Eucheuma cottonii) yang dibudidayakan dengan teknim rakit gantung pada kedalaman berbeda. Jurnal Pengolahan Hasil Perikanan Indonesia, 23(2), 261-271.
Septiana, A.T., Asnani, A. (2013) Aktivitas antioksidan ekstrak rumput laut Sargassum duplicatum, Jurnal Teknologi Pertanian, 14(2):79-86.
Sofiana, M. S. J., Safitri, I., Warsidah, W., Helena, S., and Nurdiansyah, S. I., 2021. Antioxidant and Anti-Inflammatory Activities From Ethanol Extract of Euchema Cottoni From Lemukutan Island Waters West Kalimantan. Saintek Perikanan : Indonesian Journal of Fisheries Science and Technology, Volume 17(4), pp. 247-253. https://doi.org/10.14710/ijfst.17.4.247-253
Suryaningrum, T.D., Thamrin, W., Hendy, K. (2006) Uji Aktivitas Senyawa Antioksidan dari Rumput Laut Halymenia harveyana dan Eucheuma cottonii, Jurnal Pascapanen dan Biokteknologi Kelautan dan Perikanan, 1(1).
Yanuarti, R., Nurjanah., Effionora, A., Ginanjar, P. (2017) Kandungan Senyawa Penangkal Sinar Ultra Violet dari Ekstrak Rumput Laut Eucheuma cottonii dan Turbinaria conoides, Biosfera, 34(2), 51-58.
Zakaria, A., Mohammad, R.J., Reezal, I. (2018) Analgesic properties of Nigela Sativa and Eucheumma Cottonii extracts, Journal of Natural Science, Biology and Medicine, 9(1), 23-26.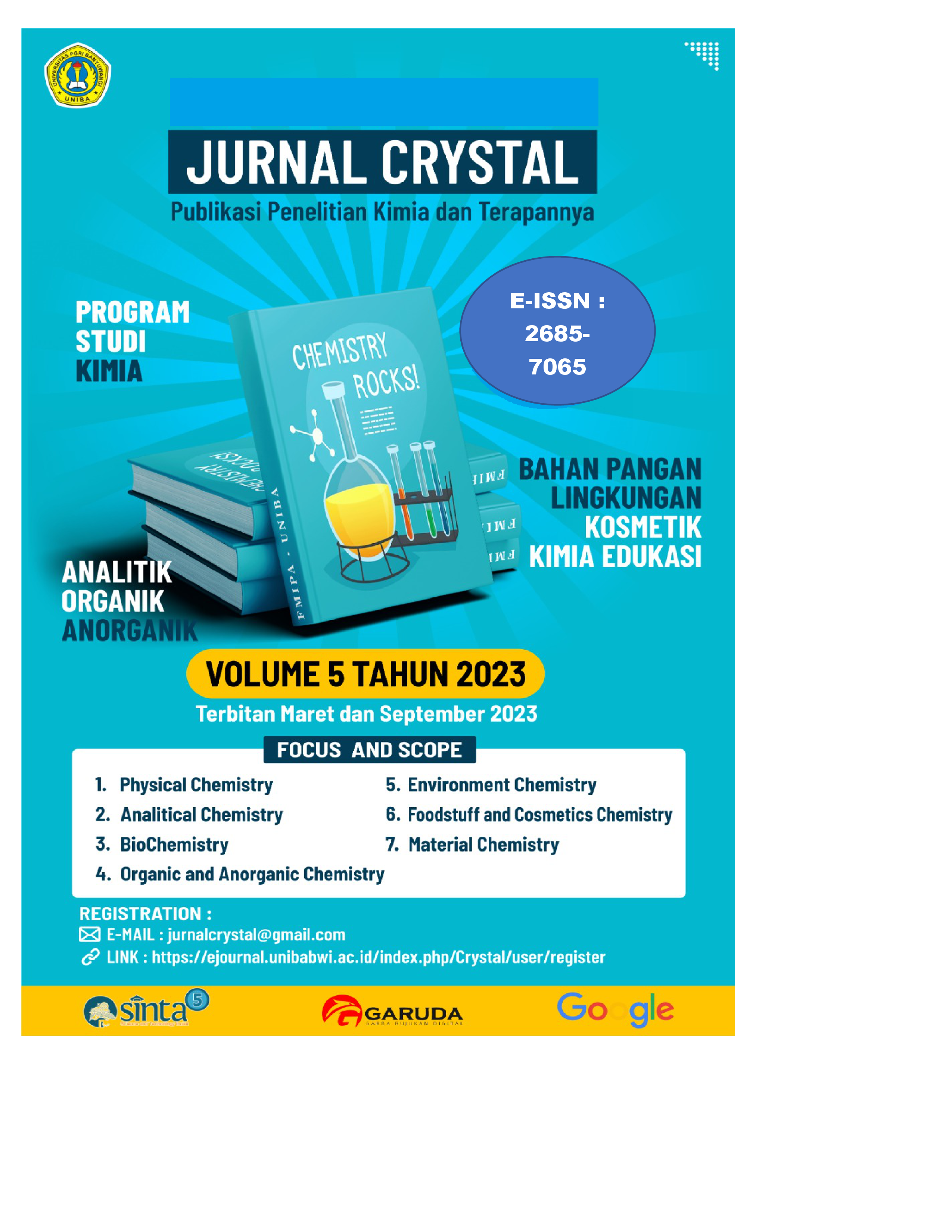 How to Cite
Saadatul Husna, NurlaidaN., YusriadiY., UtamiH., & najmah najmah. (2023). KOMPONEN FITOKIMIA DAN AKTIVITAS ANTIOKSIDAN RUMPUT LAUT EUCHEUMA COTTONII DI PERAIRAN DESA PAJUKUKANG BANTAENG. Jurnal Crystal : Publikasi Penelitian Kimia Dan Terapannya, 5(2), 9 - 15. https://doi.org/10.36526/jc.v5i2.2769